Roasted rack of lamb with pistachio and herb crust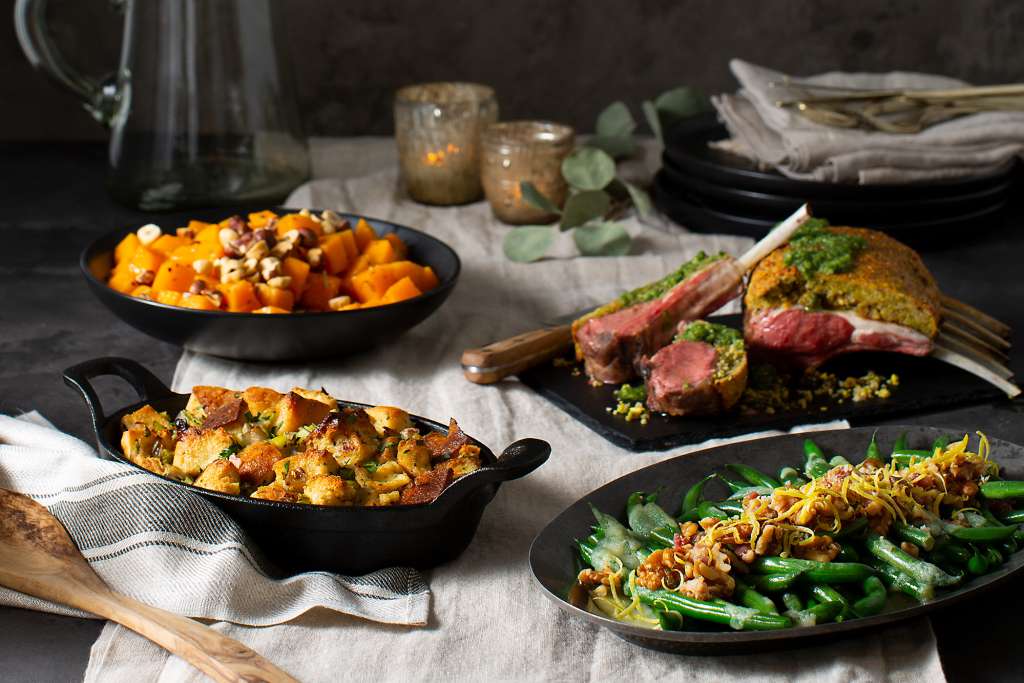 by Jeffrey Larsen, lead food stylist at Sunbasket and James Beard award-winning author of Gluten-Free Baking At Home.
The holidays are a perfect time to try this modern take on luscious rack of lamb. In this easy recipe, roasted rack of lamb is coated with a delicious pistachio herb crust that can be modified to be gluten-free with one substitution (see Chef's Tips below).
For a limited time, you can add Sunbasket's Australian grass-fed rack of lamb to your basket. It's a perfect special occasion main course that will impress without much effort on your part.
Roasted Rack of Lamb with Pistachio & Herb Crust Recipe
Prep Time: 10 minutes. Cook Time: 30 minutes. Serves: 4.
Shopping List
1 rack of lamb, frenched (8 ribs)
1/4 cup olive oil
1/2 cup shelled pistachios
1/4 cup grated parmesan cheese
1/4 cup panko bread crumbs*
1 tbsp fresh rosemary
1 tbsp fresh thyme
1 large egg
1/2 teaspoon salt
1/4 teaspoon pepper
Tools
Food processor, medium bowl, non-stick skillet, parchment, baking sheet
Instructions
1. Prep the pistachio & herb crumbles
Remove lamb from the fridge and let it come to room temperature. Preheat the oven to 400°F. In a food processor, add pistachios, bread crumbs, parmesan, rosemary, thyme, salt and pepper. Process in the food processor until a very coarse sand texture forms. Pour the dry ingredients into a medium bowl.

In a small measuring cup, beat the large egg with a fork and add to the dry mixture. Blend well with hands or a large spoon. The texture should feel slightly moist and hold together when squeezed with your hand. If the mixture is overly dry and doesn't hold together, add 1 – 2 teaspoons of olive oil. Set aside crumb mixture while you brown the meat.
2. Brown the rack of lamb
Heat a non-stick skillet on the stove over medium heat – add ¼ cup of olive oil. Once oil is hot, add the rack of lamb, and sear it on all sides, about 4 – 5 minutes total. It is helpful to tilt the skillet so that the hot oil pools around the thickest part of the rack.

Remove the rack of lamb from the pan and place it on a parchment-lined baking sheet.

3. Add crust and bake
Pat the pistachio mixture onto the rounded side of the rack, ensuring that it adheres. Remove any excess pistachio mixture that has fallen onto the parchment paper, or else it will burn when baked. Roast the lamb on the baking sheet in the oven for 20-25 minutes. Remove lamb from the oven – remove it from the baking sheet and let it rest for 10 minutes.
Serving Suggestion
Carve the racks between the bones to cut into chops. Enjoy!
Chef's Tips
When coating the lamb with the pistachio mixture, make sure to remove any of the mixture that has fallen onto the parchment paper – or else it will burn in the oven. Make sure to remove the rack of lamb from the baking sheet once you remove it from the oven. The baking sheet is hot and leaving the lamb on the baking sheet will cause it to cook more.
* Substitute panko breadcrumbs with the gluten-free option to convert this recipe into a gluten-free main course. My favorite is made by Kikkoman.