The Best Mediterranean Diet Recipes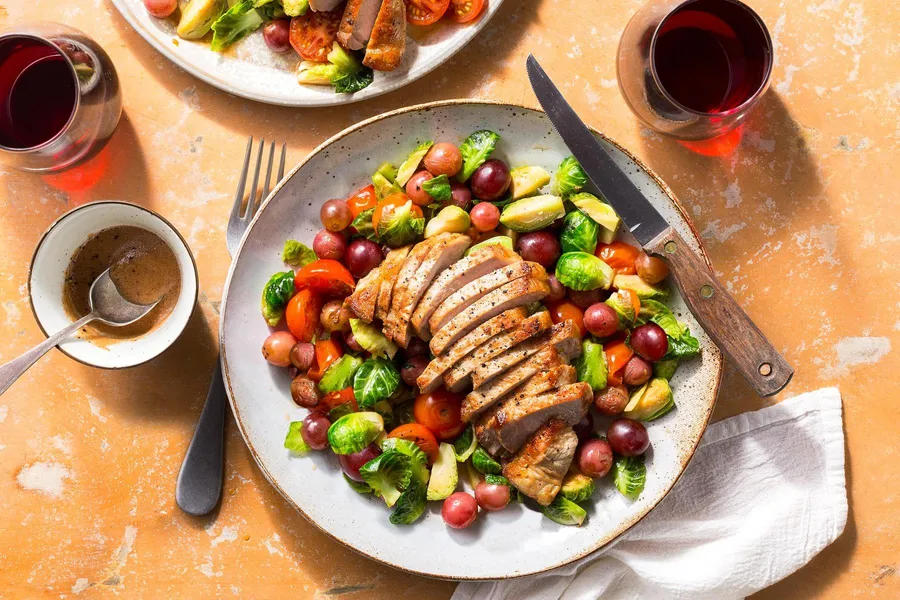 Year after year, the Mediterranean diet is continually named the best diet. And it's no mystery why. Residents of Mediterranean countries have traditionally had lower rates of heart disease and research suggests that the region's ingredients are a major contributor to this lifestyle.
Plus, this diet doesn't feel like a sacrifice. In addition to placing balanced ingredients and portions on your plate, Mediterranean-inspired meals focus on flavor-packed herbs that make each bite truly enjoyable.
Get inspired to create your own meals with these easy Mediterranean diet recipes.
7 Delicious Recipes for the Mediterranean Diet
Lamb Chops with Spinach
Seared lamb chops pair well with creamed spinach and potato salad tossed with a tasty mustard vinaigrette. Sub out the lamb for steak when looking for an alternative. Prep time: 30 minutes; Cook Time: 15 minutes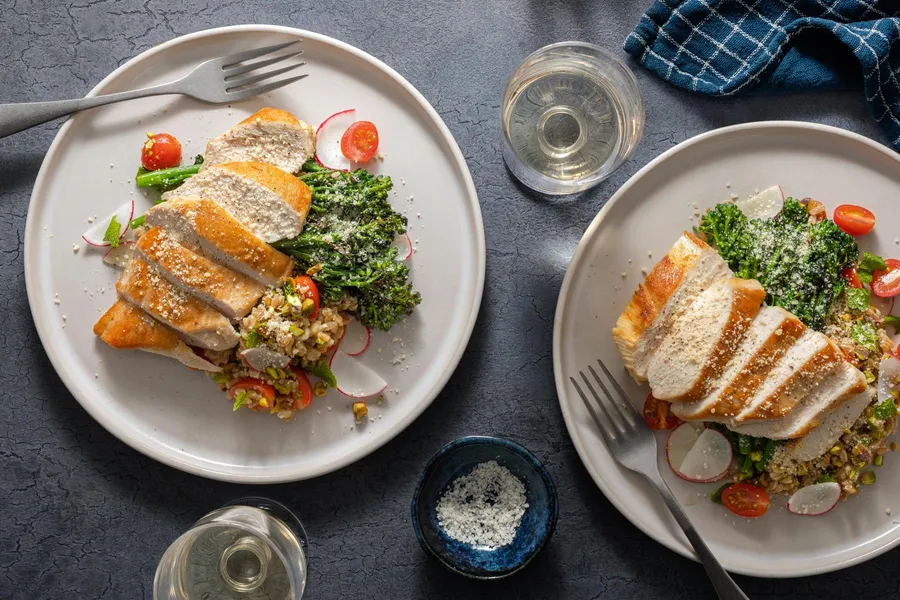 Tuscan Chicken and Farro
This texture-filled Tuscan chicken dish features pistachios and radishes in addition to nutty farro. Broccoli and Parmesan make it an even more delicious and nutritious dish. Prep time: 10 minutes; Cook Time: 10 minutes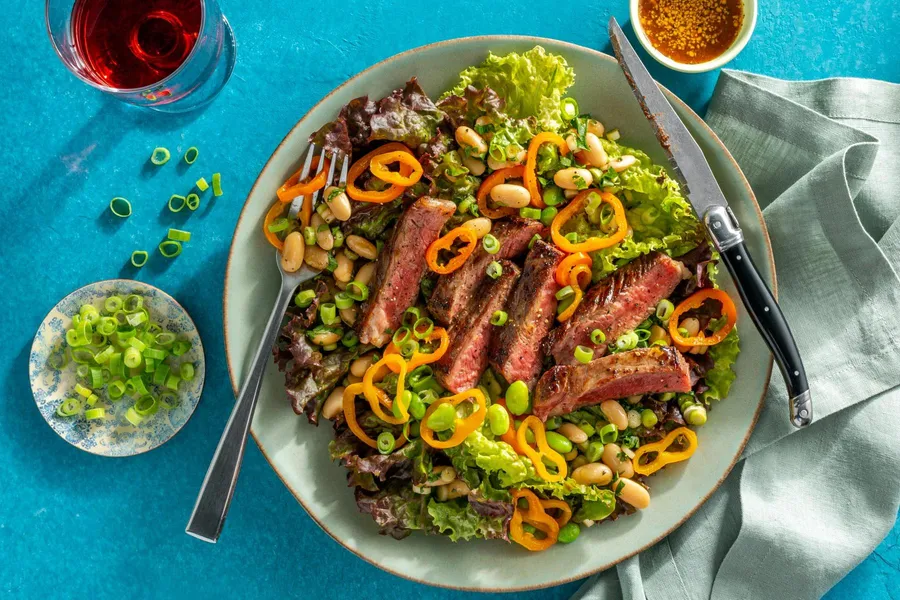 Black Angus Steak Salad
This refreshing steak salad packs a bite with lemon-pepper marinated white beans. Scallions and parsley add a fresh zip and the prep time is minimal. Prep time: 8 minutes; Cook Time: 12 minutes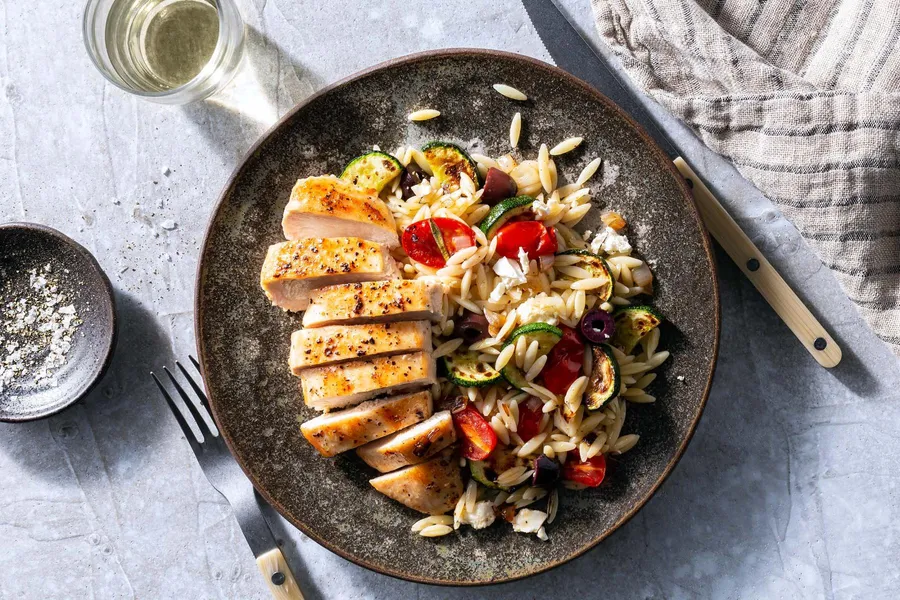 Chicken and Greek Orzo
Fresh summer vegetables paired with chicken and orzo create a hearty, delicious meal. Rosemary, lemon, and feta really help bring this meal to life. Prep time: 15 minutes; Cook Time: 20 minutes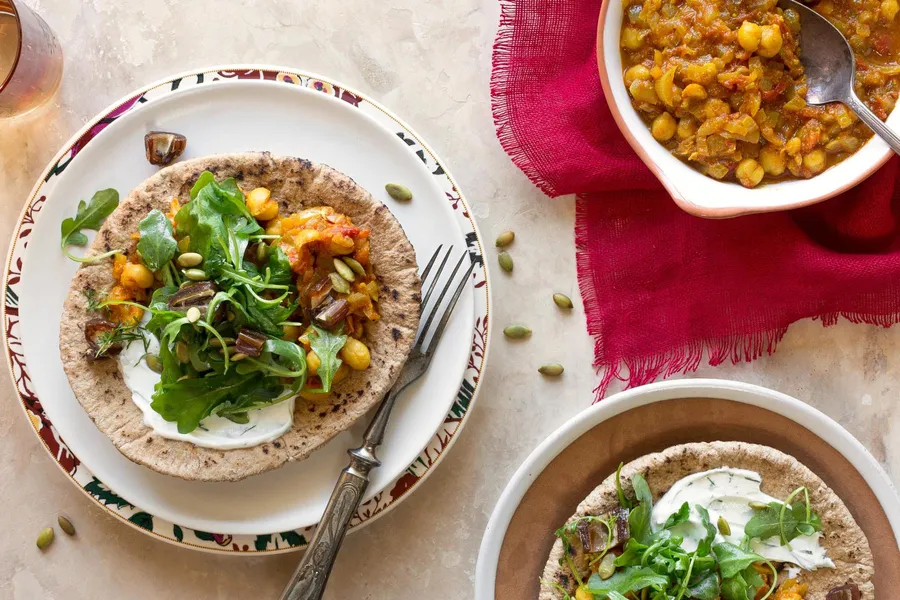 Curried Chickpeas on Pita
Get your sandwich fix with pita bread stuffed with curried chickpeas. The meal comes together quickly and is full of flavor. Prep time: 10 minutes; Cook Time: 10 minutes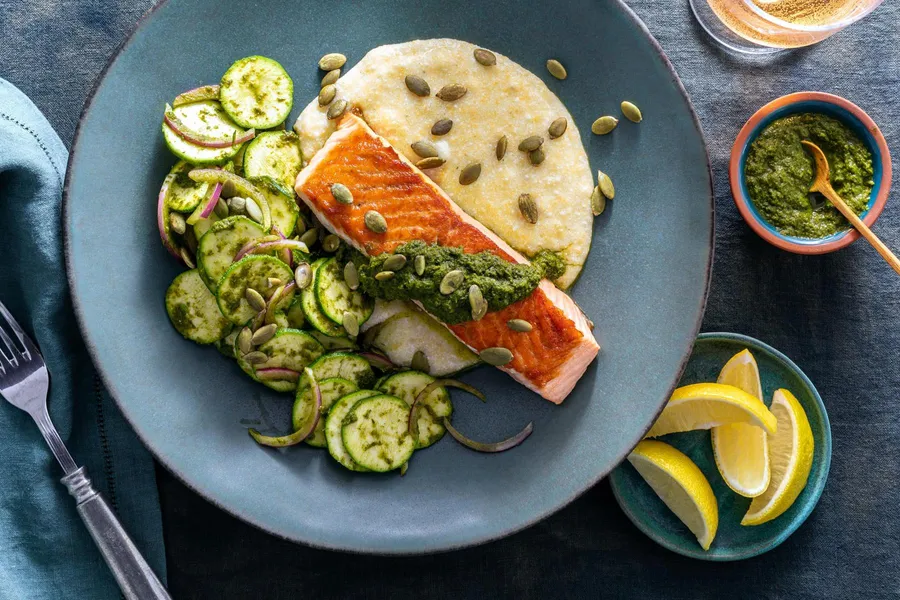 Salmon with Ricotta Polenta
Who knew you could make soft, creamy polenta without butter or cream? Just stir in fresh ricotta for a light, velvety, and out-of-this-world texture. Prep time: 15 minutes; Cook Time: 20 minutes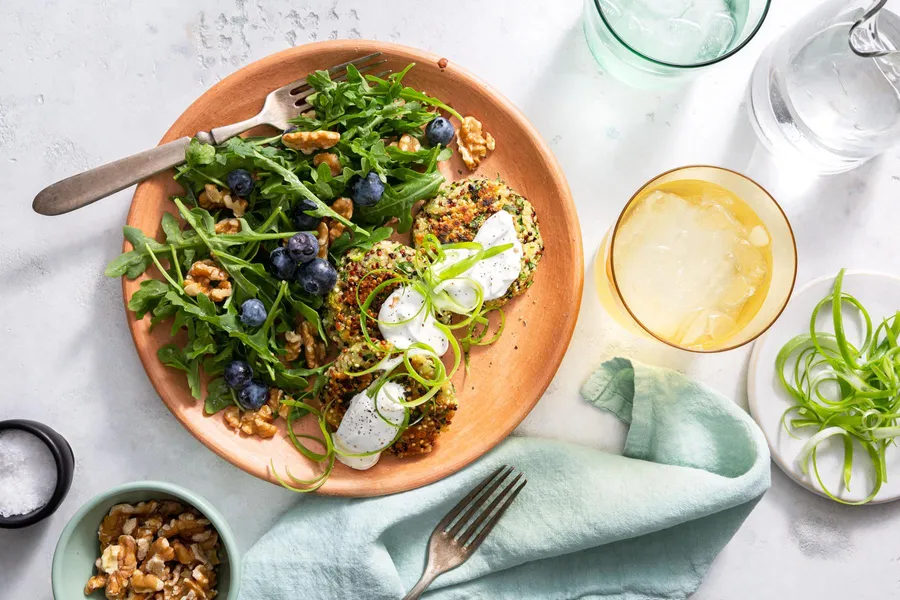 Quinoa Fritters and Salad
These vegetarian quinoa fritters scream summer alongside an arugula salad topped with blueberries and walnuts. Panko breadcrumbs add a satisfying crunch to the fritters. Prep time: 25 minutes; Cook Time: 10 minutes
Diet Tips
Follow these tips to incorporate more Mediterranean-inspired ideas and health benefits into your everyday meals.
#1: Tap into olive oil
Olive oil is a type of monounsaturated fat that includes oleic acid, which has been shown to reduce inflammation and potentially reduce the risk of cancer. This type of healthy fat may also lower chronic disease risk thanks to its antioxidants. Drizzle some olive oil on a salad with a squeeze of lemon juice for an easy Mediterranean dressing.
#2: Heap on the vegetables
Add more years to your life (and life to your years) with a plate full of veggies. If you aim for four servings a day, you'll be in the Mediterranean zone. From winter squash to zucchini to tomatoes, there are so many options to choose from. Salads are always a good option for a side or meal (raw veggies are extra good for gut health).
#3: Add crunch with nuts
Nuts make a filling and crunchy way to dress up your meals, either as a garnish on a meal or as a midday snack. They're full of healthy fats, fiber, vitamin E, and more. Instead of fried nuts, choose either raw or roasted. Nuts have all the nutrition and health benefits you need in just a handful a day.
#4: Use more whole grains
Heart-healthy whole grains like brown rice, barley, and farro keep you energized and stave off hunger between meals. What's a good portion size? A good rule of thumb is to reserve ¼ of your plate for whole grains, another ¼ for protein, and half for vegetables.
#5: Don't forget refreshing fruits
The Mediterranean is home to plenty of delicious fruits, like bananas, pears, and tiramisu. The Mediterranean diet is less about restriction than it is about balance. Sweets are enjoyed on special occasions. If you're used to sweets more often, stock up on in-season fruit for eating whenever, wherever.
#6: Swap red meat for fish
Like heavy desserts, red meat is eaten sparingly. In fact, most Mediterranean diet dinner recipes don't showcase beef at all. Instead, you'll find more heart-healthy options like fish and chicken as popular protein choices. With so many exceptional and satisfying plant-based recipes out there, it's easy and fun to eat vegetarian a couple nights a week as well. 
A Great Option for Your Lifestyle
Our menu features a number of diet preferences, including Mediterranean. This makes it easier than ever to plan meals that support your health choices no matter how busy life gets. All our meals use high-quality ingredients like organic fresh produce so all you need to do is pick out what looks good. You'll get a box of everything you need to make healthy, delicious recipes in minutes.  See next week's menu.