Our Fall Fruit Compote is the Jam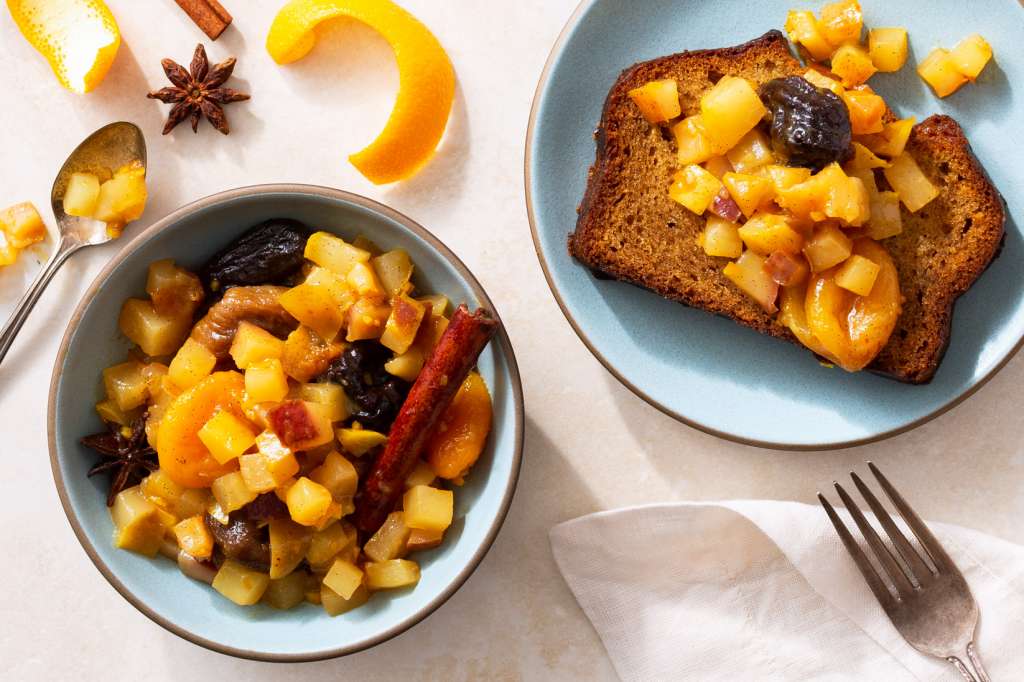 Compotes are the little black dresses of desserts. Elegant but never flashy, they signal confidence and style without calling attention to themselves. We particularly like them with a combination of fresh and dried fruit. The dried fruits soak up the warm syrup and turn into plumper, more tender versions of themselves.  Developed by Sun Basket Executive Pastry Chef Paul Conte, this compote is equally good in a savory or sweet setting. While it makes a wonderful accompaniment to roasted pork or duck, you can also spoon it on oatmeal, ice cream, or our gluten-free olive oil cake. We like it best served warm with nothing more than a shortbread cookie. 
Fall Fruit Compote Recipe
Makes 2 cups
Shopping List
2 organic oranges (enough to yield 1 cup fresh squeezed orange juice)  
2 organic pears, preferably Bartlett
½ vanilla bean
5 dried apricots
3 dried plums
2 dried figs
1 cinnamon stick
1 star anise 
1 tablespoon honey
¼ teaspoon ground allspice
Kosher salt
Tools
Peeler, masher, medium sauce pot
1. Prep the ingredients 
Using a peeler, remove 2 long strips of zest from 1 orange, being careful to remove only the outermost orange layer and leave behind the bitter white pith; finely chop the zest strips. Juice enough oranges for 1 cup juice. 
If desired, peel the pears. Cut the pears lengthwise into quarters and cut away the cores. Cut the fruit into ¼-inch-thick slices, then cut crosswise into ¼-inch-thick pieces.
Cut the vanilla bean in half lengthwise and scrape out the seeds; set aside the bean and seeds.
Coarsely chop the apricots, dried plums, and figs.
2. Cook the compote
In a medium sauce pot over medium heat, combine the orange peel and juice with the pears, apricots, dried plums, figs, vanilla bean and seeds, cinnamon stick, star anise, honey, allspice, and a pinch of salt. Cook, stirring occasionally and coarsely mashing halfway through the cooking time, until the dried fruits are softened and the liquid is slightly reduced, 10 to 15 minutes. Let cool slightly. 
Serve
Transfer the compote to individual plates or bowls and serve warm (see headnote for serving suggestions). on top of poultry or pork, a bowl of yogurt, with crème fraîche, on ice cream, or over a slice of gluten-free olive oil cake. Store in an airtight container, preferably glass, for up to one week. 
Bonus recipe—ingredients not included in box.  
Nutrition per serving: Calories: 50, Protein: 0g (0% DV), Fiber: 2g (8% DV), Total Fat: 0g (0% DV), Monounsaturated Fat: 0g, Polyunsaturated Fat: 0g, Saturated Fat: 0g (0% DV), Cholesterol: 0mg (0% DV), Sodium: 0mg (0% DV), Carbohydrates: 13g (4% DV), Total Sugars: 10g, Added Sugars (honey): 0g (0% DV). Not a significant source of trans fat.