Calabacitas Recipe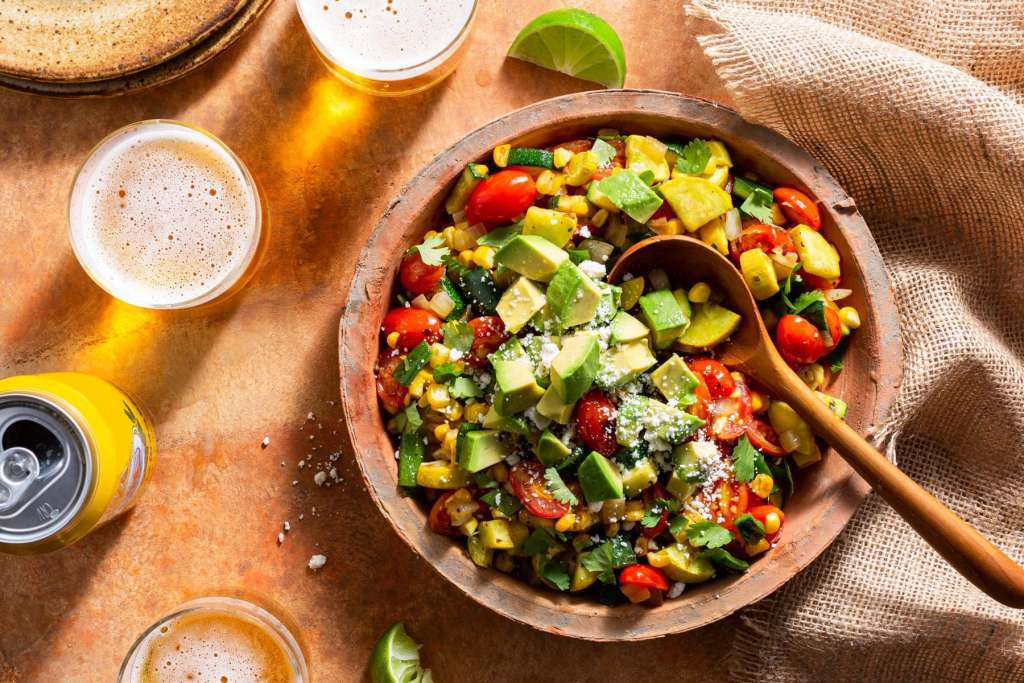 Sun Basket's videographer, Matt Chavez grew up in New Mexico, where he can trace his family's Spanish heritage back to the time of the conquistadors. The recipe for this traditional squash-and-chile stew comes from his mother. It channels the many distinct cultures that have influenced Santa Fe's regional cuisine. Poblano chiles, both fresh and dried, are used by the native Pueblo, Cotija was inspired by the Spanish colonizers who taught their cheese-making techniques to the locals, and corn is a staple of the Mexican diet. A variety of charred summer squash and cherry tomatoes add color and the best summer flavors to this smoky dish. 
Calabacitas
Shopping List
4 small summer squash (about 1½ pounds)
2 cups cherry tomatoes (about 10 ounces)
2 medium yellow onions
1 ear corn
6 or 7 sprigs fresh cilantro 
2 limes
1 medium poblano
2 teaspoons dried Mexican oregano
1 avocado, optional
⅓ cup Cotija cheese
Olive oil

From Your Pantry
Kosher salt, freshly ground black pepper, olive oil

Tools
Large frying pan
1 Prep the ingredients
Trim the ends from the squash; cut the squash into quarters lengthwise, then crosswise into ¼-inch-thick pieces. 
Cut the cherry tomatoes in half.
Peel and coarsely chop enough onion to measure 2 cups.
Shuck the corn. Lay the cob flat and cut the kernels from the cobs. 
Coarsely chop the cilantro. 
Juice 1 lime. Cut the remaining lime into wedges for garnish. 
2 Char the poblano, squash, and tomatoes
Remove the stem, ribs, and seeds from the poblano; cut into ½-inch strips, then coarsely chop the strips. Wash your hands after handling.
Heat a dry large frying pan over medium-high heat. Add the poblano and squash and cook, turning once, until lightly charred and blistered, 3 to 4 minutes per side. Transfer to a plate. 
Add the tomatoes and cook, stirring once or twice, until charred and blistered, 2 to 3 minutes. Transfer to the plate with the poblano; do not clean the pan.
3 Cook the onions; finish the dish 
In the same pan used for the tomatoes, over medium-high heat, warm 1 tablespoon oil until hot but not smoking. Add the onion and oregano, season with salt and pepper, and cook, stirring occasionally, until softened and starting to brown, 5 to 6 minutes. 
Stir in the corn, squash, poblano, and tomatoes. Season with salt and pepper and cook until heated through, 1 to 2 minutes. Remove from the heat, stir in the cilantro and 2 tablespoons lime juice, and season to taste with salt and pepper. 
While the vegetables cook, prepare the avocado.
4 Prep the avocado
Cut the avocado in half. Remove the pit, scoop out the flesh, and cut the flesh into bite-size pieces.
5 Serve
Transfer the vegetables to a large bowl; top with the avocado and Cotija cheese, and serve with the lime wedges.
Nutrition per serving: Calories: 70, Protein: 3 g, Total Fat: 4 g, Monounsaturated Fat: 2 g, Polyunsaturated Fat: 0 g, Saturated Fat: 1 g, Cholesterol: 5 mg, Carbohydrates: 9 g, Fiber: 2 g, Added Sugar: 0 g, Sodium: 140 mg 
Bonus Recipe—Ingredients not included in box