Milk Chocolate-Croissant Pudding Recipe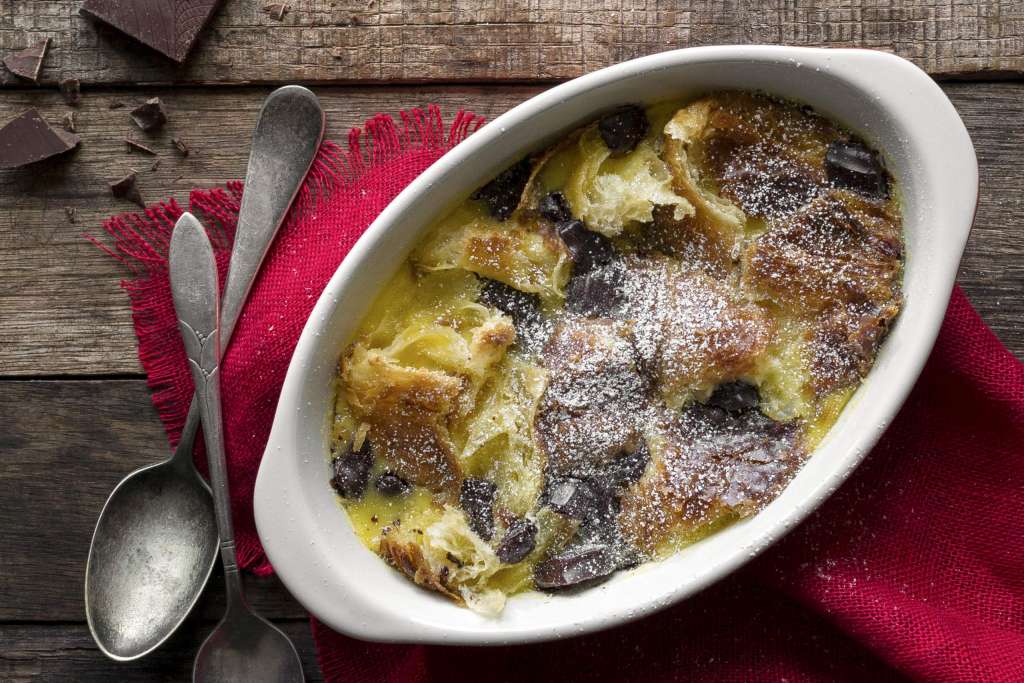 This lush bread pudding is the signature dish of Sun Basket Pastry Chef Paul Conte. As he says, the buttery croissant pieces add richness, and their flaky texture "brings a luxurious texture to traditional bread pudding." Use either a fresh or day-old croissant from your local cafe or bakery. And swap dark for milk chocolate if that's how you roll. Serve the bread pudding warm from the oven, or make it ahead and refrigerate until ready to serve. Reheat in a 375ºF oven for 10 to 15 minutes to crisp the top.
Milk Chocolate-Croissant Bread Pudding Recipe
Serves 2
Shopping List
1-inch piece vanilla bean
1 cup heavy cream, preferably organic
2 large eggs, preferably pasture-raised and organic
¼ cup sugar
1 croissant
1 ounce milk chocolate
1 Prep the cream
Heat the oven to 350ºF.
• Cut the vanilla bean in half lengthwise and scrape out the seeds; set aside the bean and seeds.
In a small sauce pot over medium heat, combine the cream, vanilla bean, and seeds. Season lightly with salt, whisking occasionally, until small bubbles appear around the edges and steam begins to rise. Immediately remove from the heat. 
While the cream mixture warms, prepare the egg yolks.
2 Prep the egg yolks; make the custard
• Set out a medium and a small bowl. Crack 1 egg at a time and separate the yolk and white. Place the yolks in the medium bowl and the whites in the small bowl; save the whites for another use. 
Add the sugar to the egg yolks and whisk until smooth. Whisking constantly, slowly pour the hot cream mixture into the yolk mixture in a thin stream, whisking until well combined. Pour the custard through a fine-mesh strainer into a pitcher or bowl; discard the vanilla bean. Set the custard aside.
3 Prep the croissant and chocolate; assemble and bake the bread pudding
• Tear or cut the croissant into 1-inch pieces.
• Coarsely chop the chocolate.
Arrange the croissant pieces in an even layer in a small baking dish or large ramekin, then scatter the chocolate on top. Pour the custard over the croissant and chocolate. Place the small baking dish or large ramekin inside a medium baking dish and place both baking dishes in the oven. 
Using a pitcher or kettle, pour warm tap water into the medium baking dish, filling it one-fourth full to create a water bath for the bread pudding. Cover both baking dishes with a sheet pan or aluminum foil. Bake until the custard is set, 20 to 25 minutes. Remove from the oven, carefully remove the small baking dish from the water bath, and let cool to warm.
4 Serve
Transfer the bread pudding to individual plates or bowls and serve.