Vietnamese Lemongrass Marinade Recipe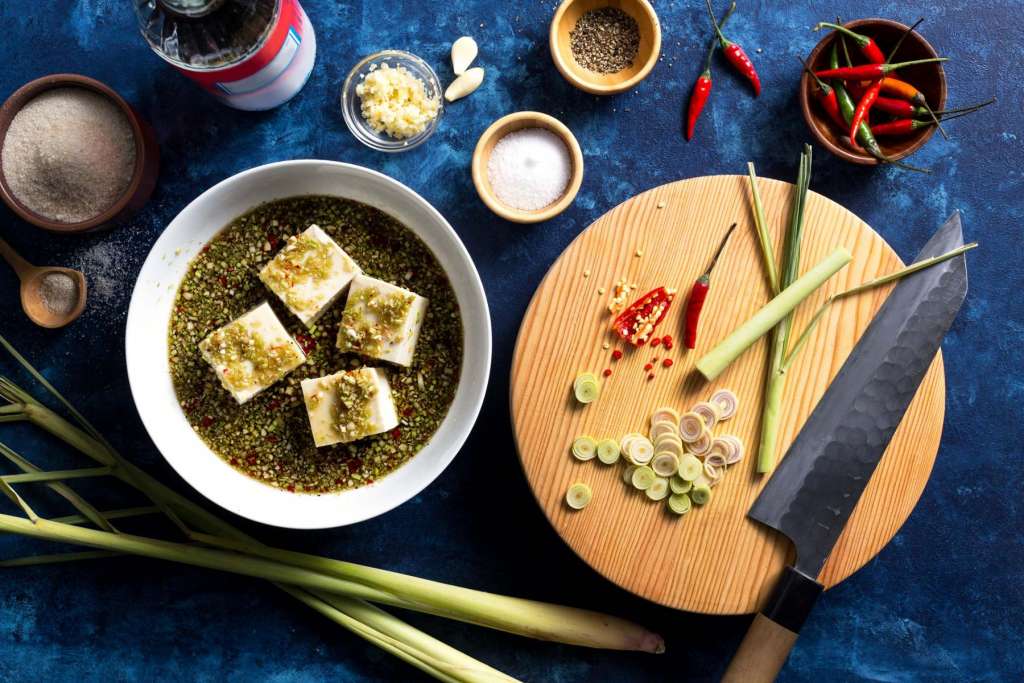 The sweet, salty, spicy, citrus-y flavors in this phenomenally delicious seasoning paste are straight-up Vietnamese. Use it to season pork, chicken, shrimp, even tofu. When it comes to fish sauce, the chefs in our kitchen swear allegiance to the Three Crabs brand, preferred for its in-your-face umami taste. Chef Justine always goes big on Vietnamese flavors, and suggests using one cup of this marinade per pound of meat. 
Vietnamese Lemongrass Marinade 
Makes about 1¾ cups
Shopping List
3 or 4 stalks organic lemongrass
2 or 3 cloves organic peeled fresh garlic
1 to 3 organic Thai chiles, optional
¾ cup organic cane sugar
¾ cup fish sauce, preferably "Three Crab" brand
Tools 
Garlic press or fine-toothed grater, optional, whisk, medium bowl
1 Prep the ingredients
Remove the tough outer layers from the lemongrass stalks; using the bottom of a cup or the back of a chopping knife, bruise the inner layers, then finely chop enough to measure ¾ cup.
Finely chop, press, or grate enough garlic to measure 2 teaspoons. 
If using, remove the stem, ribs, and seeds from the chiles. Finely chop the chiles. Wash your hands after handling. 
In a medium bowl, whisk the sugar with the fish sauce until the sugar dissolves and the fish sauce achieves a syrup-like consistency. 
Whisk in the lemongrass, garlic, and as much chile as you like. 
Use at once or transfer to an airtight container fitted with a lid. Close the container and refrigerate for up to 2 weeks or freeze for up to 6 months. 
Suggested uses:
In a large bowl, combine the marinade and up to 1¾ pounds thinly sliced boneless pork shoulder or pork chops and stir to coat. Cover and refrigerate for at least 30 minutes and up to 2 hours. 
In a large bowl, combine the marinade and up to 1¾ pounds chicken breasts or thighs and stir to coat. Cover and refrigerate for at least 30 minutes and up to 2 hours. 
Lightly brush the marinade on shrimp or tofu. 
Cook the meat, shellfish, or tofu on a grill or roast at high temperature on a wire rack, being careful of the sugar caramelizing quickly and burning. 
Transfer the marinated meat, shellfish, or tofu to a platter and serve. 
Chef's Tip: For an even easier and smoother preparation, thinly slice the lemongrass into rings, then using your food processor, blitz until the consistency of coarse sand. Coarsely chop the garlic and chiles; add to the lemongrass and pulse a few additional times to combine. 
Nutrition per serving (2 tablespoons): Calories: 60, Protein: 4g (8% DV), Fiber: 0g (0% DV), Total Fat: 0g (0% DV), Monounsaturated Fat: 0g, Polyunsaturated Fat: 0g, Saturated Fat: 0g (0% DV), Cholesterol: 0mg (0% DV), Sodium: 1280mg (53% DV), Carbohydrates: 12g (4% DV), Total Sugars: 11g, Added Sugars (organic cane sugar): 11g (22% DV). Not a significant source of trans fat.
Bonus recipe—ingredients not included in box.