DIY Bath Bombs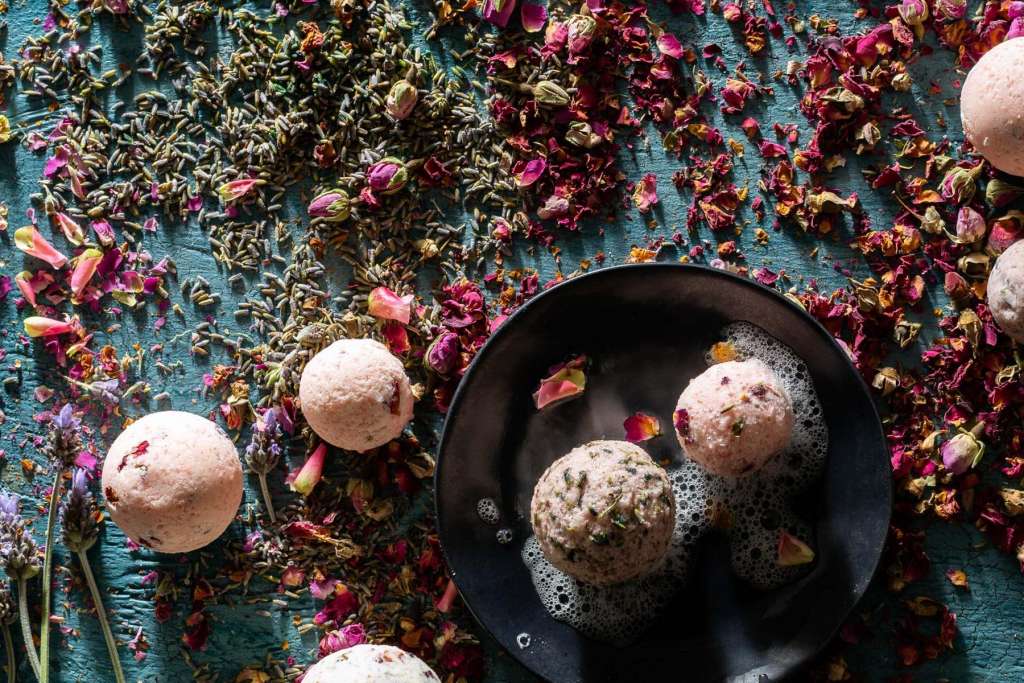 Before #selfcare became a hashtag, treating yourself to a little R&R simply meant a long bath. Our DIY bath bombs will take you back to the OG self-care with an upgrade from fragrant essential oils (and flower petals if you're feeling fancy). Fill up the tub, drop a bath bomb into the water, watch it fizz at it dissolves, and let out a big "ahhhhhh," the sound of self-care in action. 
Coconut Rose Bath Bombs Recipe 
Makes 6 large (depending on size of molds) bath bombs
Ingredients:
5 tablespoons coconut oil
1 cup baking soda
½ cup citric acid
½ cup corn starch
½ cup Epsom salt
1 teaspoon almond oil
2 teaspoons rose, lavender, or orange essential oil
1/4 cup dried rose or other flower petals, optional
Optional add-ins for color:
2 teaspoons beet powder 
5 to 10 drops natural food coloring
Tools
Small saucepan, large mixing bowl, spatula, optional, bath bomb molds, cupcake tin, or silicone ice cube trays
1. Melt the coconut oil over medium heat.
2. In a large mixing bowl combine all dry ingredients.
3. Add the coconut oil, almond oil, essential oils, dried flower petals, if using, and any optional add-ins, if using. With clean, dry hands or a spatula, mix until well combined. Tightly pack the mixture into the molds. Freezer until set, 15 to 20. To remove the bath bombs from the mold, warm the outside of the mold with your hands and pop the bomb out. Drop the bomb into a warm bath and relax. Bath bombs can be stored in the refrigerator for up to one month. 
Ingredient IQ: 
Almond oil: Nourishes and moisturizes the skin.
Baking soda: Helps relieve skin conditions such as eczema and psoriasis.
Coconut oil: Antibacterial and antifungal. Soothes irritated skin.
Corn starch: Soothes inflamed skin and can help with allergic reactions.
Epsom salt: Can aid in detoxification, relax sore muscles, and gives the body a magnesium boost.