Watermelon Popsicles Recipe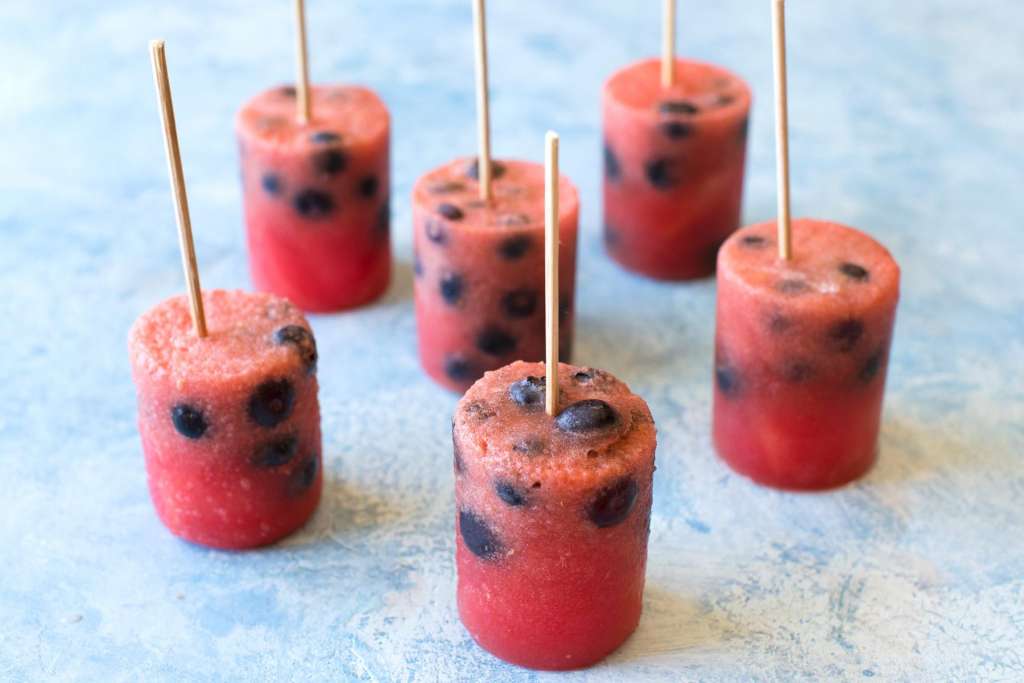 It's easy to make summer pops. All you need is a few plastic molds (the plastic jars that come in your Sun Basket are ideal for this), wooden sticks, and fresh fruit. The trick to getting the wooden stick to stand up straight? Poke the stick into a melon cube in the bottom of the jar.
Watermelon Popsicles
Makes 6 to 8 pops 
Ingredients
4 cups chopped peeled seedless watermelon (from 1 small watermelon)
½ pint blueberries, optional
Tools
6 to 8 four-ounce plastic jars, preferably from your Sun Basket
6 to 8 wooden sticks
Blender
1 Prepare the pops molds
Set 6 to 8 pieces watermelon into the bottom of each jar. Insert the wooden sticks into each watermelon piece so that the stick stands upright. If using, add a few blueberries to each jar.
2 Puree the watermelon
In a blender, puree the remaining watermelon. Divide the pureed watermelon among the prepared jars. Transfer to the freezer and freeze until set, at least 6 hours or as long as 3 weeks.
3 Serve
To remove the pops, place the plastic jars into a bowl of warm water for 5 to 10 minutes, until they loosen and slide easily from the jar. 
Bonus Recipe: Ingredients not included