Celery Salad with Parmesan and Pine Nuts Recipe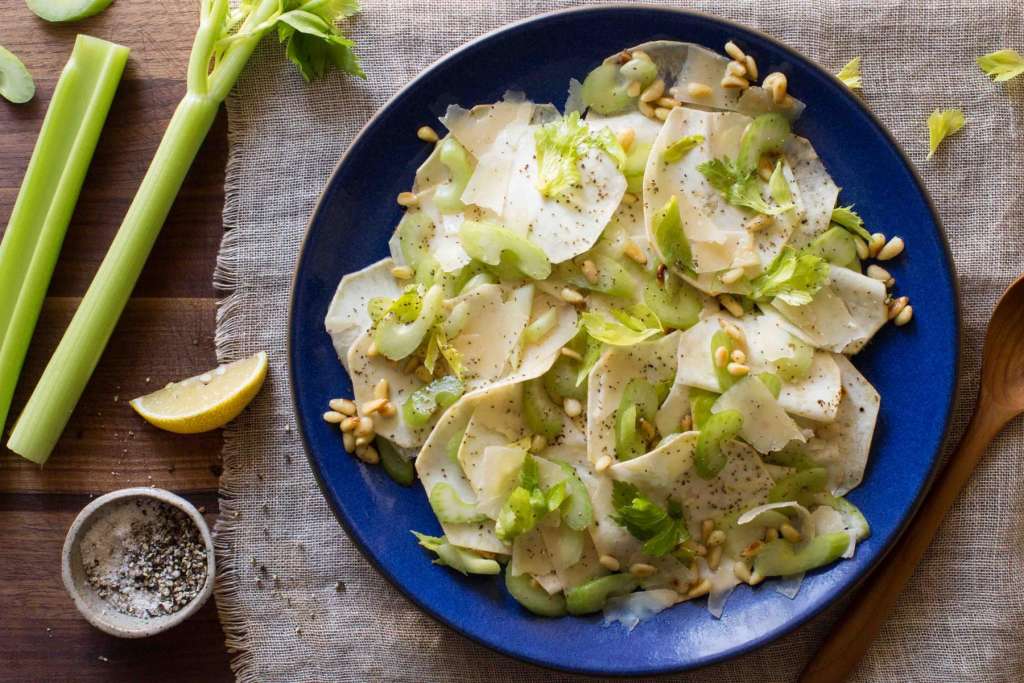 As much as we love the traditional Thanksgiving feast, there comes a time in the middle of the marathon of mashed potatoes, gravy, and meat that we start craving something a little lighter. Enter this crisp celery salad, which uses every part of the plant—root, stalk, leaves, and seeds—to break the rich monotony of the holiday meal. If you have a mandoline, this is a great time to pull it out. Otherwise, use a vegetable peeler or your sharpest knife to slice the celery root. Season with your best coarse-grain sea salt. 
Celery Salad with Parmesan & Pine Nuts
Serves 6
Shopping List
1 small celery root (about 1 pound)
1 bunch celery (about ¾ pound)
2 lemons
⅓ cup pine nuts 
One 2-ounce wedge Parmesan
1 teaspoon celery seeds
Coarse sea salt
Freshly ground black pepper
2 tablespoons extra virgin olive oil
Tools
Peeler, mandoline with a guard, optionaI, small whisk, small bowl, large bowl, small frying pan
1 Prep the ingredients
Place the celery root on its rounded side; using a sharp knife, trim off the ends. Stand it upright on a cut end and cut away the peel in strips, following the contours of the root. Using a mandoline with a guard, a peeler, or a sharp knife, thinly slice the celery root. 
Trim the root end from the celery; separate the celery leaves from the stalks; measure out ⅓ cup leaves. Using a sharp knife or a mandoline with a guard, thinly slice the celery stalks on the diagonal.
Zest 1 lemon and juice both lemons, keeping the zest and juice separate. 
In a large bowl, combine the lemon zest, shaved celery root, ⅓ cup celery leaves, and sliced celery stalks and toss to combine. 
2 Toast the pine nuts
In a dry small frying pan over medium-low heat, toast the pine nuts, stirring often, until lightly browned and fragrant, 3 to 5 minutes. Transfer to a plate to cool.
3 Prep the dressing; assemble the salad
Using a peeler, cut the Parmesan into thin slices. 
In a small bowl, whisk together 2 tablespoons lemon juice with the 2 tablespoons oil and season the dressing lightly with salt and pepper. 
To the large bowl with the shaved celery root mixture, stir in the pine nuts and toss with the lemon dressing. Top with the Parmesan slices and sprinkle with the celery seeds, coarse salt, and coarsely ground pepper.
4 Serve
Transfer the celery salad to individual plates or a platter and serve.
Nutrition per serving: Calories: 180, Protein: 6g (12% DV), Fiber: 3g (12% DV), Total Fat: 13g (20% DV), Monounsaturated Fat: 6g, Polyunsaturated Fat: 3g, Saturated Fat: 2.5g (13% DV), Cholesterol: 10mg (3% DV), Sodium: 290mg (12% DV) (does not include pantry salt; for reference, ¼ teaspoon kosher salt added to the recipe averages 240mg per serving, or 10% DV), Carbohydrates: 13g (4% DV), Total Sugars: 3g, Added Sugars: 0g (0% DV). Not a significant source of trans fat.
Bonus recipe—ingredients not included in box.