Sholeh Zard (Saffron Rice Pudding) Recipe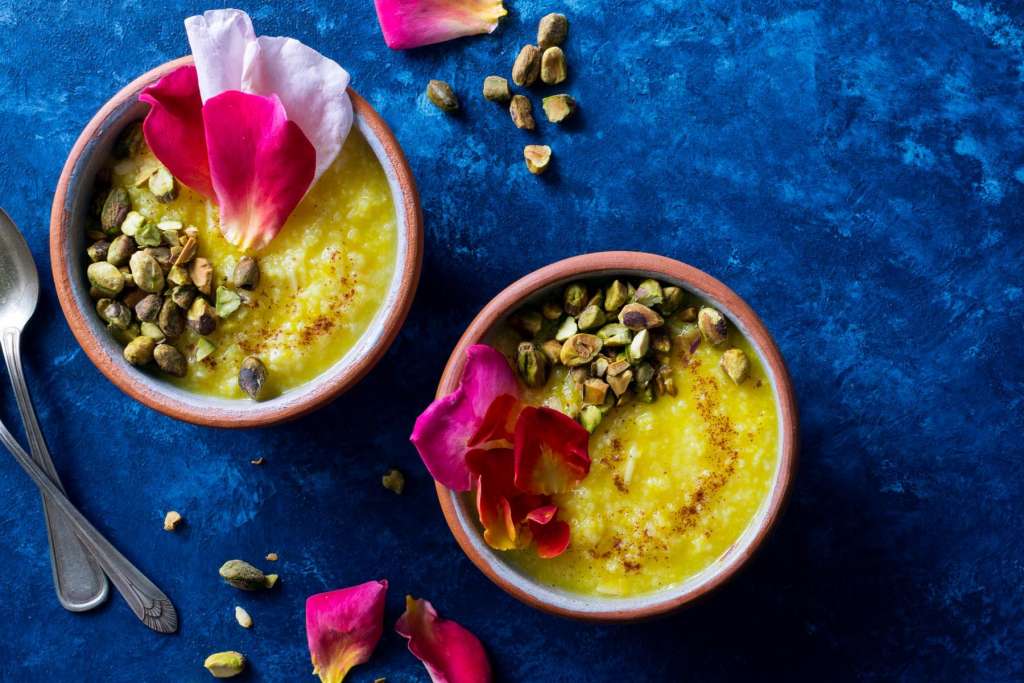 This is no simple nursery dessert. Our rice pudding is perfumed with cinnamon and rose water and gets its golden hue from saffron threads. It takes almost an hour to make the pudding, and can take another hour for it to chill, if desired, so plan ahead. But most of that cooking time is when the rice simmers on the stove. 
Sholeh Zard (Persian Saffron Rice Pudding)
Serves 6
Shopping List 
5 cups water
½ cup basmati rice
½ teaspoon kosher salt
⅓ cup honey 
¼ cup sliced almonds
1 tablespoon extra virgin olive oil
1 tablespoon salted butter 
½ teaspoon rose water
Pinch saffron threads (½ teaspoon)
⅛ teaspoon ground cardamom 
¼ cup roasted pistachios
¼ teaspoon cinnamon
Fresh or dried rose petals, for garnish, optional 
Tools 
Fine-mesh strainer, large sauce pot
Instructions
1 Cook the rice pudding
In a large sauce pot, combine the water, rice, and salt. Bring to a boil, reduce to a simmer, and cook, stirring occasionally, until the liquid is thickened and the rice is very tender, about 45 minutes. 
Stir in the honey, almonds, oil, butter, rose water, saffron, and cardamom and cook until the ingredients are incorporated, 2 to 4 minutes. Remove from the heat and let cool to warm or room temperature. If desired, cover and refrigerate the cooled rice pudding until thoroughly chilled, 1 to 2 hours.
While the rice cooks and cools, chop the pistachios.
2 Prep the pistachios
 Coarsely chop the pistachios. 
3 Serve
Transfer the rice pudding to individual bowls; garnish with the pistachios, cinnamon, and, if using, the rose petals. Serve warm, at room temperature, or chilled. 
Chef's Tip: For an even richer flavor, brown the butter before adding it to the rice in Step 1. Cook the butter in a small sauce pot on the stovetop over medium heat, stirring often, until the milk solids are browned and fragrant, 5 to 6 minutes. Then add to the rice as directed.
Nutrition per serving: Calories: 210, Protein: 3g (6% DV), Fiber: 1g (4% DV), Total Fat: 9g (14% DV), Monounsaturated Fat: 3.5g, Polyunsaturated Fat: 0.5g, Saturated Fat: 2g (10% DV), Cholesterol: 5mg (2% DV), Sodium: 160mg (7% DV), Carbohydrates: 31g (10% DV), Total Sugars: 16g, Added Sugars (honey): 15g (30% DV). Not a significant source of trans fat.
Bonus recipe—ingredients not included in box.