Chai This at Home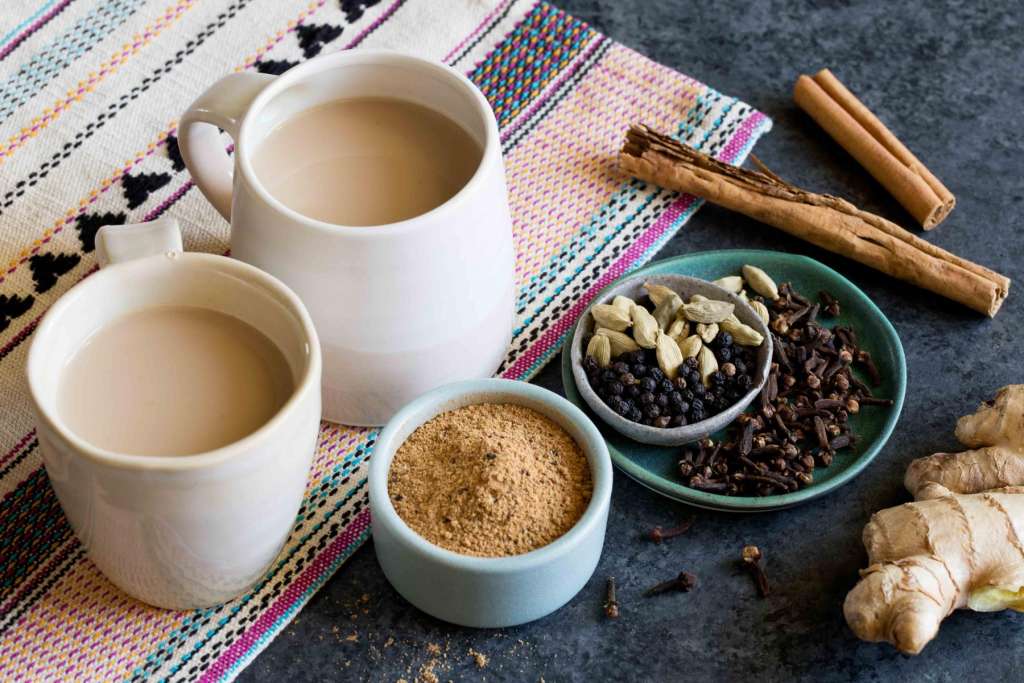 When Sun Basket Executive R&D Chef Alan Li was a student at the California Culinary Academy, he learned how to make this classic Indian spiced tea recipe from the instructor of his International Cuisines class. She began every morning by brewing a pot of chai, filling the hallways with its fragrance, and drawing students to the room to share a cup before beginning their day. While this recipe calls for regular whole milk, it's also delicious made with almond milk.
Chai Masala Recipe
Serves 2
Shopping List
Chai Masala Spice Blend
Makes about ½ cup, enough for about 96 cups chai tea
3 tablespoons plus 1½ teaspoons ground ginger
1 tablespoon plus 1½ teaspoons ground black pepper
1 tablespoon plus 1½ teaspoons  ground cinnamon
1 tablespoon plus 1½ teaspoons ground cardamom
1 teaspoon ground cloves
¼ teaspoon ground nutmeg
Tools
Small airtight jar or container with a lid
Make the chai masala spice blend
In a small airtight jar or container, combine the ground ginger, black pepper, cinnamon, cardamom, cloves, and nutmeg. Stir or cover and shake well to combine. Store, covered, in a cool, dry place for up to 1 year.
Shopping List
Chai Masala Tea
Serves 2
½ teaspoon chai masala spice blend
1½ cup water
½ cup whole milk
2 teaspoons loose black tea or 2 tea bags
2 teaspoons maple syrup (or other sweetener to taste, such as brown sugar, coconut sugar, or honey)
Tools
Fine-mesh strainer, medium bowl or pitcher, medium sauce pot
1 Steep the chai 
Measure ½ teaspoon chai masala spice blend (see recipe above).
In a medium sauce pot, combine the water, milk, loose black tea or tea bags, and chai masala spice blend. Bring to a simmer, stirring constantly, then hold at a simmer for about 30 seconds. Remove from the heat and let steep for 2 to 3 minutes, depending on desired strength. 
2 Serve
Strain the chai masala tea into 2 mugs. Add the maple syrup to taste, stir to combine, and serve.
Nutrition per serving: Calories: 60, Protein: 2g (4% DV), Fiber: 0g (0% DV), Total Fat: 2g (3% DV), Monounsaturated Fat: 0g, Polyunsaturated Fat: 0g, Saturated Fat: 1g (5% DV), Cholesterol: 5mg (2% DV), Sodium: 35mg (1% DV) (does not include pantry salt; for reference, ¼ teaspoon kosher salt added to the recipe averages 240mg per serving, or 10% DV), Carbohydrates: 8g (3% DV), Total Sugars: 7g, Added Sugars (Maple syrup): 4g (8% DV). Not a significant source of trans fat.
Bonus recipe—ingredients not included in box.