Kale Walnut Stuffed Delicata Squash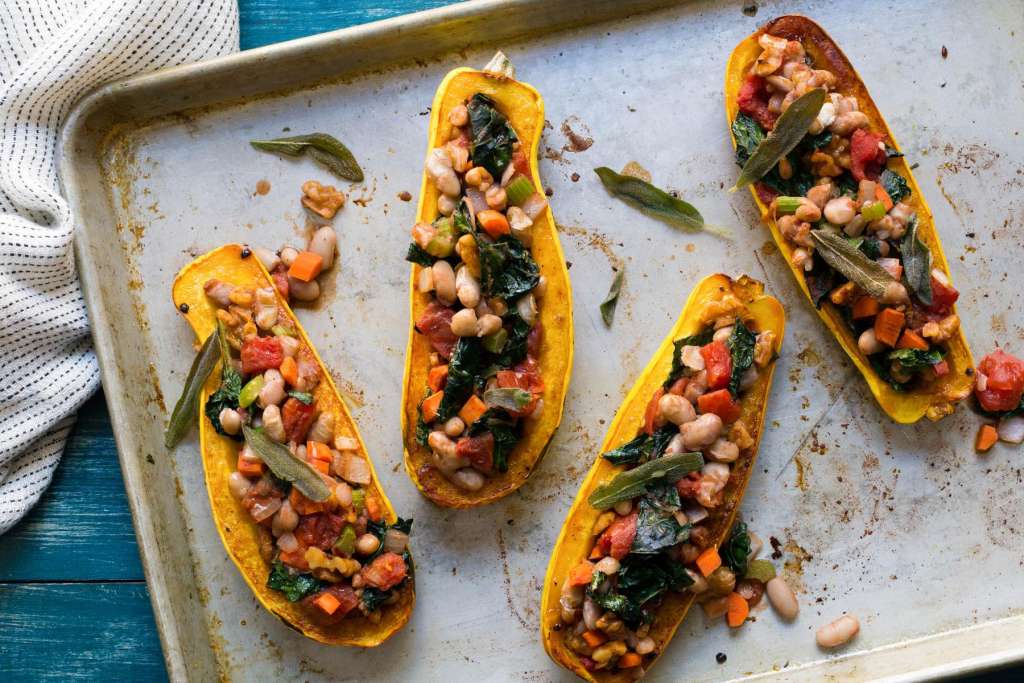 Feeling confident enough to cook without a recipe takes experience (and often a few missteps), but being able to make different dishes with the same ingredients is a great skill to have when plans (or your cravings) change direction. We like to call this creative redirection "Basket Hacks."
This week, Sun Basket Sous Chef Ali Ramee turned our pan-roasted delicata squash with sage, white beans, and kale into an impressive stuffed squash for a quick cold-weather dinner. This recipe is versatile and can be made with any type of squash. The possibilities for the filling are limited only by your imagination and what's on hand in your pantry.
For more tips on how to customize your recipes, see our test kitchen's Pantry Essentials for Hacking Your Sun Basket Meals. And if you ever go "off recipe" with your Sun Basket, we'd love to hear about it! Share it on Instagram with the hashtag #hackyourbasket
Ingredients
2 delicata squash (about 1¼ pounds total)
1 or 2 cloves peeled fresh garlic
1½ cups cooked white beans 
¼ cup walnuts
1 lemon
½ cup mirepoix (onions – carrots – celery)
1 tablespoon tomato paste
½ pound chopped kale
1 cup diced tomatoes
½ teaspoon ground allspice
½ teaspoon red chile flakes, optional
2 or 3 sprigs fresh sage
1 fresh bay leaf, save for another use
From your pantry
Kosher salt, freshly ground black pepper, olive oil
Tools
Peeler, fine-toothed or garlic press – optional, colander, large frying pan, sheet pan
1 Roast the squash
Heat the oven to 425°F.  
Trim the ends from the squash and cut the squash in half lengthwise; using a spoon, scoop out the seeds. Season the cut sides of the squash with salt and pepper. Drizzle 1 to 2 tablespoons oil on the cut side of the squash. 
On a lightly oiled sheet pan, place the squash cut side down and roast until tender when pierced with a sharp knife, 20 to 25 minutes. 
While the squash roasts, prepare the stuffing.
2 Prep the kale-bean stuffing
Finely chop, press, or grate enough garlic to measure 1 teaspoon.
Rinse the white beans.
Coarsely chop the walnuts.
Juice the lemon.
In a large frying pan over medium-high heat, warm 1 tablespoon oil until hot but not smoking. Add the mirepoix and cook, stirring occasionally, until starting to soften, 3 to 4 minutes. Stir in the garlic and tomato paste and cook until fragrant, about 30 seconds. Add the kale and cook, stirring occasionally, until the kale begins to wilt, 2 to 3 minutes. Stir in the white beans, tomatoes, allspice, walnuts, and as many red chile flakes as you like; bring to a boil and immediately remove from the heat. Stir in the lemon juice and season to taste with salt and pepper. 
3 Stuff the squash
Remove the squash from the oven; using tongs or spatula, turn the squash cut sides up and fill each with the kale-bean stuffing; wipe out the pan. Return the squash to the oven and continue roasting until the kale-bean stuffing is bubbling hot, 8 to 10 minutes. 
While the stuffed squash roast, prepare the sage. 
4 Prep and fry the sage
Strip the sage leaves from the stems.
In the same pan used for the stuffing, over medium-high heat, warm 1 tablespoon oil until hot but not smoking. Add the sage leaves and cook, turning once, until crisped and fragrant, about 15 seconds per side. Transfer to a paper towel-lined plate. 
5 Serve
Transfer the squash to individual plates, top with fried sage, and serve. 
Nutrition per serving: Calories: 680, Protein: 17g (34% DV), Fiber: 20g (80% DV), Total Fat: 43g (66% DV), Monounsaturated Fat: 22g, Polyunsaturated Fat: 13g, Saturated Fat: 5g (25% DV), Cholesterol: 0mg (0% DV), Sodium: 130mg (5% DV), Carbohydrates: 69g (23% DV), Total Sugars: 11g, Added Sugars: 0g (0% DV). Not a significant source of trans fat.