Moroccan Ghriba Almond-Matcha Cookies Recipe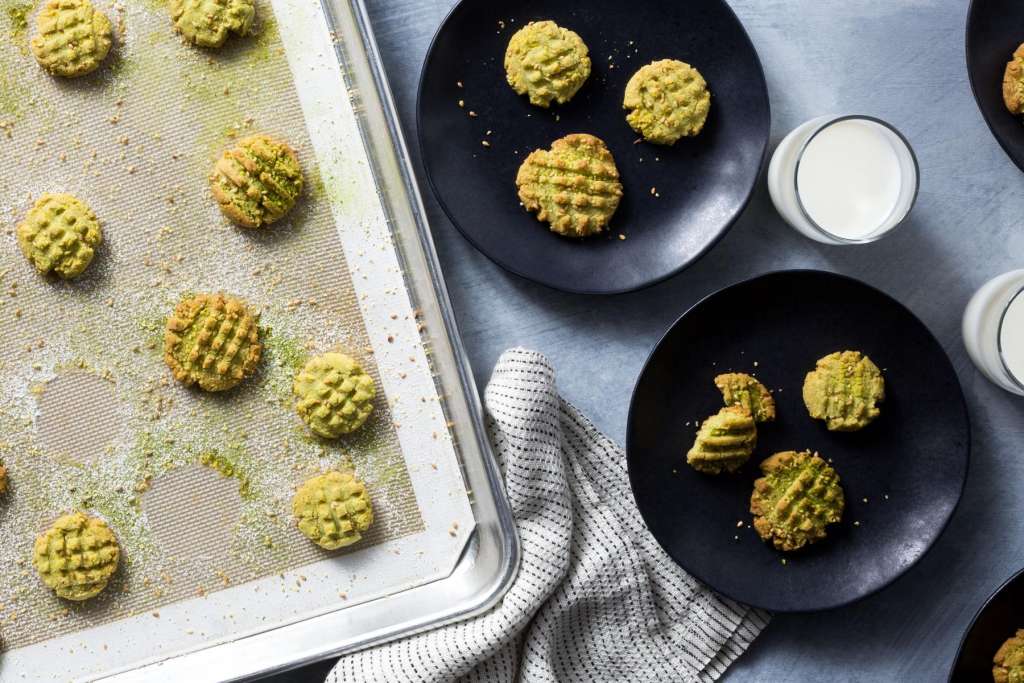 Matcha isn't something you see a lot of in North Africa, but we were intrigued when we saw a similar recipe by Nargisse Benkabbou, a London-based food writer and the author of Casablanca: My Moroccan Food. It turns out that the green-tea powder is absolutely delicious in these tender, crumbly almond shortbread cookies, that also happen to be gluten-free. 
Moroccan Ghriba Almond-Matcha Cookies
Makes about 20 cookies 
Shopping list
For the coating:
1 tablespoon finely ground whole grain cornmeal
1 tablespoon powdered sugar
¼ teaspoon matcha 
For the dough:
1 vanilla bean
1 cup almond flour
3 tablespoons powdered sugar
¼ teaspoon matcha 
¼ teaspoon kosher salt
1 teaspoon toasted sesame seeds, plus more for sprinkling
3 tablespoons unsalted butter, softened
Tools
Small bowl, medium bowl, sheet pan, parchment paper 
Instructions
1. Prep the coating; make the dough
Heat the oven to 350°F. Line a sheet pan with parchment paper. 
For the coating, in a small bowl, sift together the cornmeal, powdered sugar, and matcha. 
Cut the vanilla bean in half lengthwise and scrape out the seeds; set aside the seeds and save the bean for another use.
In a medium bowl, using a fork or whisk, stir together the almond flour, powdered sugar, matcha, vanilla seeds, salt, and 1 teaspoon sesame seeds, being sure to break up any lumps. Add the butter; using a fork, pastry cutter, or your fingertips, cut the butter into the flour mixture until incorporated and smooth. Using your hands, press to form the mixture into a dough.
2. Form and bake the cookies
Using a 1-teaspoon measuring spoon, scoop out 1-inch rounds of dough and, using your hands, roll into 1-inch balls. Roll each dough ball in the coating mixture and arrange the balls on the prepared sheet pan 1 to 2 inches apart. 
Using the tines of a fork, lightly press each ball to flatten and to form a crisscross pattern. Sprinkle each cookie with a few sesame seeds. Bake until golden brown, 8 to 10 minutes. Let cool on the sheet pan for about 10 minutes. 
Serve
Transfer the cookies to a plate and serve. 
Nutrition per serving (1 cookie): Calories: 120, Protein: 4g (8% DV), Fiber: 2g (8% DV), Total Fat: 10g (15% DV), Monounsaturated Fat: 0.5g, Polyunsaturated Fat: 0g, Saturated Fat: 1.5g (8% DV), Cholesterol: 5mg (2% DV), Sodium: 30mg (1% DV), Carbohydrates: 6g (2% DV), Total Sugars: 2g, Added Sugars (powdered sugar): 1g (2% DV). Not a significant source of trans fat.

Bonus recipe—ingredients not included in box.