A Turmeric Ginger Elixir for An Immunity Boost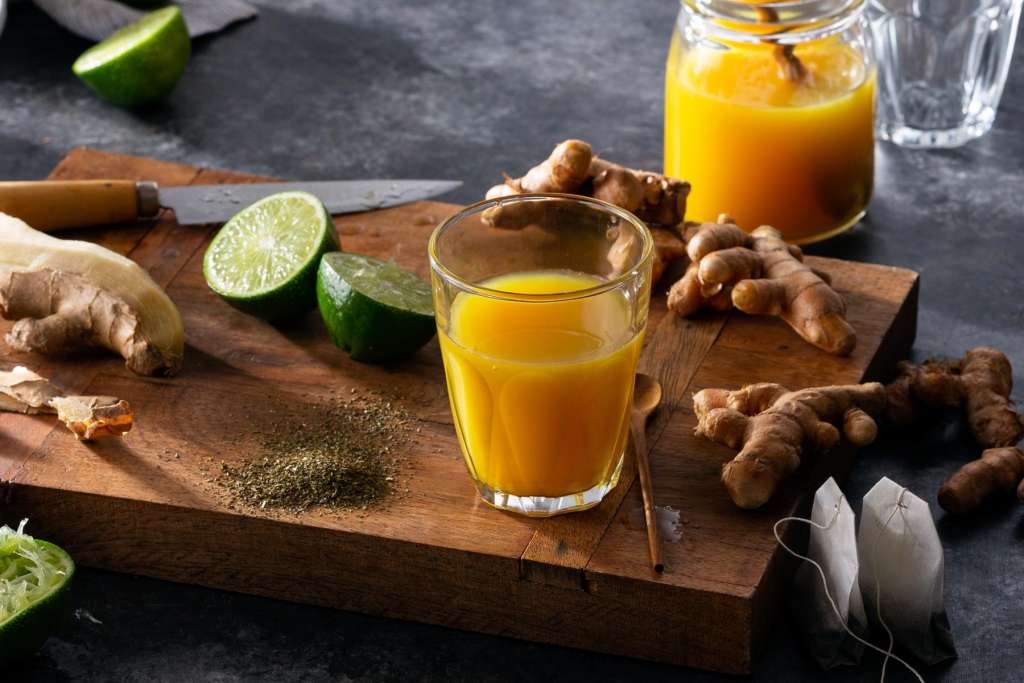 Turmeric and ginger are your cold-season superheroes. Here we combine those notable immunity boosters with vitamin C–loaded pineapple juice to make a hydrating elixir that tastes so good you'll want to drink it even when you're not sick. 
Fresh Turmeric-Ginger Cold Season Elixir Recipe
Makes 4 cups
Shopping List
1 organic lime
1 or 2 mint tea bags
2-inch piece fresh turmeric 
2-inch piece fresh ginger 
3 cups pineapple juice
2 tablespoons raw or local honey
Tools 
Medium sauce pot, peeler, blender, fine-mesh strainer, cheesecloth, optional
1. Prep the tea
In a medium sauce pot, bring 1 cup water to a boil; turn off the heat, add the mint tea bags and let steep until very strong, 5 to 10 minutes. Discard the tea bags and stir in the lime juice. 
While the tea steeps, prepare the ginger and turmeric.
2. Make the turmeric-ginger paste; finish the elixir
Peel and coarsely chop the turmeric and ginger.
In a blender, combine the turmeric, ginger, and pineapple juice and blend on high speed to a thick paste.
Using a fine-mesh strainer placed over the sauce pot, pour the turmeric mixture through the strainer into the tea, pressing on the solids. Alternatively, line the strainer with cheesecloth before pouring in the turmeric mixture, then wrap up and wring out the juices over the pot. Discard the solids.
Serve
Transfer the elixir to individual mugs or cups. 
Chef's tip: You can make the turmeric-ginger paste up to a week ahead. Add it to the mint tea as needed.
Nutrition per serving (serving size 1 cup): Calories: 160, Protein: 1g (2% DV), Fiber: 1g (4% DV), Total Fat: 0g (0% DV), Monounsaturated Fat: 0g, Polyunsaturated Fat: 0g, Saturated Fat: 0g (0% DV), Cholesterol: 0mg (0% DV), Sodium: 10mg (0% DV), Carbohydrates: 40g (13% DV), Total Sugars: 32g, Added Sugars: 8g (16% DV). Not a significant source of trans fat.
Bonus recipe—ingredients not included in box.