Get A Taste of the Big Easy with Our Crescent City Cooler Cocktail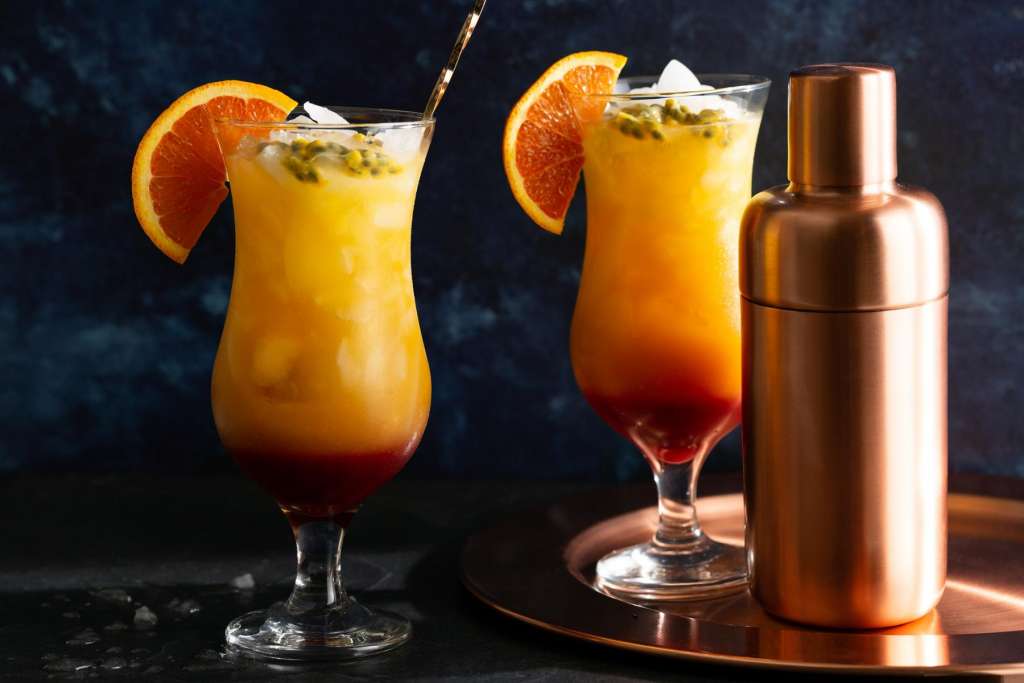 If you've ever been to New Orleans at Mardi Gras, you've no doubt seen revelers carrying tall, curvy glasses filled with Hurricanes. Our version of this French Quarter favorite features fresh passion fruit, honey, and a mix of dark and light rums. We also swirled in frozen dark sweet cherries for flavor and that iconic Hurricane look. 
Crescent City Cooler Recipe
Makes 2 coolers 
Shopping List
6 fresh passion fruits
2 ounces light rum
2 ounces dark rum 
1 tablespoon honey
1 cup fresh orange juice
4 cups chipped ice 
1 lime 
1 organic orange for garnish
½ cup frozen pitted dark sweet cherries
Tools
Cocktail shaker, blender 
1. Make the cocktail
Cut each passion fruit in half and scoop the pulp into a cocktail shaker. (You should have about 1 cup pulp.) 
Add the light and dark rums and honey to the cocktail shaker and shake vigorously. Add the passion fruit pulp, orange juice, and 2 cups ice and shake again.
2. Make the cherry-lime puree
Juice the lime.
Cut two ¼-inch-thick orange wheels for garnish.
In a blender, combine the dark sweet cherries and 2 tablespoons lime juice and blend until very smooth.
Serve
Fill 2 highball glasses with the remaining ice; swirl about 2 tablespoons cherry-lime puree into each glass and strain the cocktail mixture into the glasses. Garnish each glass with any remaining passion fruit pulp and an orange wheel and serve.
Nutrition per serving: Calories: 360, Protein: 4g (8% DV), Fiber: 0g (0% DV), Total Fat: 1g (2% DV), Monounsaturated Fat: 0g, Polyunsaturated Fat: 0.5g, Saturated Fat: 0g (0% DV), Cholesterol: 0mg (0% DV), Sodium: 35mg (1% DV), Carbohydrates: 55g (18% DV), Total Sugars: 37g, Added Sugars: 9g (18% DV). Not a significant source of trans fat.
Bonus recipe—ingredients not included in box.