Spanakopita Chicken Meatballs with Tzatziki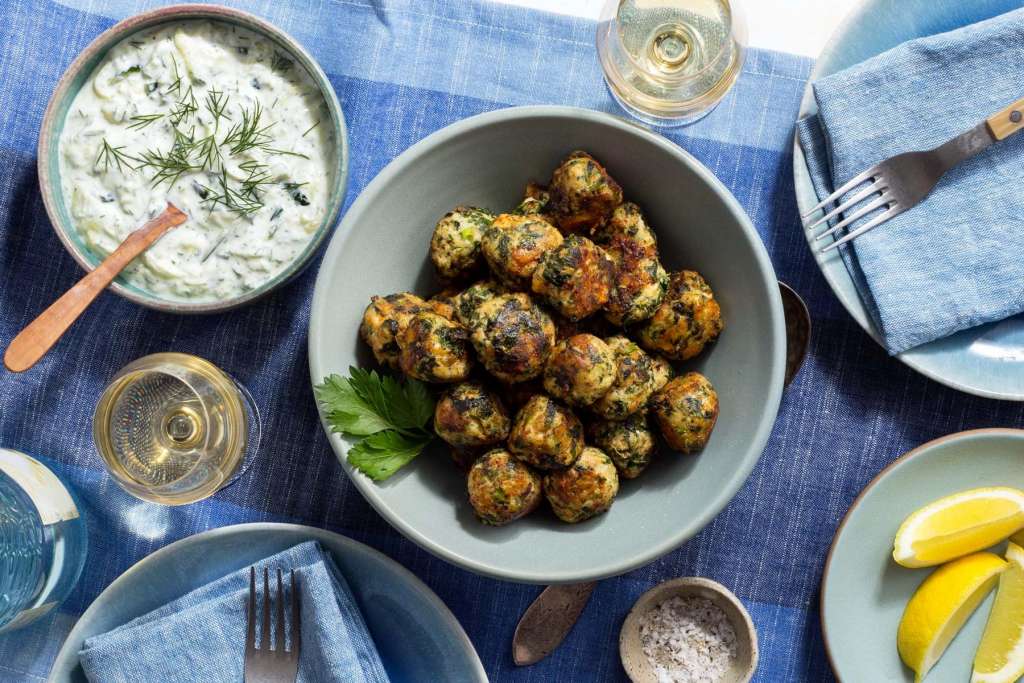 Inspired by the flavors of the classic Greek spanakopita, we added spinach, feta, and garlic to these easy chicken meatballs. They make a great main course served with salad or tuck them inside a pita for a sandwich. We love to make ½-inch round meatballs and pile them on a platter with the tzatziki in a bowl alongside to serve as an appetizer at a party, just be sure to reduce the cooking time by about half so that they don't overcook. 
Spanakopita Chicken Meatballs with Tzatziki Recipe
Serves 4 as a main course (or 8 to 10 as an appetizer)
Shopping List
For meatballs:
½ pound frozen spinach, defrosted and thawed
2 or 3 cloves organic fresh garlic
1 small bunch organic scallions
1 small bunch organic fresh flat-leaf parsley
1 organic lemon
1 organic egg, lightly beaten
1 cup crumbled feta
1 pound ground chicken 
3 tablespoons extra virgin olive oil
Kosher salt
Freshly ground black pepper
For tzatziki dipping sauce:
1 small organic cucumber
1 organic lemon
1 or 2 sprigs organic fresh dill
2 cloves organic garlic
1 cup organic Greek yogurt
1 tablespoon extra virgin olive oil
Kosher salt
Freshly ground black pepper
Tools
Garlic press, optional, fine-toothed grater, peeler, optional, box grater, large bowl, medium bowl, large frying pan, sheet pan 
1 Prep the meatballs
Heat the oven to 400°F
Using a clean kitchen towel, squeeze the excess water from the thawed spinach; coarsely chop the spinach. 
Finely chop, grate, or press enough garlic to measure 2 teaspoons. 
Trim the root ends from the scallions; finely chop the scallions crosswise. 
Strip the parsley leaves from the stems and coarsely chop enough leaves to measure ¼ cup. 
Zest the lemon, then cut the lemon into wedges.
2 Make the meatballs
In a large bowl, using a fork or whisk, blend the egg with the spinach, garlic, scallions, parsley, feta, lemon zest, and 1 tablespoon oil. Add the ground chicken, season generously with salt and pepper, and mix until just combined. Using wet hands, form the mixture into 1-inch meatballs.  (Makes about 20 meatballs.)
In a large frying pan over medium-high heat, warm 2 tablespoons oil until hot but not smoking. Working in batches if needed, add the meatballs and cook, turning once, until lightly browned but not yet cooked through, 2 to 3 minutes per side. Transfer the browned meatballs to a sheet pan and when all the meatballs are browned, roast until cooked through, 5 to 7 minutes. 
While the meatballs cook, prepare the tzatziki.
3 Make the tzatziki
Peel the cucumber, if desired, and trim the ends; using the large holes of a box grater, coarsely grate the cucumber. 
Juice the lemon.
Coarsely chop enough dill leaves to measure 1 tablespoon and set aside a few fronds for garnish.
Finely chop, grate, or press enough garlic to measure 2 teaspoons.
In a medium bowl, combine the yogurt, cucumber, 2 teaspoons lemon juice, chopped dill, garlic, and oil. Season to taste with salt and pepper and mix to combine.
4 Serve
Transfer the meatballs and tzatziki to separate serving bowls, garnish the tzatziki with the reserved dill fronds, and serve with the lemon wedges on the side.
Chef's tip: For leaner meatballs, you can roast them entirely in the oven. On a sheet pan, place the meatballs about 1 inch apart. Roast, stirring once halfway through, until lightly browned and cooked through, 10 to 12 minutes. 
Nutrition per serving: Calories: 480, Protein: 36g (72% DV), Fiber: 4g (16% DV), Total Fat: 34g (52% DV), Monounsaturated Fat: 17g, Polyunsaturated Fat: 4g, Saturated Fat: 11g (55% DV), Cholesterol: 175mg (58% DV), Sodium: 500mg (21% DV), Carbohydrates: 13g (4% DV), Total Sugars: 6g, Added Sugars: 0g (0% DV). Not a significant source of trans fat.
Bonus recipe—ingredients not included in box.