Vegan Chocolate Cake with Sweet Dukkah Topping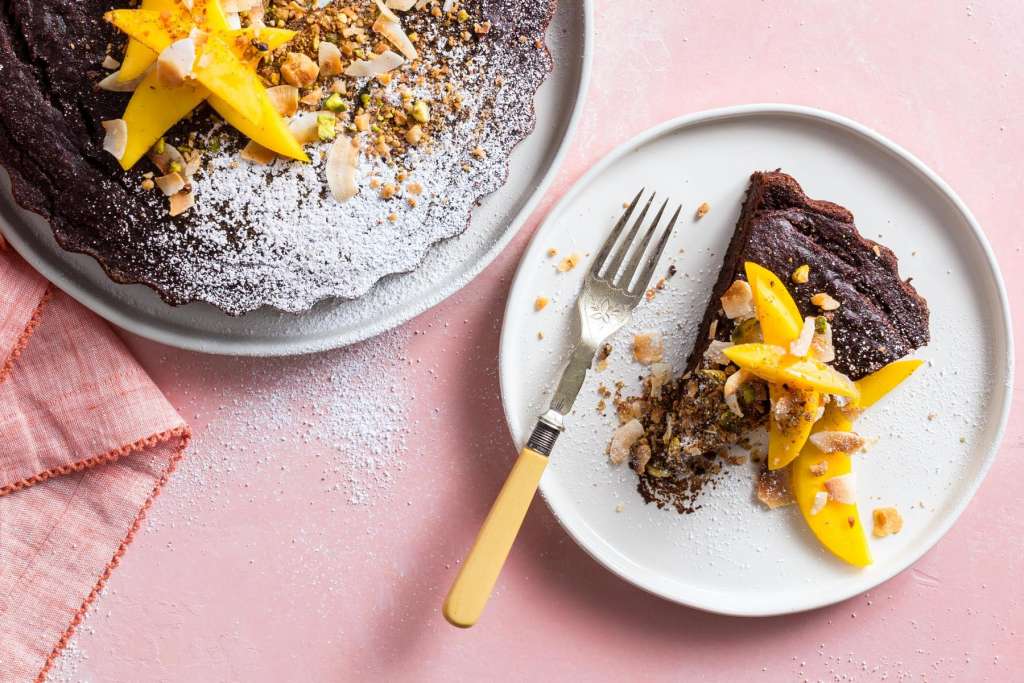 Instead of eggs and butter, this gluten-free cake gets it fudgy texture from puréed mango and avocado. It's sweetened with coconut palm syrup instead of sugar and finished with our version of Egyptian dukkah, a blend of toasted nuts and seeds with coconut and cocoa powder. Save any leftover dukkah for a yogurt parfait or ice-cream sundae. This cake goes especially well with a side of fresh sliced mangos or pineapple. 
Vegan Chocolate Cake with Sweet Dukkah Topping Recipe
Serves 12
Shopping List
For the cake:
¼ cup coconut oil, melted, plus 1 to 2 tablespoons for greasing
¾ cup gluten-free flour, preferably Cup4Cup
¼ cup corn flour
2 teaspoons baking powder
2 tablespoons coconut flour
½ cup cocoa powder
½ teaspoon kosher salt
1 organic ripe avocado
1 organic ripe mango
1 cup coconut palm syrup
2 teaspoons pure vanilla extract
1 cup unsweetened lite coconut milk
1 tablespoon white vinegar
2 teaspoons baking soda
¼ cup powdered sugar, for sprinkling, optional
Organic chopped peeled tropical fruits, such as mango, pineapple, and passionfruit, for serving, optional
For the dukkah topping:
¼ cup shaved coconut 
2 tablespoons roasted macadamias 
2 tablespoons roasted, salted pistachios 
1 tablespoon cacao nibs 
2 teaspoons coconut sugar 
½ teaspoon ground cinnamon 
½ teaspoon sweetened cocoa powder
Tools
Fine-mesh strainer or sifter, 2 large bowls, small frying pan, 8-inch round cake pan, blender or food processor
1 Prep the dry ingredients
Heat the oven to 350°F.
Lightly grease an 8-inch round cake pan with the 1 to 2 tablespoons coconut oil.
In a large bowl, sift together the gluten-free flour, corn flour, baking powder, coconut flour, cocoa powder, and salt. Set aside. 
2 Prep the wet ingredients; make the cake batter
Cut the avocado in half lengthwise; remove the pit and scoop out the flesh.
Trim the top and bottom of the mango; cut away the peel, then cut the flesh away from either side of the pit into halves. Coarsely chop enough mango to measure ½ cup. 
In a blender or food processor, combine the avocado, mango, and ¼ cup water and blend until smooth. 
Pour the mixture into a large bowl. Stir in the coconut palm syrup, vanilla, coconut oil, coconut milk, and vinegar. Stir in the baking soda. 
Add the dry ingredients to the wet ingredients and stir vigorously until smooth. 
3 Bake the cake
Pour the cake batter into the prepared cake pan. Using a spatula, smooth the batter. 
Bake until a toothpick inserted into the center comes out clean and the edges are pulling away from the sides of the pan slightly, 35 to 40 minutes. Remove from the oven and let cool in the pan, about 1 hour. 
While the cake bakes, prepare the dukkah topping.
4 Prepare the dukkah topping
In a dry small frying pan over medium heat, toast the coconut, stirring occasionally, until lightly browned and fragrant, 2 to 3 minutes. Transfer the coconut to a plate to cool; wipe out the pan.
Using a food processor, a sharp knife, or a mortar and pestle, pulse, chop or grind the macadamias, pistachios, cacao nibs, coconut sugar, cinnamon, and cocoa powder to a coarse powder. Fold in the toasted coconut.
5 Serve
Lightly dust the cake with as much powdered sugar and dukkah as you like. Cut the cake into wedges and serve, with tropical fruit on the side if desired. 
Nutrition per serving: Calories: 350, Protein: 3g (6% DV), Fiber: 4g (16% DV), Total Fat: 16g (25% DV), Monounsaturated Fat: 3.5g, Polyunsaturated Fat: 0.5g, Saturated Fat: 10g (50% DV), Cholesterol: 0mg (0% DV), Sodium: 330mg (14% DV), Carbohydrates: 48g (16% DV), Total Sugars: 28g, Added Sugars (coconut sugar, coconut nectar, powdered sugar): 21g (42% DV). Not a significant source of trans fat.
Bonus recipe—ingredients not included in box.