Onigiri, the Ultimate Portable Snack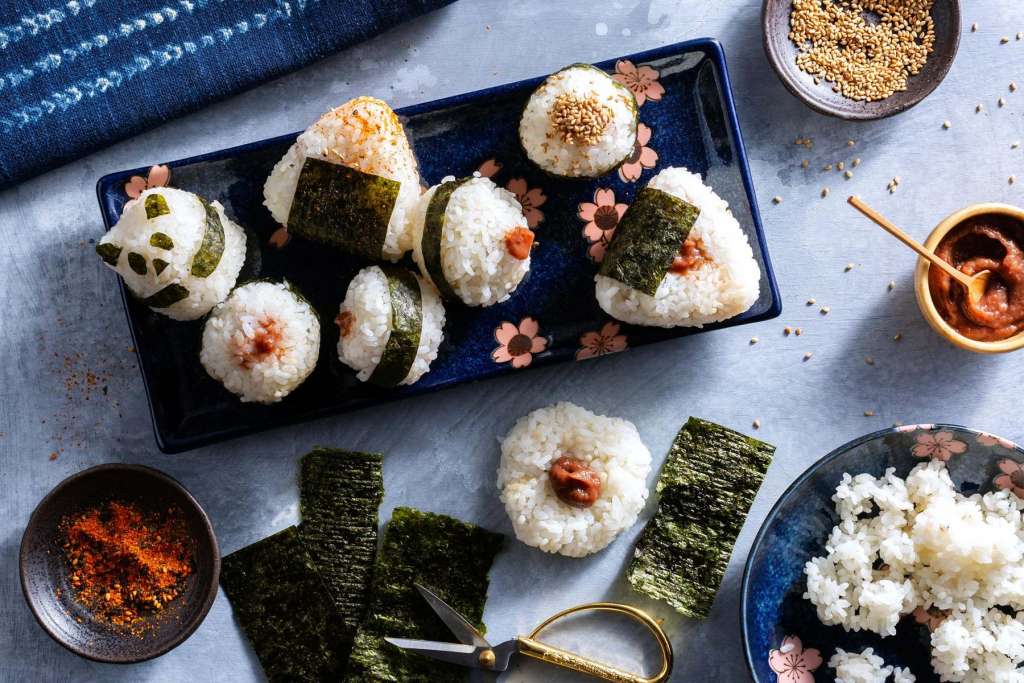 These adorable little rice snacks are ubiquitous in Japan, where they're sold in convenience stores, train stations, and just about everywhere else. You can find dozens of sizes and shapes (bunnies! kittens! panda bears!), with countless fillings. Making them at home is simple—you just need sushi rice, nori, and a filling. They're an invitation to be creative and use whatever you have on hand, from tuna, smoked salmon, or leftover pieces of fish to vegetables, such as cucumber, cooked greens, or chopped asparagus. Chicken, shredded beef, and pork are delicious options too. The one caveat is to rinse the rice well in several changes of water before cooking, so that it isn't too gummy.
Onigiri Recipe
Makes 12 onigiri
Shopping List
2 cups short-grain or sushi rice
6 sheets nori (roasted seaweed) 
Filling options:
1 jar umeboshi (Japanese pickled plums)
Leftover cooked salmon, tuna, or shrimp 
Chopped cooked vegetables, such as mushrooms, asparagus, broccoli, or cabbage
Shichimi togarashi or sesame seeds for garnish
Pickled mustard greens (see recipe below)
Tools
Fine-mesh strainer, 2 medium sauce pots. one with a lid, plastic wrap
1. Prepare the rice
In a medium sauce pot over medium heat, combine the rice with 2½ cups water, cover, and bring to a boil. Reduce the heat to low and continue to cook until all the water is absorbed, 12 to 14 minutes. Turn off the heat and let stand, covered, for 10 minutes longer.
Transfer the rice to a plate, fluff with a fork, and set aside until cool enough to handle.
While the rice cooks, prepare the filling and nori.
2. Prepare the filling and nori
Pickle the mustard greens (see recipe below.)
If using, remove the pits from the umeboshi and cut the umeboshi in half. 
Using a sharp knife, slice the nori into 1- to 2-inch strips.
3. Make the onigiri
Place a piece of plastic wrap on a flat surface. Scoop about ¼ cup rice and place in the center of the plastic wrap. Using your thumb, make a well in the center of the rice and add 1 to 2 teaspoons desired filling. Gather all 4 corners of the plastic wrap and twist until tight, using your hands to help form the rice into a ball. 
Unwrap the rice ball and place in the center of a nori strip. Wrap the nori strip around the rice ball.
Sprinkle with shichimi togarashi or sesame seeds.
Serve
Transfer the onigiri to a plate and serve immediately. 
Chef's Tip: Rinsing rice removes starches on the surface of the grains that can cause clumping. You can give the rice a quick rinse in a fine-mesh strainer under cold running water, or place the grains in a small bowl, cover with cold water, swish a few times, drain, and repeat until the water runs clear.
Chef's tip: Onigiri shapes are not limited to the balls we've instructed you to make here, they're just the easiest version. You can find onigiri molds in the shape of triangles, animals, and other characters at your local Asian market, so have fun with different shapes.
Pickled Mustard Greens Filling Recipe
Shopping list
¼ cup rice vinegar
2 tablespoons cane or coconut sugar
1 tablespoon salt
½ pound mustard greens
In a medium sauce pot, combine the rice vinegar, 2 cups water, and sugar. Season with the salt and bring to a boil; immediately turn off the heat. Remove any coarse stems from the mustard greens; coarsely chop the greens. Stir the greens into the pickle brine and set aside for up to 1 hour.
Nutrition per serving (serving size: 1 onigiri): Calories: 120, Protein: 2g (4% DV), Fiber: 1g (4% DV), Total Fat: 0g (0% DV), Monounsaturated Fat: 0g, Polyunsaturated Fat: 0g, Saturated Fat: 0g (0% DV), Cholesterol: 0mg (0% DV), Sodium: 1440mg (60% DV), Carbohydrates: 26g (9% DV), Total Sugars: 0g, Added Sugars: 0g (0% DV). Not a significant source of trans fat.
Bonus recipe—ingredients included in box.