Chocolate Tahini Truffles Recipe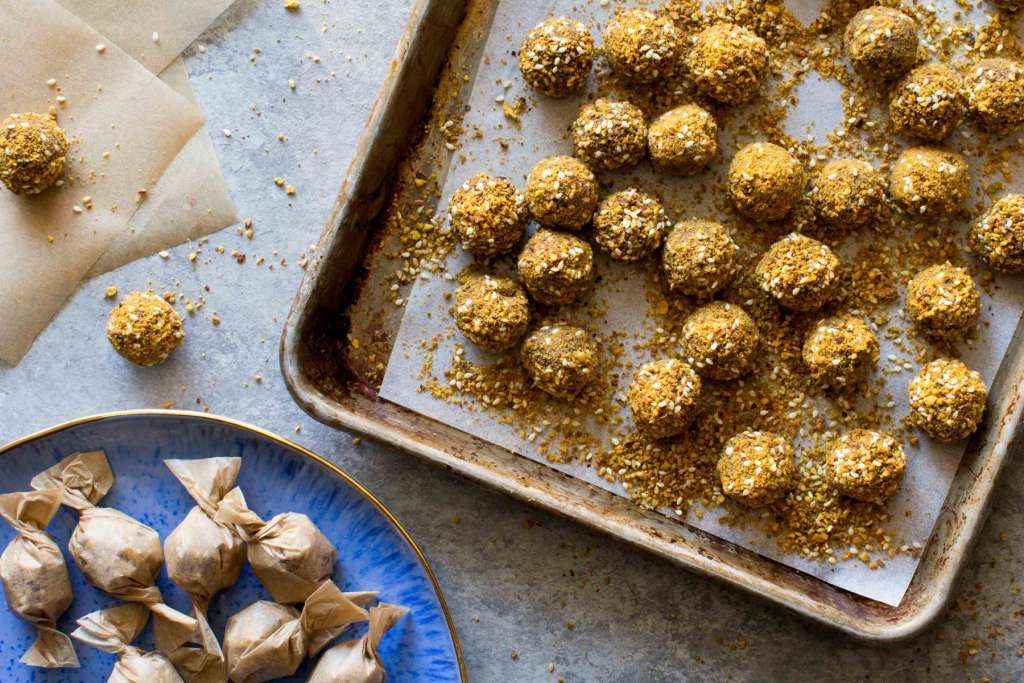 Inspired by an Epicurious recipe, Sun Basket Test Kitchen Chef Paul Conte makes these truffles with tahini instead of cream to give them a satin-smooth texture, then finishes them with a spiced-nut topping. Don't skimp on the chocolate: use the best you can afford. If you've never had a truffle dusted in Aleppo chile flakes before, we think you'll love the subtle-yet-intriguing bite of heat the mild red flakes bring to the party. And don't skip the salt. It's the ingredient that ties all the flavors together. 
Chocolate Tahini Truffles
Makes about 45 truffles 
Serving size: 1 truffle
Shopping List
6 ounces bittersweet chocolate (between 60 and 70 percent cacao)
1 cup tahini
¼ cup plus 2 tablespoons honey, preferably buckwheat
½ teaspoon kosher salt
1 cup salted roasted pistachios
1 teaspoon Aleppo chile flakes
3 tablespoons toasted sesame seeds
Tools
Small melon baller or half-teaspoon measuring spoon, food processor, optional, medium heatproof bowl, large bowl, medium sauce pot, small baking dish (4 by 6 inches)
1 Prep the truffle mixture
Finely chop the chocolate.
Bring a medium sauce pot filled halfway with water to a simmer. While the water heats, finely chop the chocolate.
In a medium heatproof bowl, stir together the chocolate, tahini, honey, and salt. Set the bowl over (not touching) the simmering water and let warm, stirring occasionally, until the chocolate is melted and the mixture is smooth, about 5 minutes. Be careful not to let the water come to a boil.
Carefully transfer the mixture to a small baking dish. Cover and refrigerate until firm, 1 to 2 hours. 
While the truffle mixture chills, prepare the topping. 
2 Prep the topping; make the truffles
Using a food processor or a sharp knife, finely chop the pistachios. 
Transfer the pistachios to a large bowl and stir in the Aleppo chile flakes and sesame seeds. 
Using a small melon baller or a ½-teaspoon measuring spoon, scoop out 1-teaspoon rounds, then roll them between your palms into ½-inch balls. Add the balls, a few at a time, to the pistachio mixture and toss to coat, then transfer to a platter.
3 Serve
Serve the tahini truffles at once or transfer to an airtight container and refrigerate for up to 5 days. 
Chef's Tip: If you're giving the truffles as gifts, wrap them individually in parchment paper, twisting the ends to seal closed. Truffles can be stored, covered in the refrigerator, for up to 5 days. Remove from the fridge and let stand for 10 minutes before serving. 
Nutrition per serving: Calories: 45, Protein: 1g (2% DV), Fiber: 1g (4% DV), Total Fat: 3.5g (5% DV), Monounsaturated Fat: 1g, Polyunsaturated Fat: 1g, Saturated Fat: 1g (5% DV), Cholesterol: 0mg (0% DV), Sodium: 20mg (1% DV), Carbohydrates: 3g (1% DV), Total Sugars: 2g, Added Sugars (Honey, chocolate): 1g (2% DV). Not a significant source of trans fat.
Bonus recipe—ingredients not included in box.