Gluten-Free Seed Crackers Recipe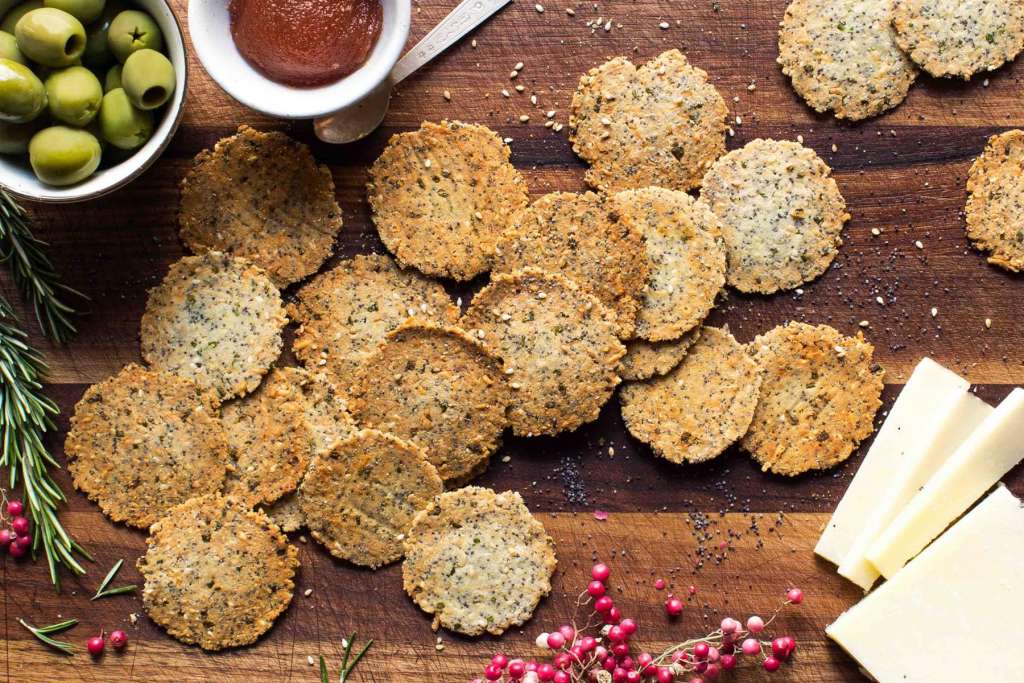 Making crackers from scratch may sound complicated, but it's surprisingly easy. This recipe from Chef Justine is flavored with a healthy dose of Pecorino and is a delicious way to kick off a cocktail hour. Serve them with your favorite dips, fresh vegetables, canned fish, and even cheeses. 
Gluten-Free Seed Crackers
Makes about 25 crackers
Serves 6 (about 4-5 crackers each)
Shopping List
1 bunch chives 
1 large egg 
1 tablespoon extra virgin olive oil
¼ teaspoon Dijon mustard
1 cup almond flour
¼ cup grated Pecorino 
2 tablespoons poppy seeds
1 tablespoon toasted sesame seeds
1½ teaspoons granulated garlic 
¼ teaspoon kosher salt
Cornmeal, for dusting
Tools 
Small bowl, medium bowl, large sheet pan
1 Make the cracker dough
Heat the oven to 325°F.
Finely chop enough chives to measure ¼ cup.
In a small bowl, separate the egg white from the egg yolk, save the yolk for another use.
Add the olive oil and Dijon mustard to the egg white and whisk until just combined. 
In a medium bowl, stir together the chives, almond flour, Pecorino, poppy seeds, sesame seeds, granulated garlic, and salt. Add the egg white mixture and stir until just combined, being careful not to overmix. 
2 Make the crackers
Line a sheet pan with parchment paper. Lightly dust the parchment with cornmeal. 
Cut a 4-inch square from another sheet of parchment paper. 
Using a teaspoon, scoop the dough to form about twenty-five ½-inch rounds. Arrange the rounds on the sheet pan 2 to 3 inches apart. Working with 1 round at a time, set the square of parchment over each; using the bottom of a small glass or cup, press to form 2-inch-wide thin discs. Lightly sprinkle the discs with salt. 
Bake, rotating the pan halfway through until the crackers are golden brown, 15 to 18 minutes. Transfer the crackers to a plate or cooling rack and let cool.
3 Serve
Serve at once or store in an airtight container for up to 1 week. 
Nutrition per serving: Calories: 180, Protein: 6g (12% DV), Fiber: 3g (12% DV), Total Fat: 14g (22% DV), Monounsaturated Fat: 2.5g, Polyunsaturated Fat: 1g, Saturated Fat: 1.5g (8% DV), Cholesterol: 5mg (2% DV), Sodium: 160mg (7% DV), Carbohydrates: 6g (2% DV), Total Sugars: 1g, Added Sugars: 0g (0% DV). Not a significant source of trans fat.
Bonus recipe—ingredients not included in box.