DIY Holiday Gifting Mason Jar Snow Globe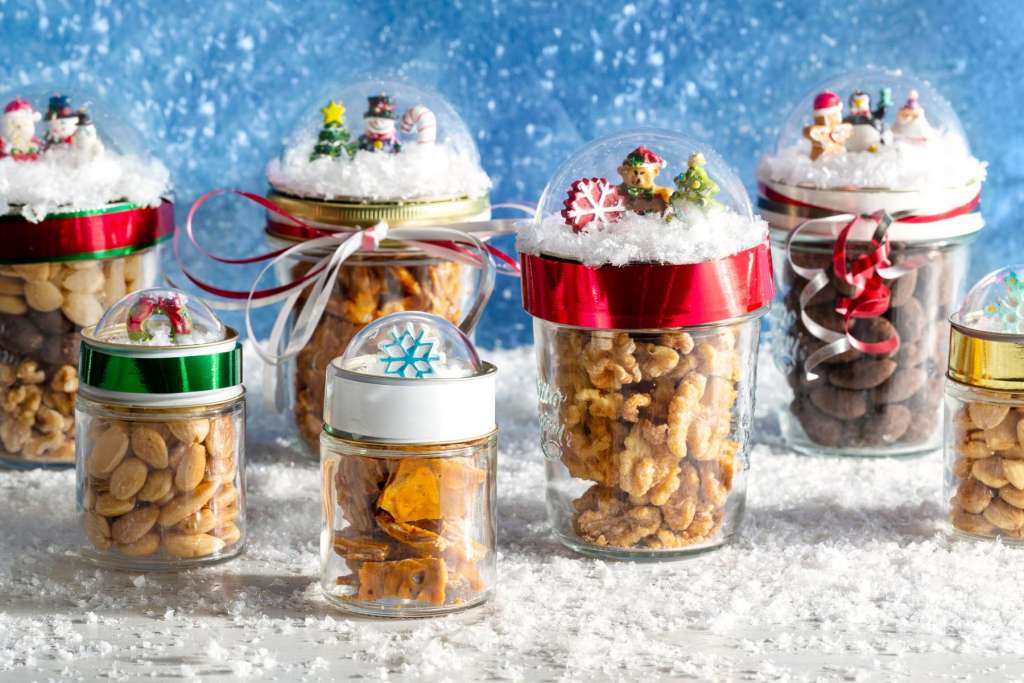 The Holidays are all about doing some extra for someone you love. Surprise a friend, loved one, or teacher this year by making them a mason jar snow globe stuffed with their favorite treats. Here, we decided to stuff our mason jars with different treats from our marketplace like Hu Chocolate-Covered Hunks with Almonds and Sea Salt, Old Dog Ranch Mexican Hot Chocolate Walnuts, and Sweetdragon Baking Co.Burnt Almond Brittle. Make sure you share your Mason Jar snow Globes with us by tagging @sunbasket on Instagram and Facebook!
Mason Jar Snow Globes 
Materials
Mason jar with a lid. Find them at local craft store or here 
Miniature Christmas tree ornaments. Find them here 
1 bag of fake snow. Find them here
String, ribbon, or twine (to wrap around the lid)
Glue gun 
Scissors
Clear Plastic Ornaments 
Directions
Take apart the mason jar lid

Cut the ornament string off of the top of the miniature Christmas tree ornaments.

Create a snow globe scene! Hot glue different miniature tree ornaments on top of the lid

Add some fake snow on top.

 Dust off any extra snow on the very outside of the mason jar lid.

Open up a clear plastic ornament and glue so it is in 2 pieces. Glue around the 1 of the edges or glue the edge of the mason jar lid (either works!)

Place it on top of the mason jar! There is a small circle on the ornaments which is made to put string in and hang on a tree. You can either cut that part off with scissors or place it in the back of the jar, so it is hidden. 

(Optional) Glue fake snow on the rim outside the ornament for a little extra sparkle if you like!

Add whatever you want on the inside of your mason jar and tie a little string, ribbon, or twine around the lid to finish it off.