Our Hibiscus Melon Cooler Helps You Stay Hydrated on the Hottest Days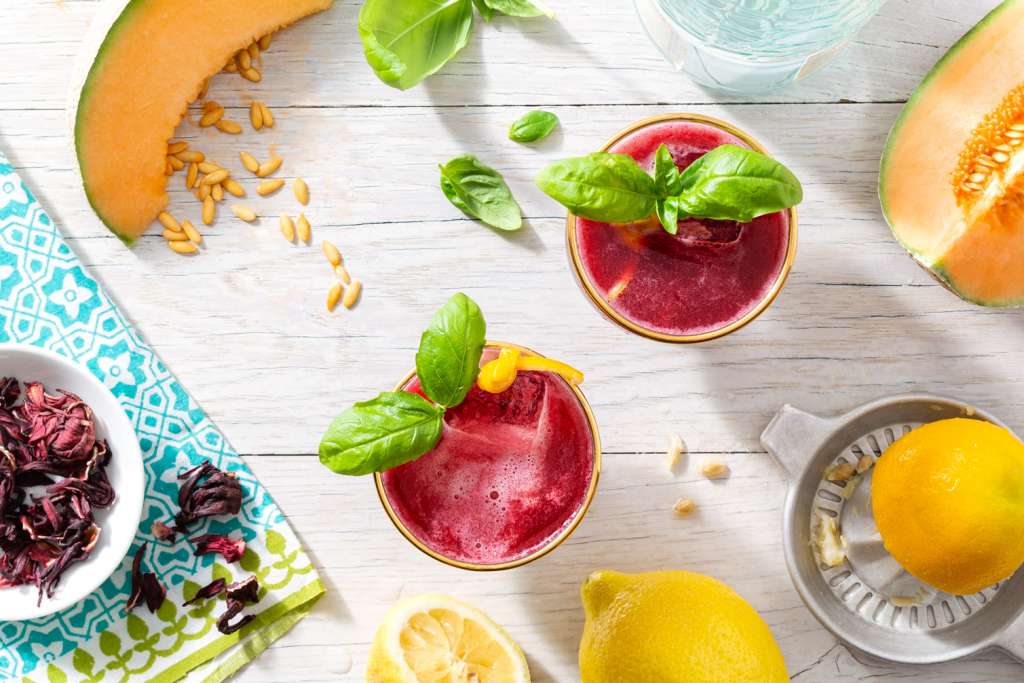 Sweet and tart, with a flavor that veers slightly towards cranberry, hibiscus tea makes a refreshing cooler, especially on a hot afternoon. It's loaded with good stuff, like vitamin C, minerals, and antioxidants, and it may even be helpful in managing blood pressure and cholesterol levels, reducing the risk of cancer and liver disease. Juicy melon sweetens the deal, while fragrant fresh basil and tart sumac add to the drink's complexity.
Hibiscus-Melon Cooler with Lemon and Fresh Basil
Serves 8 to 10
Shopping List 
1 vanilla bean
1 cup dried hibiscus flowers
⅔ cup cane sugar
1 organic cantaloupe or other seasonal melon (about 3 pounds)
2 organic lemons 
4 sprigs organic fresh basil or purple basil, if available
½ teaspoon sumac
Kosher salt
4 cups ice cubes
1 cup chilled sparkling water 
Tools
Peeler, fine-mesh strainer, blender, large sauce pot, pitcher or large glass jar 
1 Make the hibiscus tea
Cut the vanilla bean in half lengthwise and scrape out the seeds from one half; save the other half for another use. 
In a large sauce pot, bring 4 cups water to a boil. Remove from the heat. Add the hibiscus flowers, vanilla bean and seeds, and sugar, stirring until the sugar is dissolved. Let steep, stirring periodically, about 1 hour or until room temperature. 
While the tea steeps, prepare the remaining ingredients.
2 Prep the remaining ingredients; make the cooler
Trim the ends from the melon. Stand the melon on one end; using a knife, carefully remove the peel. Cut the flesh in half and scoop out the seeds; coarsely chop the fruit. 
Using a peeler, remove the zest in wide strips from the lemons for garnish; juice the lemons. 
Strip the basil leaves from the stems.
In a blender, combine the melon, sumac, lemon juice, and a pinch of salt and blend until smooth. Add the melon mixture to the pot with the hibiscus tea. Strain the tea through a fine-mesh strainer into a pitcher or large glass jar. Discard the solids.
3 Serve
Pour the cooler into ice-filled glasses; garnish with the basil, lemon zest strips, and a splash of sparkling water and serve immediately. 
Chef's Tip: To bring the tea to room temperature more quickly, pour the steeping tea into a heatproof bowl and set the bowl in a larger bowl filled with ice.
Nutrition per serving: Calories: 140, Protein: 1g (2% DV), Fiber: 2g (8% DV), Total Fat: 0g (0% DV), Monounsaturated Fat: 0g, Polyunsaturated Fat: 0g, Saturated Fat: 0g (0% DV), Cholesterol: 0mg (0% DV), Sodium: 15mg (1% DV), Carbohydrates: 33g (11% DV), Total Sugars: 24g, Added Sugars: 17g (34% DV). Not a significant source of trans fat.
Bonus recipe—ingredients not included in box.