Give Yourself a DIY Spa Treatment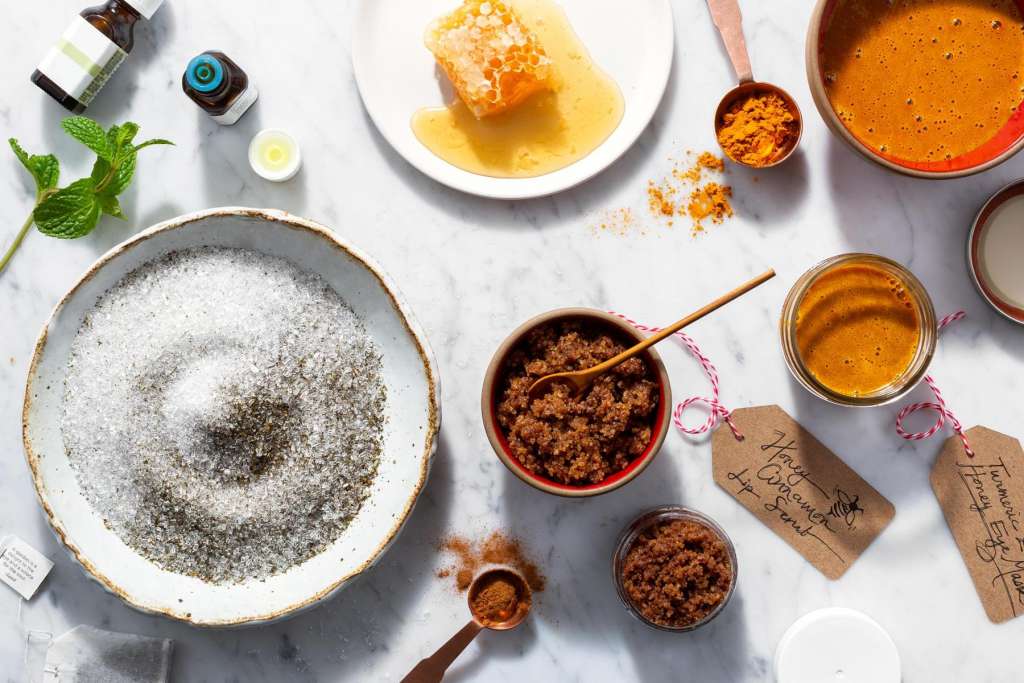 Holiday stress, extra caffeine, and maybe a little too much alcohol at the office party has likely left you feeling less than stellar this season. Treat yourself to a little self-care to keep your party game on through the New Year. This three-part DIY spa treatment includes a peppermint and citrus bath soak, a turmeric honey eye mask to soothe your sleep-deprived eyes, and a honey-cinnamon lip scrub to soften your dry, winter lips.
Plus, this also doubles as a great DIY gift for the person in your life who needs a little self-care. 
Peppermint Citrus Bath Soak
Ingredients:
2 cups Epsom salt
4 peppermint tea bags or 4 tablespoons loose peppermint tea
10 to 15 drops citrus essential oil of your choice
Tools
Parchment paper or funnel, glass jar, scissors, medium bowl
1. In a medium bowl, add the Epsom salt. Open the tea bags and sprinkle over the Epsom salt.
Add 10 to 15 drops of citrus oil over the salts and tea leaves. Toss lightly to incorporate. Transfer to parchment paper or using a funnel, carefully transfer into the jar.
2. Add all of the bath soak to a warm running bath and let the salt dissolve. Soak for at least 30 minutes. If not using immediately, store in an airtight container, away from heat, for 4 to 6 weeks.
Ingredient IQ:
Epsom salt: Epsom salt is not really a salt, it's actually magnesium sulfate, a mineral that helps your body produce energy and impacts more than 300 enzyme systems. Many people are magnesium deficient, which is known to increase anxiety and can cause muscle aches and high blood pressure. 
Peppermint tea: Peppermint rejuvenates the nervous system and is both energizing and soothing for red or inflamed skin.
Citrus essential oil: Orange, lemon, and grapefruit essential oils are energizing and mood-boosting and support the immune system. They can also ease anxiety and irritability.
Turmeric and Honey Eye Mask
Ingredients:
¼ cup manuka or raw honey 
2 tablespoons turmeric powder
Tools
Small bowl, measuring spoon, measuring cup, small jar for storage, small fan brush, optional
1. In a small bowl mix the honey and turmeric powder together until completely incorporated. Transfer to a jar.
2. With your fingers or a brush, if using, apply 1 teaspoon under each eye and leave on for 10 to 15 minutes.  Remove using a washcloth soaked in warm water. Use once per week. Store at room temperature for 4 to 6 weeks.
Ingredient IQ: 
Turmeric: This bright orange spice is naturally anti-inflammatory to help with puffiness around eyes, and contains curcumin which helps lighten dark circles.
Honey: A natural humectant, honey moisturizes and softens skin, which—around the eye—is typically dry.
Honey-Cinnamon Lip Scrub
Ingredients:
4 tablespoons raw coarse sugar, such turbinado
1 tablespoon coconut oil
1 tablespoon honey
1 teaspoon ground cinnamon
Tools
Measuring spoons, medium bowl, glass jar for storage
1. In a medium bowl, combine the coconut oil, honey, and cinnamon and mix until incorporated, then gently fold in the sugar; don't over mix. Transfer to a glass jar.
2. Apply 1 teaspoon of the scrub to clean lips for up to 1 minute to remove dry flaky skin. Then apply lipstick or a moisturizing lip balm. Store lip scrub at room temperature for up to 6 weeks.
Ingredient IQ: 
Coconut oil: Antimicrobial, antibacterial, and moisturizing. 
Coarse sugar: The large granules of coarse sugars are exfoliating without being too rough on delicate skin.
Cinnamon: Cassia oil, a calming agent found in cinnamon, activates your mucus membrane (not in a harmful way) when applied to the lips. This causes blood circulation to your lips to increase, making them temporarily plumper.