Spring Market Watch: Radishes & Sprouts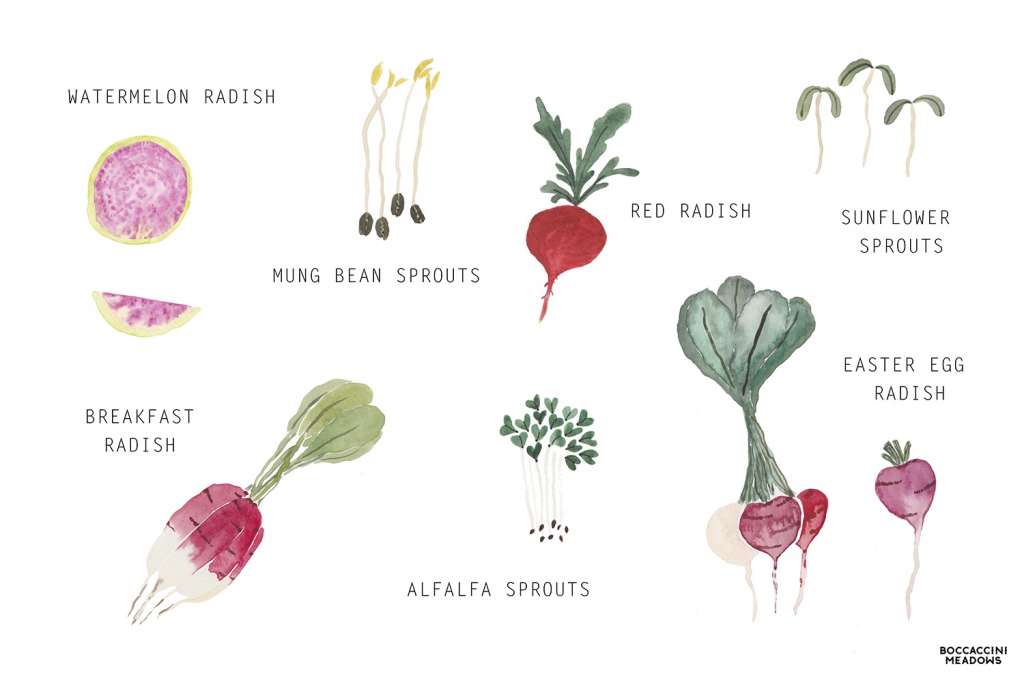 At Sun Basket, our commitment to seasonal cooking requires us to adapt to the unpredictability of the marketplace. That means that sometimes you'll find fresh produce in your box that's different than what's shown in the photograph of the recipe. On this page, we'll be exploring those potential substitutions and sharing some more information about the seasonal vegetables in your box each week. 
Colorful, crunchy radishes and sweet, earthy sprouts are two of our favorite ways to add texture and flavor to tacos, salads, and stir-fries. Most commercial sprouts are grown in temperature-controlled hothouses where they are blissfully immune from fluctuations in the weather, which is one reason we turn to them often in early spring. Still, finding sources of large quantities of a single variety of organic sprouts can be challenging, so we often send different types depending on the market. To our tastes, they're all delicious. 
Radishes, another winter favorite, grow sweeter and more juicy in the cooler months. As temperatures rise, their flavor becomes spicier and the texture pithy and dry. Organic radishes can be difficult to procure in large amounts any time of year, which is why you might find red, breakfast, or easter egg radishes in your box. 
Both sprouts and radishes are good sources of fiber and vitamin C. They also contain folate—good for vision—and thanks to their vitamin C and iron content, support a healthy immune system. Get into the habit of using these nutrient-rich ingredients as a condiment for your favorite dishes. They will add a satisfying crunch and nutritional punch that over time will yield huge nutritional wins.
Illustration by @boccaccinimeadows