Nutrition Trends for 2018 According to the Pros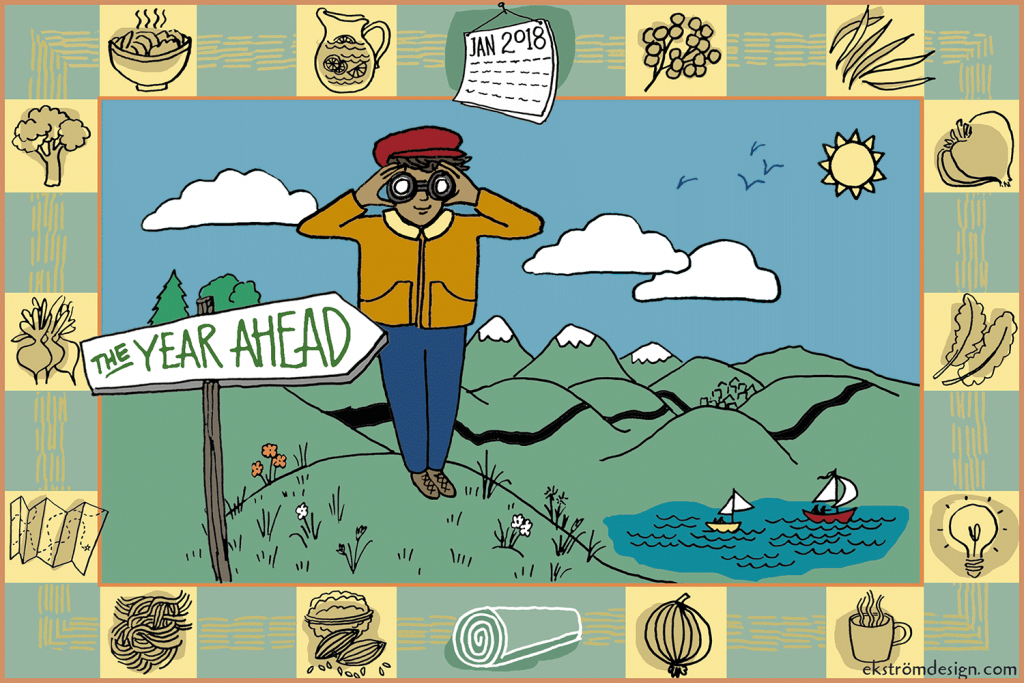 This is the time of year we look into our crystal ball to see what lies ahead. Sun Basket's Director of Nutrition, Lindsey Kane spoke to leading nutrition writers around the country to find out what's on the menu for 2018. 
Which healthy eating trends do you predict will dominate in 2018? Is there one you are particularly excited about?
Anne Mauney, MPH, RD, author of the blog FANNEtastic Food: "Intuitive and mindful eating are gaining ground in the nutrition world, which I love. I believe that to make healthy eating sustainable in the long term, you have to focus on understanding hunger and fullness cues so that you don't fall into mindless eating (or emotional eating). Intuitive eating is a wonderful way to develop a realistic, positive relationship with food that doesn't involve deprivation."
Lizzie Streit, MS, RDN, LD author of the blog It's a Veg World After All: "There's a shift from fat-free and low-sodium to eating more vegetables overall. I think vegetable "noodles" and "rice" will continue to be popular, as well as more vegetable-focused recipes and dishes at restaurants." 
Katie Cavuto, MS, RDN, Chef, and author of Whole Cooking and Nutrition: An Everyday Superfoods Approach to Planning, Cooking, and Eating with Diabetes: "The mindfulness movement is one that I am especially excited about. People are looking to dive deeper into many aspects of their lives, from stress reduction and intuitive eating to aligning with brands and food services that match their values."
Rebecca Scritchfield, RDN, EP-C , author of Body Kindness: "In early 2017 the anti-diet was identified as a top trending topic in the "wellness" category on Pinterest, and I believe that in 2018 the anti-diet will only get bigger. Diets have robbed people of joy and true health for too long. Diets are joyless, stressful, and do not lead to healthful habits. I'm excited for this anti-diet to become more mainstream because it will help derail weight stigma, promote body acceptance, and cultivate truly healthful lifestyle habits."
Are there any current, or "up-and-coming" trends that you view as "hype" and would advise your friends, family, and clients to avoid? Why so? 
Mauney: "Honestly, I don't recommend any sort of diet that requires you to eliminate foods. This often leads to binge eating those same foods later on and creates a lot of guilt around food. Instead of avoiding foods (which is not sustainable), think about which foods you can add to your day, like enjoying more vegetables at every meal." 
Streit: "The low-carb ketogenic movement seems to be gaining a lot of steam. As a dietitian, I know there are certain medical conditions that can warrant this type of diet, but it's not something I would recommend for overall wellness. These types of diets are very difficult to sustain. Committing to a healthy diet that includes healthy carbs is more effective and much more sustainable."
Cavuto: "A few questionable trends that stood out to me are drinkable vinegars and powdered supplements, especially those that consumers are encouraged to add to their coffee. We don't want people convincing themselves that it's okay to over-consume coffee if they mix in a healthy and often expensive supplement. Supplements are meant to enhance or "supplement" an already healthy diet. For people with digestive issues, drinking highly acidic foods like vinegar is not necessarily a good idea. It's a great reason to be wary of trends and marketing claims.  Instead, simplify your intentions around nutrition."
We tend to be really good at making resolutions but not so great at fulfilling them. Do you have any advice on how to make sure we actually put our words into action in 2018? 
Regan Jones, RD, Healthy Aperture: "The most helpful thing when changing habits or forming new ones is to focus on the day-to-day. It's important to know where you're headed in the long run with your resolutions, but it's just as important to know where you are headed TODAY. Is it doing one more push up? Or drinking one less soda? Or adding another serving of vegetables to your plate? Make small changes. Make them consistently. Six months from now, you'll look back at the cumulative effect and see how much you've accomplished in the new year." 
Amber Bloom, digital marketing manager of Produce for Kids: "Make a resolution as a family and hold each other accountable. If you want to eat together more often, set a goal and track it. This is a great opportunity for kids to get involved with a sticker chart or some other way of tracking. If you meet your goal, reward your family with a movie night or trip to the local park."
Cavuto: "Instead of making resolutions, I use the New Year as a touch point for reflection, a time to take note of the things that are going well, the lessons I've learned, and to assess the areas where I may like to focus my intentions moving forward. Keep it simple and achievable." 
Scritchfield: "Compassion for ourselves is the secret. We all have to realize that the way we learn new habits is by making mistakes. Instead of quitting after falling down on your resolution, get up and try again. Repetition is the key to forming sustainable changes. Don't give up."
Artwork by Ekström Design