A Life in Books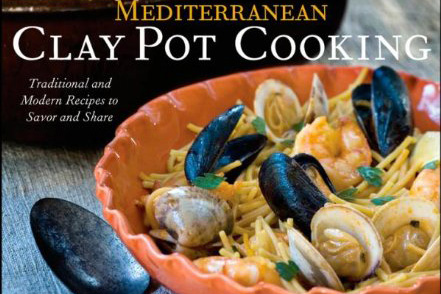 The thousands of recipes in Paula Wolfert's nine-book canon encircle the Mediterranean, from North Africa to Spanish Catalonia, and stretch as far East as the Republic of Georgia. Serious cooks such as Jacques Pépin, Alice Waters, and Mario Batali all cite her among their primary influences, and claim her as one of our greatest cookbook authors. 

Couscous and Other Good Food from Morocco, 1973
The first major Moroccan cookbook in the English language, this book introduced tagines, couscous, and every other iconic Moroccan dish to the West. "We've been steaming our couscous at Chez Panisse ever since [its release]," says Alice Waters.

Mediterranean Cooking, 1977 (2nd ed. 1994)
Written while Paula lived in Tangier, this book is beloved for its unorthodox organization, with chapters dedicated to classic flavors of the region instead of courses. One chapter is dedicated to garlic and olive oil, another to nightshades (eggplants, tomatoes, and peppers).  
The Cooking of Southwest France, 1983 (2nd ed. 2005)
This book made Paula a living legend among professional chefs around the US, who fell hard for its modern and ancient recipes from one of France's most delicious yet least-known regions. It helped popularize foie gras, duck confit, and cassoulet among American chefs and diners.
Paula Wolfert's World of Food, 1988
Paula's sentimental favorite and her biggest commercial failure, this eclectic work features unusual recipes from some of the Mediterranean's lesser-known regions, such as Sicily and Spanish Catalonia.
The Cooking of the Eastern Mediterranean, 1994
The volume that broke the ground for Ottolenghi and the current craze for all things Middle Eastern, this book introduced many American cooks to the foods of that region, not only its meze or small plates, but also its pantry ingredients such as Aleppo and Marash chile flakes and pomegranate molasses.
Mediterranean Grains and Greens, 1998
A book so far ahead of its time, the world it describes still does not quite exist, in this deep dive on wild greens and lesser-known grains, Paula predicted grocery stores would one day carry wild stinging nettles and purslane. So far this has only come to pass in certain parts of Berkeley.
The Slow Mediterranean Kitchen, 2003
With this work, the food world finally started catching up to Paula, and she could publish some of the most unusual recipes in her repertoire, such as lamb you can eat with a spoon: a leg of lamb simmered for hours in an obscure dessert wine along with several dozen cloves of garlic, a recipe that has become a cult favorite.
Mediterranean Clay Pot Cooking, 2009
Paula was obsessed with clay pots almost all her life. But when she published Couscous in 1973, Americans had so little access to Moroccan clay tagines, she had to rewrite tagine recipes for metal pots. Here, she corrected the record, celebrating the wonderful qualities of tagines, French daubières, Chinese sand pots, and countless other treasures of her vast earthenware collection.
The Food of Morocco, 2011
In her final book, Paula radically overhauled Couscous, rewriting the tagine recipes for true Moroccan clay pots, and traveling the country with photographer Quentin Bacon to give the country's food the coffee-table-book treatment it deserves.