Thinking Inside the Lunchbox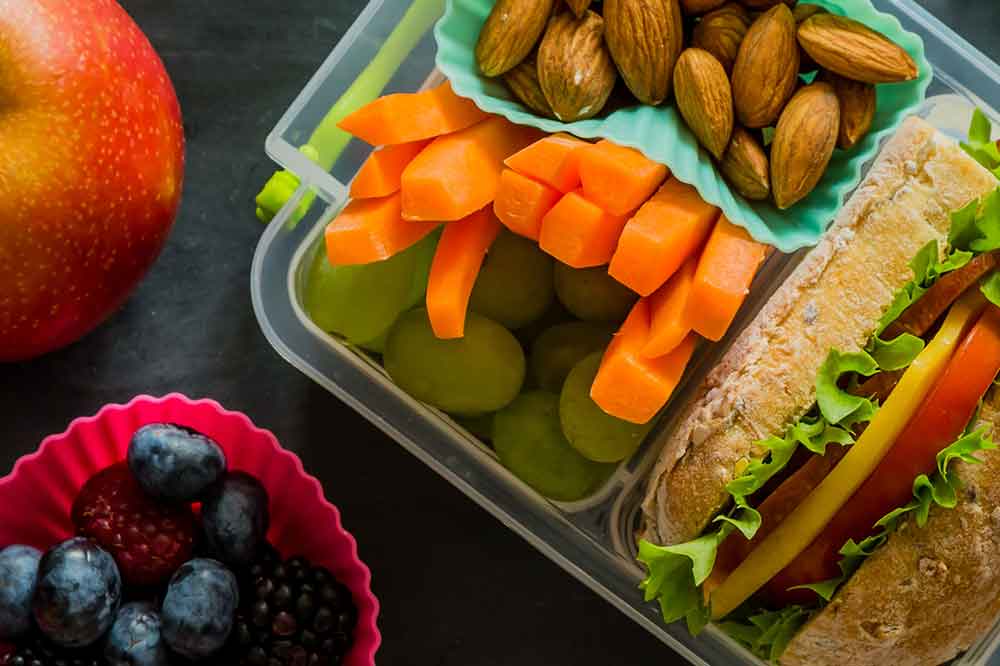 Getting kids to eat a healthy meal at home is hard enough. Making sure they get a proper lunch at school, with the siren call of recess and the pandemonium of the cafeteria all around them, can seem almost impossible. Sun Basket's team of dietitians share some of their findings and offer real-life lunchtime solutions. 
What the experts say: 
A paper published in the Journal of School Health that surveyed 5,200 Canadian fifth-grade students and their parents found that a higher fruit and vegetable intake improved students' reading and writing scores. Unsurprisingly, an Icelandic study of 5,800 students found that when the kids' diets suffer, so do their grades. One report points to a link between diets that include large amounts of sugar-sweetened soft drinks, sweets, chocolate, processed snack foods, pizza, and hot dogs and increased challenges with math. 
Here, our dietitians break down their strategies for a smarter school lunch: 
Strategies for a Smarter School Lunch 
Let the Kids Help: Kids are more likely to eat food that they've prepared. Involve your child in planning, shopping, preparing, and packing their lunch. It's a great way to educate your child on healthy choices and increase the chance that their lunch won't end up in the garbage. 
Beyond the Brown Bag: Presentation can be a powerful tool in encouraging healthy eating. Lunch is much more fun when it's packed in a decorated bag or lunch box, or if it includes special utensils. Let your kid pick out a bento box with colorful chopsticks or a tiffin with a bright cloth napkin. Or simply let them color a brown bag with crayons and/or markers before leaving for school. 
Rely on Leftovers: UUse food from last night's dinner and have lunch ready in minutes. Keep tortillas (like the Mi Rancho Organic artisan corn and wheat tortillas available in the NEW Pantry section of our menu) on hand and fill them with leftover vegetables, or top the tortillas with leftovers and a sprinkle of cheese for mini pizzas. 
Trade Up: Swap the lunch box standbys for something just as exciting yet healthier. Instead of a fruit roll-up or gummy snacks, tuck in a mix of dried fruits, such as apricots, cherries, and mangoes, or a nutrient-dense treat like a That's It apple and blueberries whole fruit bar, available in the NEW Snacks section of our menu. Trade juice boxes for a thermos filled with a homemade smoothie or Happy Moose Juice California orange juice (available in the NEW Breakfast section of our menu).
Here are some more dietitian-approved kid's lunch favorites from our NEW expanded menu: