Vegan Cauliflower Sauce with Turmeric and Nutritional Yeast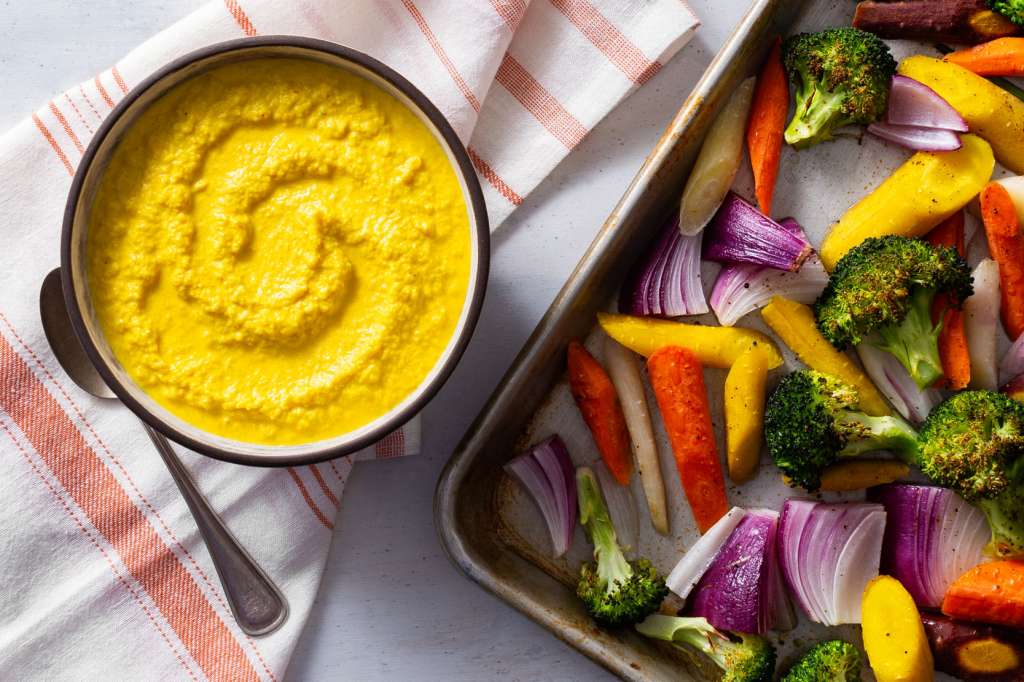 Known by its street name, nooch, nutritional yeast, is having a moment. Vegans who love its rich, cheese-like flavor, sprinkle it on pasta, popcorn, and even pizza. Sun Basket's R&D sous chef Kate Langheim likes how it kicks up the umami in this do-it-all sauce. Made with a base of pureed cauliflower, her savory condiment does triple-duty as a dip, a sauce, and a sandwich spread. You can even thin it with stock to make soup. 
Vegan Cauliflower Sauce with Turmeric and Nutritional Yeast Recipe 
Makes 6 to 8 servings
Shopping List
1 head organic cauliflower (about 3 or 4 cups cauliflower florets)
1 organic lemon 
1 teaspoon onion powder
1 teaspoon dry mustard
1 teaspoon turmeric
½ cup nutritional yeast
¼ cup extra virgin olive oil
2 teaspoons salt 
½ teaspoon freshly ground black pepper
½ teaspoon marash chile flakes or sweet smoked paprika, optional
Tools
Blender or food processor, colander, medium sauce pot
1. Cook the cauliflower 
Bring a medium sauce pot of salted water to a boil.
Cut the cauliflower into 1-inch florets, discarding any leaves or thick stalks. 
Juice the lemon.
Add the cauliflower florets to the pot, and cook until very tender, 15 to 20 minutes. Drain, reserving 1 cup of the cooking water. Transfer the cauliflower to a blender or food processor and add ¾ cup cooking water. Blend until very smooth, adding additional cooking water 1 tablespoon at a time until the desired consistency is reached. Add the onion powder, dry mustard, turmeric, nutritional yeast, 2 to 3 tablespoons lemon juice, and olive oil, season with salt and pepper, and blend until very smooth. 
Return the cauliflower mixture to the sauce pot; over medium-low heat, warm the sauce, stirring occasionally, 1 to 2 minutes. Season to taste with salt and pepper, if desired. 
2. Serve
Transfer to a bowl and sprinkle with chile flakes or paprika, if using. Serve over pasta, vegetables, baked potato, or nachos, or as a dip with roasted vegetables, crusty bread, soft pretzels, or tortilla chips. 
Can be stored, covered, in the refrigerator for 3 to 5 days. When ready to serve, rewarm over medium heat for a few minutes, stirring in a little water, to loosen, if needed. 
Chef's Tip: Think of this sauce as a blank canvas just waiting for you to express yourself. It's an incredibly versatile base that can take a variety of seasonings. Add a teaspoon of porcini powder to make a sauce for a mushroom pasta; stir in chopped jalapeno and use it to garnish a bowl of chile, or sprinkle in some toasted curry powder and serve it on rice. 
Bonus recipe—ingredients not included in box.
Nutrition per serving: Calories: 100, Protein: 4g (8% DV), Fiber: 3g (12% DV), Total Fat: 7g (11% DV), Monounsaturated Fat: 5g, Polyunsaturated Fat: 1g, Saturated Fat: 1g (5% DV), Cholesterol: 0mg (0% DV), Sodium: 510mg (21% DV), Carbohydrates: 6g (2% DV), Total Sugars: 2g, Added Sugars: 0g (0% DV). Not a significant source of trans fat.