Cucumber-Apple Tonic with Turmeric and Kale Recipe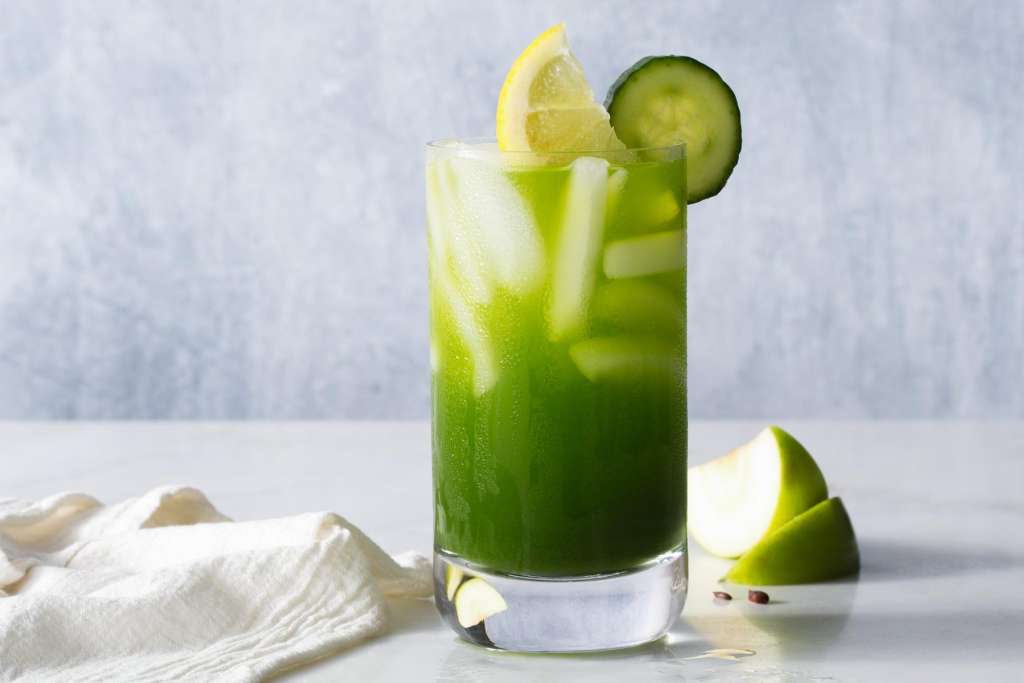 This bright and bracing pick-me-up is like a salad in a glass. Tart green apple, fresh ginger, and lemon give it snap, while a little maple syrup helps to balance the acidity. Yes, it's loaded with lots of good-for-you ingredients, but you should make it because it tastes so good. 
Cucumber-Apple Tonic with Turmeric and Kale
Serves 2
Shopping List
1 organic cucumber 
1 organic green apple
½-inch piece organic fresh ginger
1 organic lemon
1 cup loosely packed organic baby kale
2 tablespoons pure maple syrup
¼ teaspoon ground turmeric 
1 cup sparkling water
⅛ teaspoon kosher salt
1½ cups ice
Tools 
Peeler, fine-toothed grater, optional, fine-mesh strainer, blender, pitcher or bowl
1 Prep the ingredients
Cut the cucumber in half crosswise, coarsely chop half for the tonic; cut the remaining half crosswise into ¼-inch-thick slices for garnish.
Peel the apple; cut the apple into quarters lengthwise and cut away the core.
Grate or peel and finely chop enough ginger to measure 1½ teaspoons.
Using a peeler, remove 2 wide strips of lemon zest to make twists, or remove one end from the lemon and cut one ¼-inch-thick round, then cut the round into half-moons, for garnish.
Juice the remainder of the lemon; measure 1½ tablespoons lemon juice.
2 Blend the ingredients
In a blender, combine the chopped cucumber, apple, ginger, kale, lemon juice, maple syrup, turmeric, salt, and ice. Blend until smooth, then strain through a fine-mesh strainer into a pitcher or bowl. Stir in the sparkling water and 
3 Serve
Divide the tonic between two tall glasses, garnish with cucumber slices and a lemon twist, and serve. 
Nutrition per serving: Calories 140, Protein: 2g (4% DV), Fiber: 5g (20% DV), Total Fat: 0g (0% DV), Monounsaturated Fat: 0g, Polyunsaturated Fat: 0g, Saturated Fat: 0g (0% DV), Cholesterol: 0mg (0% DV), Sodium: 10mg (0% DV), Carbohydrates: 32g (11% DV), Total Sugars: 23g, Added Sugars (maple syrup): 12g (24% DV). Not a significant source of trans fat.
Bonus recipe—ingredients not included in box.