Heirloom Tomato and Strawberry Gazpacho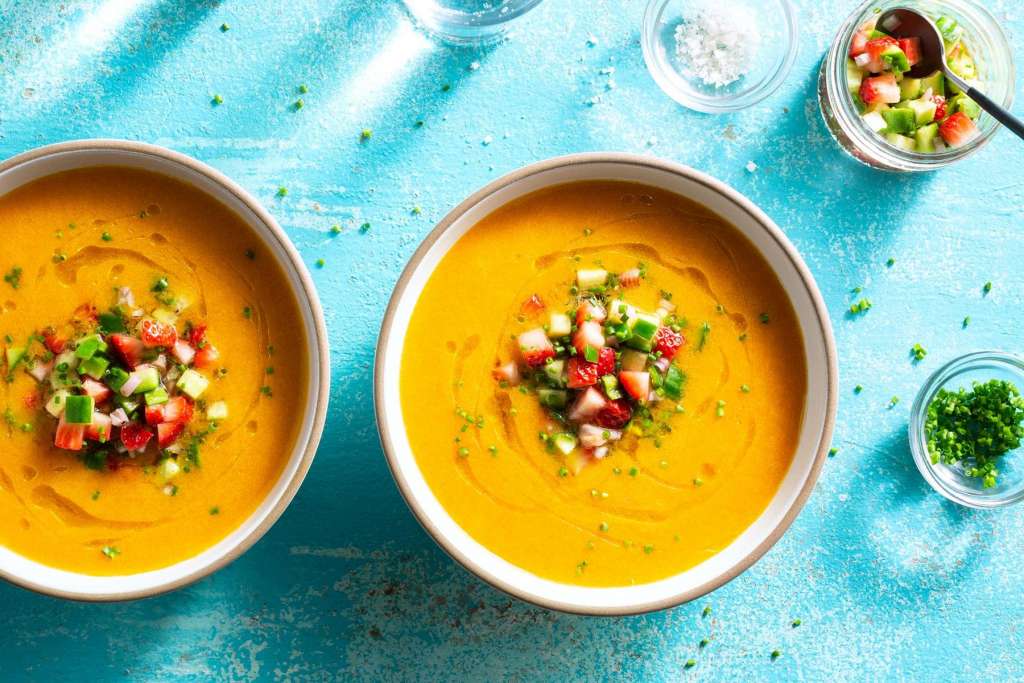 Strawberries may seem like an odd addition to gazpacho, but let us explain. Like tomatoes, a traditional gazpacho base, these berries are both sweet and acidic. And like tomatoes, they're also a fruit, so they make more sense here than you might think. We love the complexity the berries add to the soup, and they are seriously brilliant in the salsa garnish. 
Heirloom Tomato and Strawberry Gazpacho Recipe
Serves 8 
Shopping List
4 organic heirloom tomatoes
3 organic Persian cucumbers
¾ pound organic strawberries
1 organic orange bell pepper
1 organic yellow bell pepper
½ organic white onion
1 organic serrano chile
2 cloves organic peeled fresh garlic
⅓ cup extra virgin olive oil, plus 1 tablespoon
3 tablespoons sherry vinegar, plus 1 teaspoon
Kosher salt 
Freshly ground pepper
1 organic shallot
1 bunch organic fresh chives
Tools
Peeler, blender, fine-mesh strainer, 2 medium bowls, ladle
1. Prep the gazpacho ingredients
Cut away the cores from the tomatoes; cut the tomatoes into quarters.
Peel 2 cucumbers; cut into quarters. Set aside the remaining cucumber for the salsa.
Remove the green hulls from the strawberries; set aside half the strawberries for the salsa.
Remove the stem, ribs, and seeds from the bell peppers; cut the peppers into quarters. 
Peel the onion and cut into large pieces.
Remove the stem, ribs, and seeds from the serrano chile. Cut the chile in half; cut one half into quarters. Set aside the remaining half for the salsa. Wash your hands after handling.
2. Make the gazpacho
In a blender, combine the tomatoes, cucumber quarters, half the strawberries, peppers, onion, chile quarters, garlic, ⅓ cup oil, 3 tablespoons sherry vinegar and blend until smooth. Strain the gazpacho through a fine-mesh strainer into a medium bowl, pressing with a ladle or spoon to extract as much liquid as possible; discard the solids. Season to taste with salt and pepper. Cover and refrigerate until chilled, 2 to 3 hours.
A few minutes before serving, prepare the salsa and garnish.
3. Make the salsa; prep the garnish
Peel and coarsely chop the remaining cucumber.
Finely chop the remaining serrano. Wash your hands after handling. 
Coarsely chop the remaining strawberries.
Peel and finely chop the shallot.
Finely chop the chives.
In a medium bowl, combine the cucumber, serrano, strawberries, shallot, 1 tablespoon oil, and 1 teaspoon sherry vinegar; season to taste with salt and pepper and toss to coat. 
Serve
Transfer the gazpacho to individual bowls and spoon the salsa over the top. Drizzle with olive oil, garnish with chives, and serve. 
Nutrition per serving: Calories: 160, Protein: 2g (4% DV), Fiber: 3g (12% DV), Total Fat: 12g (18% DV), Monounsaturated Fat: 9g, Polyunsaturated Fat: 1g, Saturated Fat: 1.5g (8% DV), Cholesterol: 0mg (0% DV), Sodium: 45mg (2% DV), Carbohydrates: 14g (5% DV), Total Sugars: 5g, Added Sugars: 0g (0% DV). Not a significant source of trans fat.
Bonus recipe—ingredients not included in box.