Mongolian Roasted Garlic Paste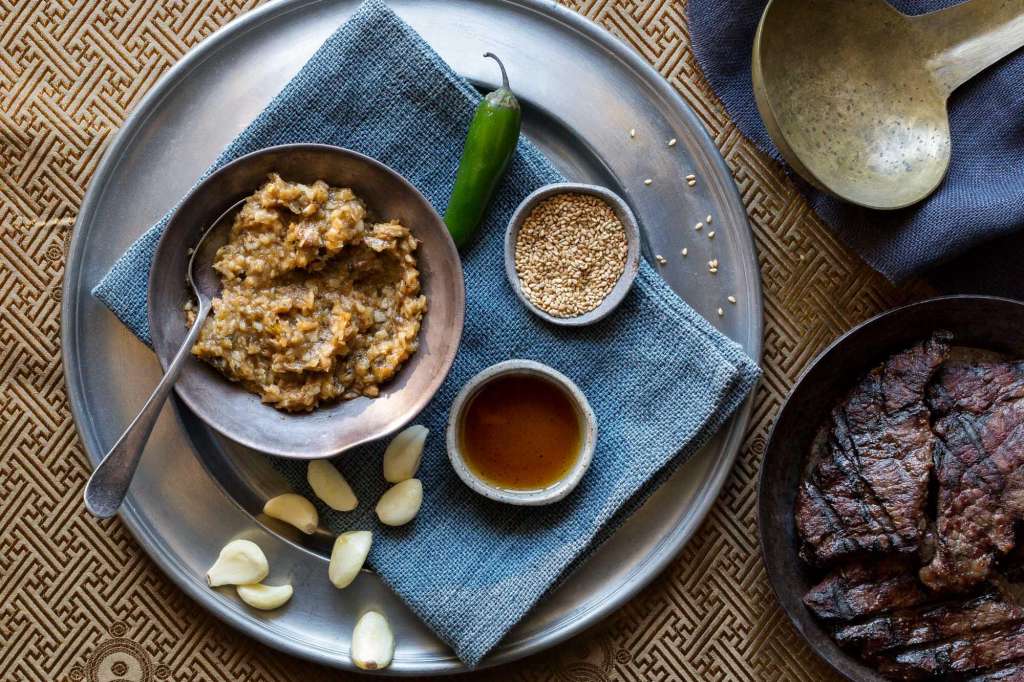 In their book Beyond the Great Wall, culinary anthropologists Jeffrey Alford and Naomi Duguid write about their travels through Central Asia. They discovered this savory seasoning in northeastern Inner Mongolia where it often accompanies grilled meats. We like to stir it into noodle dishes and soups, smear it on toast, and use it as a condiment for sandwiches.
Mongolian Roasted Garlic Paste Recipe
Ingredients
1 cup peeled garlic cloves
2 shallots
1 serrano chile pepper
½ teaspoon kosher salt
¼ teaspoon toasted sesame oil
Pinch of cayenne pepper
Instructions
Heat the oven to 400°F.
1 Char the shallots and serrano; dry-roast the vegetables
On the stovetop over a flame, or under the broiler, cook the whole, peeled shallots and the serrano chile, turning several times, until well charred. 
Transfer the charred shallots and serrano to a sheet pan with the garlic cloves. Season generously with salt. Dry-roast them in the oven, rotating the pan and stirring the vegetables halfway through, until the vegetables are soft and the garlic is golden brown, 18 to 20 minutes. Remove from the oven and let cool to warm. Discard the stem from the serrano. 
2 Make the paste
Transfer the shallots, serrano, and garlic to a food processor or a large mortar and pestle. Pulse or mash to a smooth paste. Add the sesame oil and cayenne and pulse or stir until incorporated. Season to taste with salt.
3 Serve
Transfer to a bowl and serve right away, or cover and refrigerate for up to 1 week. 
Total time: 25 to 35 minutes

Makes about 1 cup

Nutrition per serving (about 1 Tablespoon): Calories: 15, Protein: 1 g, Total Fat: 0 g, Monounsaturated Fat: 0 g, Polyunsaturated Fat: 0 g, Saturated Fat: 0 g, Cholesterol: 0 mg, Carbohydrates: 4 g, Fiber: 0 g, Added Sugar: 0 g, Sodium: 60 mg