Hassle-Free Refrigerator Pickles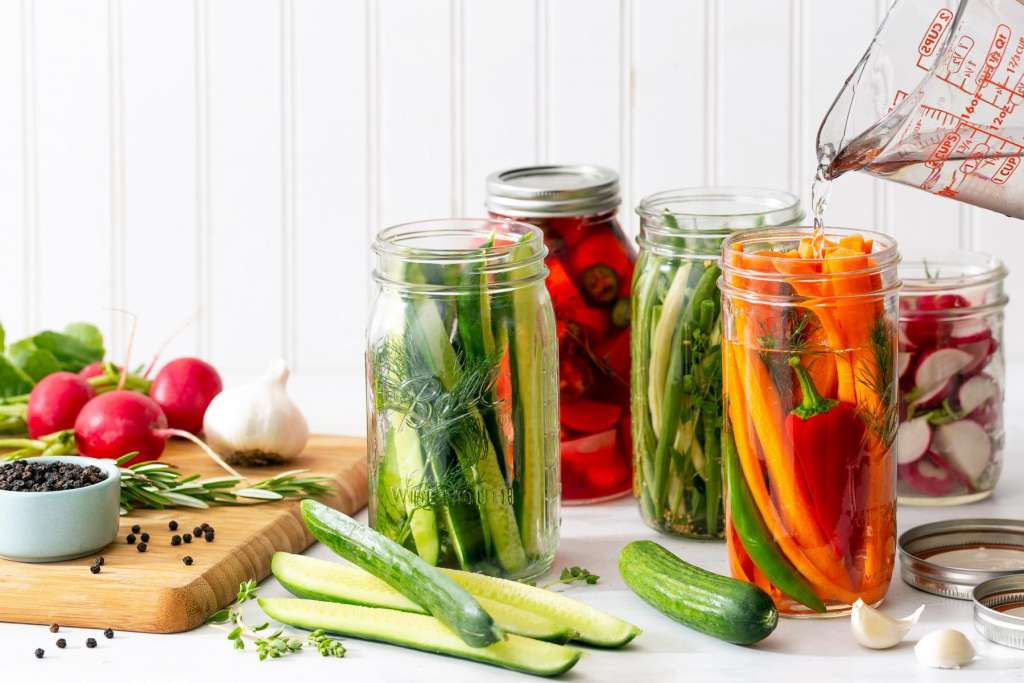 You may think that making pickles is a big project, but you'd be wrong. It's remarkably easy, especially when you make just one jar at a time like our Test Kitchen Sous Chef Kate Langheim does. Choose your own adventure when it comes to what you want to pickle. Almost any vegetable will do. This recipe makes enough brine for a one-pint jar, but it can easily be scaled up to make more if you really want to get into it. The pickles keep for up to one year in the refrigerator. 
Quick Refrigerator Pickles Recipe
Shopping list
Brine:
½ cup organic white vinegar
½ cup water
½ tablespoon kosher salt
½ tablespoon organic cane sugar
1 smashed clove organic peeled fresh garlic, optional
1 teaspoon whole spices (such as mustard seeds, coriander seeds, and/or peppercorns), optional
Vegetables: 
2 sprigs organic fresh dill, optional
About ½ pound organic fresh vegetables such as: carrots, cauliflower, cucumbers, green beans, green tomatoes, okra, peppers, radishes, zucchini
Tools
Glass canning/mason jar (1 pint, 16-ounce) with lid, large nonreactive sauce pot
1. Heat the brine
In a large nonreactive sauce pot, combine the vinegar, water, salt, and sugar and bring to a boil, stirring until the sugar dissolves. Remove from the heat and refrigerate until cooled, 20 to 30 minutes. Put the garlic clove, whole spices, and/or dill sprigs into a 16-ounce jar, if desired. 
While the brine cools, prepare the vegetables.
2. Prep the vegetables
Trim, peel, and seed enough vegetables to fit into the jar. Cut the vegetables into wedges, rounds, or other snackable pieces. 
3. Make the pickles
Pack the vegetables into the jar until they nearly reach the top. Pour the brine over the vegetables so they are completely submerged. Seal the jar. Refrigerate the pickles for at least two days before eating and for up to one year. 
4. Serve
Serve with sandwiches, tacos, or just eat them straight from the jar. 
Nutrition per serving (1 oz per serving): Calories: 5, Protein: 0g (0% DV), Fiber: 0g (0% DV), Total Fat: 0g (0% DV), Monounsaturated Fat: 0g, Polyunsaturated Fat: 0g, Saturated Fat: 0g (0% DV), Cholesterol: 0mg (0% DV), Sodium: 180mg (8% DV), Carbohydrates: 1g (0% DV), Total Sugars: 1g, Added Sugars (Cane Sugar): 0g (0% DV). Not a significant source of trans fat.
Bonus recipe—ingredients not included in box.