Turn Autumn Leaves into an Animal Kingdom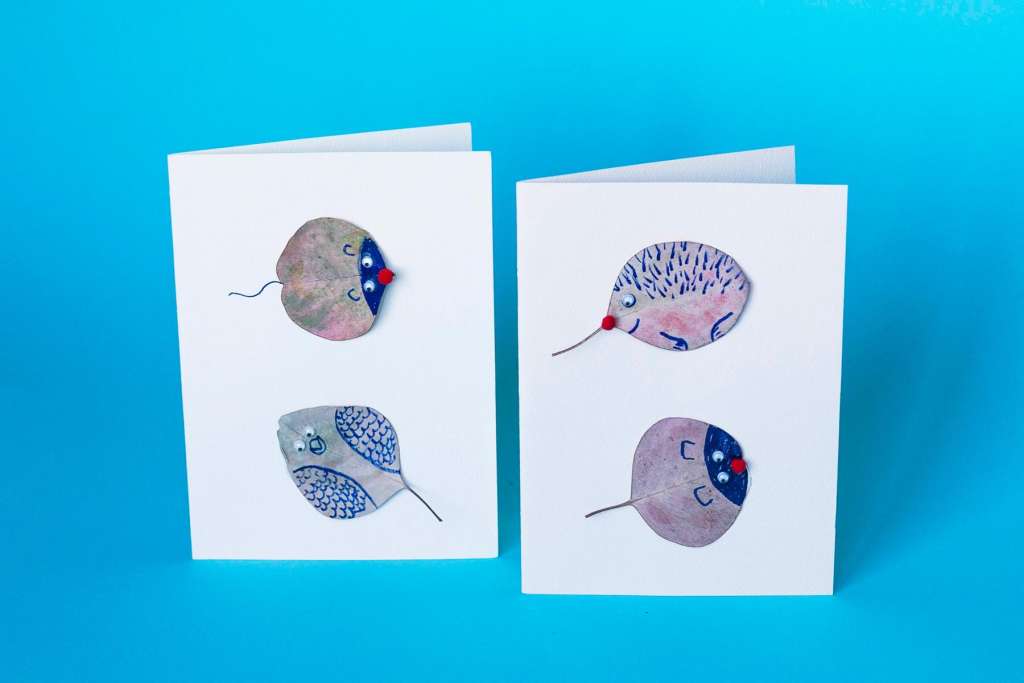 Let the season's falling leaves inspire a collection of your favorite creatures. A pointed leaf can become a great horned owl, while a round eucalyptus leaf makes a cute hedgehog or mouse. Attach the creatures to card stock to make an eye-catching wall hanging or a handmade greeting card. 
Materials
Assortment of flat dry leaves
Felt-tip pens and markers
Glue
Googly eyes, optional
Tiny pom-poms, optional
Card stock 
1 Decorate the leaves
Place your leaf on a flat surface. Use felt-tip pens or markers to draw your creature. Let the shape of the leaf inspire you or try one of the suggestions below:
To make a hedgehog, draw the fur on half of the leaf and then draw curled legs on the other half, under its belly. Add a red dot or pom-pom for the nose, draw or glue on a an eye, and don't forget to add a smiling mouth!
To make a mouse, draw the face, ears, and eyes, or glue on googly eyes. The stem of the leaf can be the mouse's tail. (If your mouse is tailless, simply draw a tail on the card stock in step 2.)
To make the owl, first draw the wings and the beak, then draw on or glue on the eyes.
2 Display the leaf creatures
Glue the leaf creatures to card stock and hang on the wall, or fold into a greeting card with the leaf creatures on the cover.