Watermelon Agua Fresca Recipe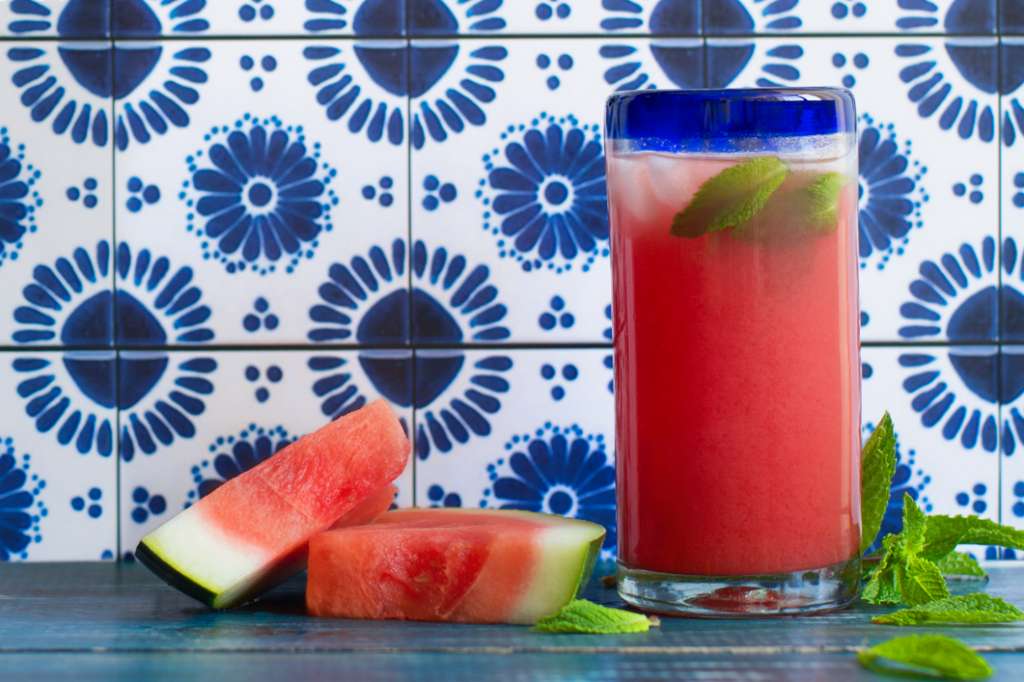 Known in Spanish as agua de sandia, this refreshing blend of watermelon, mint, and lime quenches a thirst like few other drinks can. It's just what you want to accompany a fish taco after a day spent at the beach.
Shopping list
8 cups seedless watermelon, cut into chunks (1 small to medium seedless watermelon)
2 limes (3 tablespoons fresh lime juice)
Fresh mint (4 sprigs)
1 cup cold water
3 to 5 tablespoons sugar, depending on sweetness of the watermelon
⅛ teaspoon kosher salt
3 cups ice
Tools
Blender, fine-toothed grater, fine-mesh strainer, large bowl, large pitcher
1 Blend the watermelon
Cut the watermelon in half; remove the rind and chop the fruit into 1-inch cubes. Divide the chunks into two equal portions.
Zest one lime; then juice the limes and measure out 3 tablespoons juice. 
Strip the mint leaves from the stems. 
In a blender, combine half the watermelon pieces with ½ cup water and blend until smooth. Using a fine-mesh strainer, strain the mixture into a large bowl. Repeat with the remaining watermelon and water, blending until pureed, and then strain into the bowl.
2 Finish the agua fresca
Add the lime juice and zest and sugar, to taste. Season with salt and stir until the sugar is dissolved. Transfer to a pitcher.
3 Serve
Fill individual glasses with ice and add a mint leaf to each. Pour the watermelon agua fresca over the ice and serve. 
Nutrition per serving: Calories: 90, Protein: 1g, Total Fat: 0g, Monounsaturated Fat: 0g, Polyunsaturated Fat: 0g, Saturated Fat: 0g, Cholesterol: 0mg, Carbohydrates: 22g, Fiber: 1g, Added Sugar (Granulated sugar): 6g, Sodium: 45mg
Bonus Recipe—Ingredients not included in box.