Chocolate Buckwheat Brownies Recipe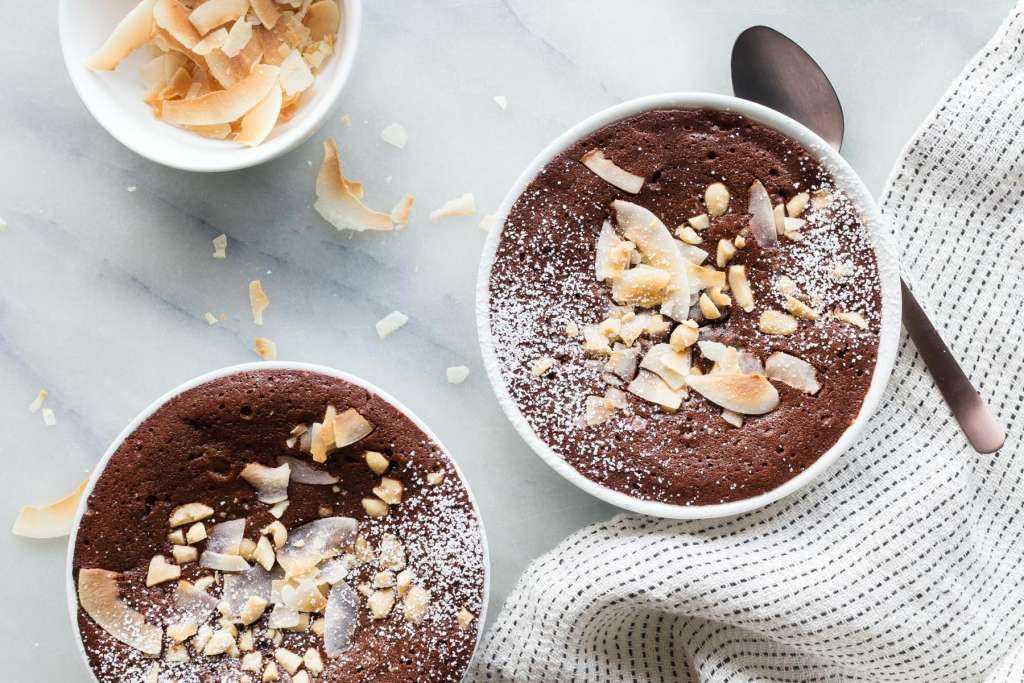 We like to think of these not-too-sweet treats as grown-up brownies (not that you'll ever find us hating on the kid kind). Virtually flourless, these are bound with just a tablespoon of gluten-free buckwheat flour, which gives them a moist and delicate, yet fudge-like texture. Neither grain nor grass, buckwheat is a pseudocereal with a robust, slightly nutty flavor that pairs beautifully with chocolate. It also happens to have more protein, fiber, and B vitamins than oats or whole wheat flour, and it's a good source of potassium. You have our permission to call these healthy. 
Chocolate Buckwheat Brownies
Shopping List
2¾ ounces bittersweet chocolate (preferably 72% cacao solids) 
7 tablespoons butter, at room temperature, plus extra for greasing
½ cup coconut sugar, preferably organic
Kosher salt
2 large eggs, at room temperature
1 tablespoon buckwheat flour
Salted roasted peanuts, for garnish
Shaved toasted coconut, for garnish 
Powdered sugar, optional, for garnish
Tools
Whisk, medium heatproof bowl, preferably metal, medium sauce pot, muffin tin (or 2 ramekins or one 4-by-4-inch baking dish), sheet pan, optional
1 Prep the ingredients; make the brownie batter
Heat the oven to 350°F.
Lightly grease 4 wells of a muffin tin (or 4 ramekins or one 4-by-4-inch baking dish)
Coarsely chop the chocolate.
Cut the butter into ½-inch pieces.
Fill a medium sauce pot one-third full with water and bring to a simmer. 
In a medium heatproof bowl, combine the chocolate and butter. Set the bowl over the simmering water and heat, without stirring, until the chocolate and butter are melted, about 2 minutes. Whisk until smooth. Carefully remove the bowl from the heat and let cool slightly. 
Add the sugar and a pinch of salt to the chocolate mixture and whisk until well combined. Working with 1 at a time, add the eggs and whisk until smooth. Whisk in the buckwheat flour. 
2 Bake the brownies
Pour the brownie batter into the prepared muffin tin, filling the wells about three-quarters full. Set on a sheet pan, if desired, and bake until a toothpick inserted into the center of the brownies comes out clean, 20 to 25 minutes. Let cool for 5 to 10 minutes.
While the brownies bake, prepare the peanuts. 
3 Prep the peanuts

Using the bottom of a bowl or cup, lightly crush the peanuts. 
4 Serve
Transfer the brownies to individual plates. Sprinkle with the peanuts, shaved coconut, and the powdered sugar, if using, and serve.
Chef's Tip: The recipe makes four brownies, two for your Valentine's Day dinner, and two to take to lunch the next day, but the recipe can easily be doubled. For the most tender results, be sure both the butter and eggs are at room temperature before you begin. 
Nutrition per serving: Calories: 400, Protein: 6g (12% DV), Fiber: 3g (12% DV), Total Fat: 32g (49% DV), Monounsaturated Fat: 7g, Polyunsaturated Fat: 1g, Saturated Fat: 19g (95% DV), Cholesterol: 130mg (43% DV), Sodium: 45mg (2% DV), Carbohydrates: 28g (9% DV), Total Sugars: 22g, Added Sugars (Coconut Sugar): 16g (32% DV). Not a significant source of trans fat.
Bonus recipe—ingredients not included in box.