Our Greek Greyhound Cocktail Will Keep You Cool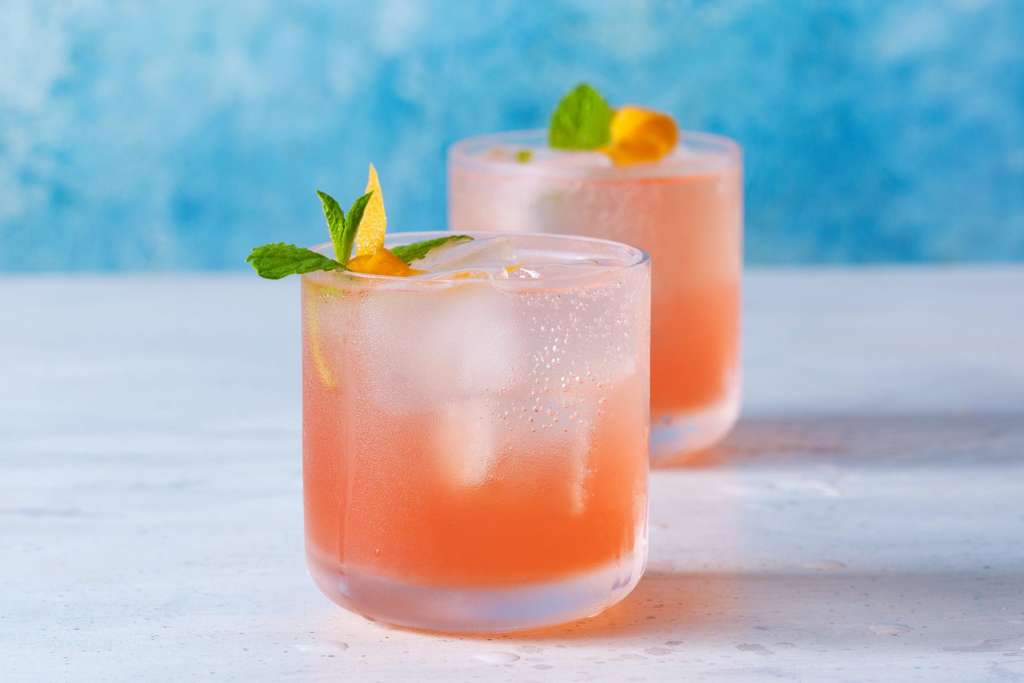 Greyhounds, the dogs not the cocktail, have a long history in Greece, where it's believed that Odysseus's beloved pup, Argus, was an early example of the breed. Our ode to that swift and loyal companion is this twist on the popular greyhound drink. Inspired by the new film MAMMA MIA!, we spiked it with a fennel-flavored simple syrup and ouzo, the anise-flavored aperitif from Greece. For a nonalcoholic version, simply swap soda water for the ouzo and vodka.
Greek Greyhound Cocktail Recipe
Serves 2
Shopping List
Simple syrup: 
1 tablespoon fennel seeds 
¼ cup organic cane sugar
1 cup water
Cocktail:
2 organic pink grapefruits
10 organic fresh mint leaves
½ teaspoon sumac
4 ounces vodka 
¾ ounce ouzo 
Ice
4 ounces soda water, for nonalcoholic version only

Tools
Vegetable peeler, muddler or small rolling pin, cocktail shaker or pitcher and fine-mesh strainer, small sauce pot, if making simple syrup, rocks glasses 
1 Make the simple syrup
In a dry small sauce pot over medium heat, add the fennel seeds and toast, stirring occasionally, until lightly browned and fragrant, 2 to 3 minutes. 
To the same sauce pot, add the water and sugar, stirring until the sugar dissolves, and bring to a boil. Remove from the heat and let cool, about 30 minutes. 
Strain the liquid through a fine-mesh strainer into a measuring cup.
2 Make the cocktail 
Using a peeler, remove two 2-inch pieces from the grapefruit peel for garnish; then juice enough grapefruit to measure ½ cup (or 1 cup for nonalcoholic version).  
In a cocktail shaker or pitcher, combine the grapefruit juice, 8 of the mint leaves, sumac, and 2 tablespoons simple syrup. Using a muddler, lightly press the mixture until just macerated (do not over-muddle). Fill the pitcher with ice, add the vodka, and ouzo, if using, and shake or stir until well incorporated and chilled. 
3 Serve
Fill two rocks glasses with ice. Strain the mixture into the glasses. For nonalcoholic version, top with the soda water. Garnish with the grapefruit peel and remaining mint leaves and serve immediately.
Nutrition per serving: Calories: 210, Protein: 1g (2% DV), Fiber: 1g (4% DV), Total Fat: 0.5g (1% DV), Monounsaturated Fat: 0g, Polyunsaturated Fat: 0g, Saturated Fat: 0g (0% DV), Cholesterol: 0mg (0% DV), Sodium: 0mg (0% DV), Carbohydrates: 14g (5% DV), Total Sugars: 7g, Added Sugars: 3g (6% DV). Not a significant source of trans fat.
Bonus recipe—ingredients not included in box.