A Lettuce Lover's Guide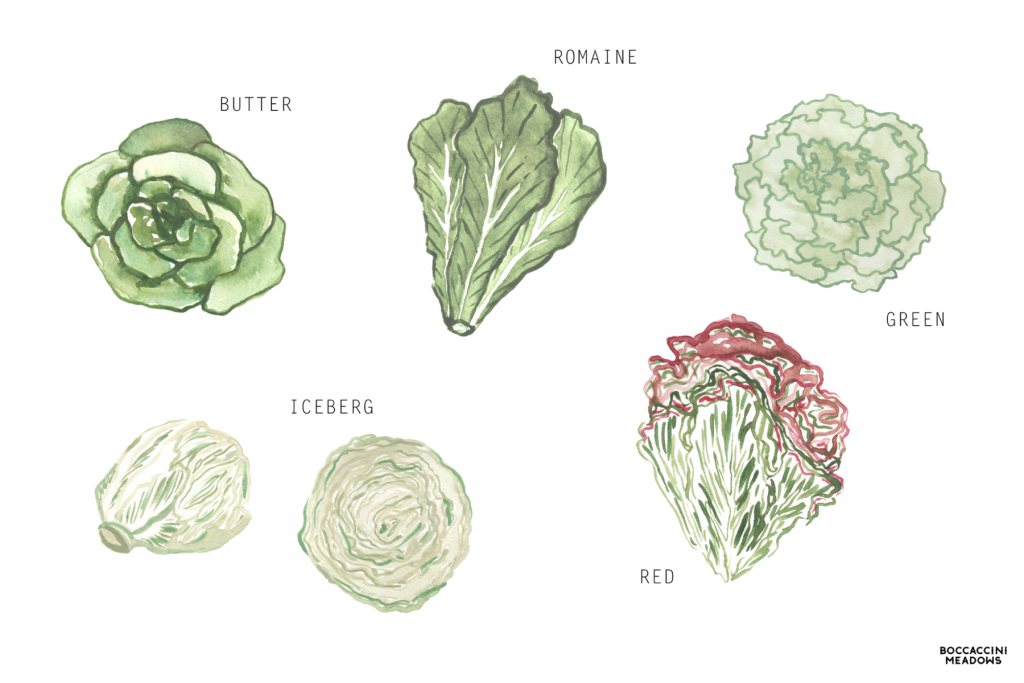 There are hundreds of hybrids of lettuce from the crunchy, juicy iceberg in a classic wedge salad, to the soft leaves of butter lettuces.  
The lettuces we source for Sun Basket recipes fall into four categories: looseleaf, butterhead, crisphead, and romaine. 
Butter and Bibb lettuces are butterheads, the heads are round, smooth, and delicate, making them the ideal leaves for lettuce cups because they wrap around ingredients like ground turkey and burgers easily, but don't crack under pressure. When you order a recipe with butter lettuce, you'll receive an entire head of "living lettuce," meaning that the roots are intact. Because the roots are still attached to their food source, they stay fresh longer.   
Iceberg, the best-known crisphead lettuce, has a stodgy reputation compared to sexier greens like radicchio and arugula, but we love its crunchy leaves and juicy texture, especially on a burger or a BLT. You may find it in your box as a replacement for butter lettuce because it makes a great lettuce cup.  
Crisp romaine has a thick center rib that makes it perfect for crunchy salads, particularly classic Caesars. We like to toss it on the grill—it's sturdy enough to take the heat—for a smoky side dish. Note: All Sun Basket romaine is grown in California.  
Red and green leaf lettuce fall into the looseleaf camp. These are much more delicate than other salad greens and prone to wilting quickly. Save the dressing until just before serving.
Lettuces are susceptible to the drastic changes in weather. They prefer cool temperatures and are easily damaged if the mercury takes a dip or spikes suddenly. Weather conditions can make it difficult to source large quantities of organic varieties. For quality control, we prefer to ship whole heads of lettuce, even when a recipe calls for only a few leaves, as with sliders or lettuce cups, which means you may receive a different variety than what's in the recipe photo.
At Sun Basket, our commitment to seasonal cooking means that sometimes we must adapt to the unpredictability of the marketplace. Sometimes you'll find fresh produce in your box that's different than what's shown in the photograph of the recipe. In our Market Watch, we explore these potential substitutions and share some more information about the seasonal vegetables in your box each week.
Illustration by @boccaccinimeadows