The Very Best Paleo Latke Recipe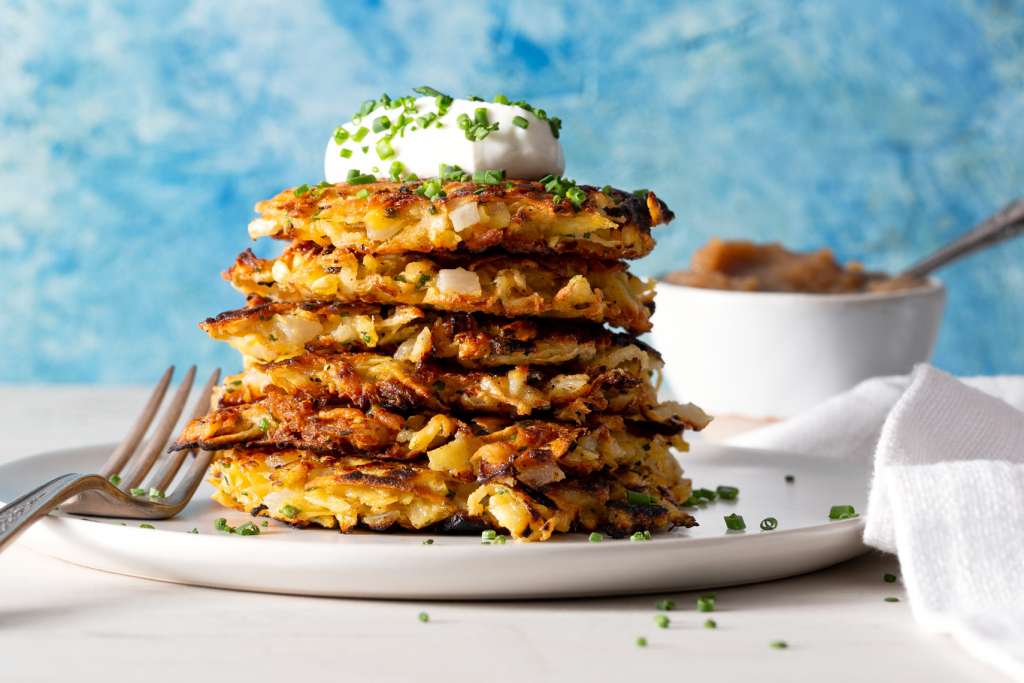 There's no rule that says that latkes have to be made with potatoes. Other root vegetables, like parsnips and celery root, make more flavorful vegetable pancakes with a lower carb count than the traditional Hanukkah fare. And because we're not the types to leave good enough alone, we tweaked the traditional applesauce topping by flavoring it with some of our favorite cozy spices and thickened it on the stove to make warm apple butter. 
Paleo Root Vegetable Latkes with Spicy Apple Butter
Serves 10
Shopping List 
Spiced Apple Butter
One 24-ounce jar organic unsweetened applesauce
1 teaspoon ground cinnamon
½ teaspoon ground ginger
¼ teaspoon ground cloves
¼ cup coconut sugar
Marash chile flakes, to taste 
Latkes
3 medium or 2 large organic parsnips (about ½ pound total) 
1 small or ½ large organic celery root (about ½ pound total) 
1organic onion
1 bunch organic fresh chives
1 organic egg
¼ cup arrowroot powder
½ teaspoon baking soda 
Kosher salt and pepper 
Avocado or coconut oil for frying
Tools
Peeler, optional, box grater, optional, large bowl, medium sauce pot, large frying pan
1 Make the apple butter
In a medium sauce pot over medium heat, combine the applesauce, cinnamon, ginger, cloves, coconut sugar, and as much Marash chile as you like. Bring to a boil, reduce to a simmer, and cook, stirring occasionally, until thickened and brown, 25 to 35 minutes. While the apple butter cooks, prepare and cook the latkes. 
2 Prep the latkes
Scrub or peel the parsnips and celery root. 
Using the large holes of a box grater or a food processor fitted with the grating attachment, coarsely grate enough parsnip and celery root to measure 1½ cups each.   
Peel and finely chop enough onion to measure ½ cup.
Finely chop the chives. Set aside ¼ cup for the latkes and 2 tablespoons for the garnish. 
In a large bowl, using a fork or whisk, mix together the egg, arrowroot powder, and baking soda until the mixture begins to thicken, about 1 minute. Add the parsnip, celery root, onion, and chives. Season generously with salt and pepper. Using your hands, mix the ingredients until the vegetables are evenly coated.
3 Assemble and cook the latkes
Form the latkes by scooping ¼ cup of the mixture into your hands and flatten to form thin patties.
In a large frying pan over medium-high heat, warm 2 tablespoons oil until hot but not smoking.  
Working in batches if needed, add the latkes and cook, turning once, until golden brown and crispy on both sides, 3 to 4 minutes per side. Add more oil between batches if needed. 
Serve
Transfer the latkes to individual plates, spoon over the spiced apple butter, garnish with the chives, and serve immediately. 
Chef's Tip: You can serve these with a variety of other paleo toppings, such as coconut yogurt, a fried egg, or smoked fish. For non-paleo accompaniments, try sour cream, cucumber, and fresh dill, or make your own harissa Greek yogurt or turmeric honey mixture and top with fresh pomegranate seeds.
Nutrition per serving: Calories: 110, Protein: 2g (4% DV), Fiber: 2g (8% DV), Total Fat: 3.5g (5% DV), Monounsaturated Fat: 2g, Polyunsaturated Fat: 0.5g, Saturated Fat: 0g (0% DV), Cholesterol: 20mg (7% DV), Sodium: 100mg (4% DV), Carbohydrates: 18g (6% DV), Total Sugars: 9g, Added Sugars: 3g (6% DV). Not a significant source of trans fat.
Bonus recipe—ingredients not included in box.