Pickle-Brine Hummus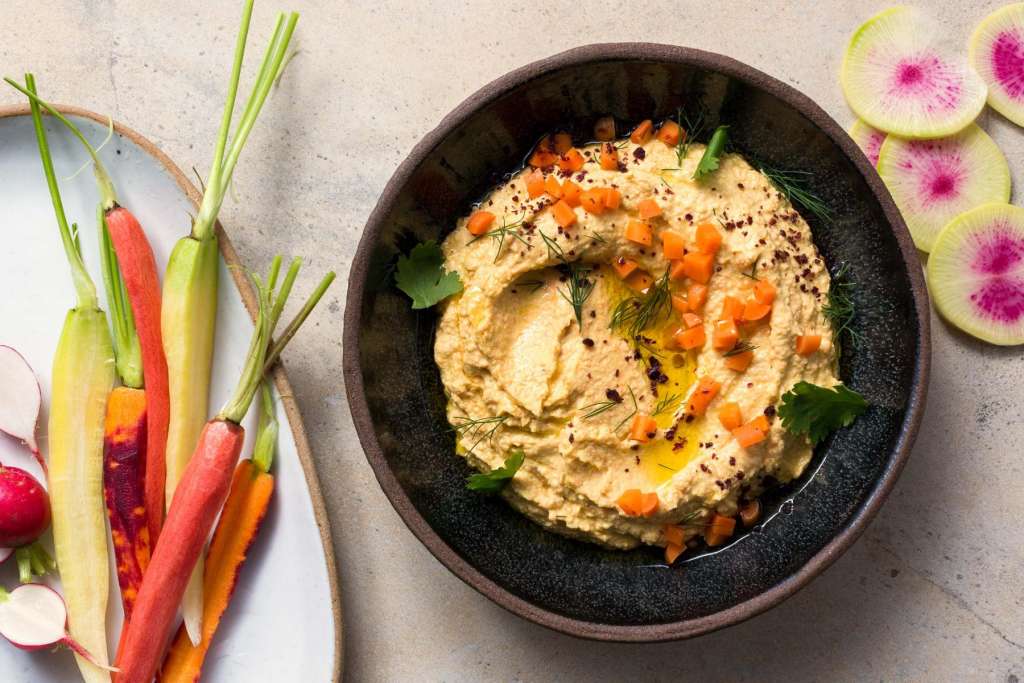 A shot of pickle brine gives our hummus an amped-up kick that you won't find in ordinary versions. Sun Basket Test Kitchen Chef Paul Conte likes pickled carrots for their color, but you can use whatever pickle you have on hand. The hummus itself is a terrific source of long-lasting energy. It's packed with plant protein and quality carbohydrates, and comes in a fiber-rich package to slow digestion, keeping blood-sugar levels steady and even. Serve it with pita (breads or chips) or raw vegetables such as carrots, celery, radishes, or endive.
Pickle-Brine Hummus
Makes 2 cups
Serves 8
Shopping list
1½ cups cooked chickpeas  
1 jar pickled vegetables (such as cucumbers, carrots, beets, jalapeños, or a combination) and their brine
2 or 3 cloves peeled fresh garlic 
⅓ cup tahini
⅓ cup plus 1 tablespoon extra virgin olive oil (divided) 
1 tablespoon chopped fresh herbs (such as chervil, dill, cilantro, or parsley)
1 teaspoon sumac
From your pantry
Kosher salt, freshly ground black pepper
Tools 
Colander, food processor
1 Make the hummus
Rinse the chickpeas. 
Drain the pickled vegetables and set aside ⅓ cup brine.
Finely chop enough pickled vegetables to measure ½ cup plus 1 tablespoon; set aside 1 tablespoon for garnish.
In a food processor, combine the chickpeas, pickle brine, garlic, tahini, ½ cup pickled vegetables, and ⅓ cup olive oil. Process until smooth. Season to taste with salt and pepper.
2 Serve
Scrape the hummus into a serving bowl, drizzle with 1 tablespoon olive oil, and garnish with the herbs and 1 tablespoon chopped pickles. Sprinkle with the sumac and serve with our gluten-free seed crackers, pita, and/or sliced raw vegetables of your choice. 
Nutrition per serving: Calories: 200, Protein: 5g (10% DV), Fiber: 2g (8% DV), Total Fat: 15g (23% DV), Monounsaturated Fat: 9g, Polyunsaturated Fat: 3.5g, Saturated Fat: 2g (10% DV), Cholesterol: 0mg (0% DV), Sodium: 35mg (1% DV), Carbohydrates: 13g (4% DV), Total Sugars: 2g, Added Sugars: 0g (0% DV). Not a significant source of trans fat.
Bonus recipe—ingredients not included in box.