Winter Spice Syrup Recipe
Sun Basket's Content Project Manager, Christina Stork, is a living, breathing episode of Portlandia (minus the unbearable smugness). She knits ponchos (in fact she wrote a book about them) and crochets rag rugs. She raises ducks in her backyard and brews kombucha in her kitchen. Did we mention that she's also a DJ and an amateur mixologist? (You want her at your party.)
This holiday season, she's mixing up a batch of winter spice syrup. Christina uses it as a base for cocktails, a flavoring for cookies (in place of vanilla extract), and she drizzles it on cakes and over ice cream. It's her secret weapon—from brunch to dessert to drinks. And when she's a guest, guess what she brings as a gift?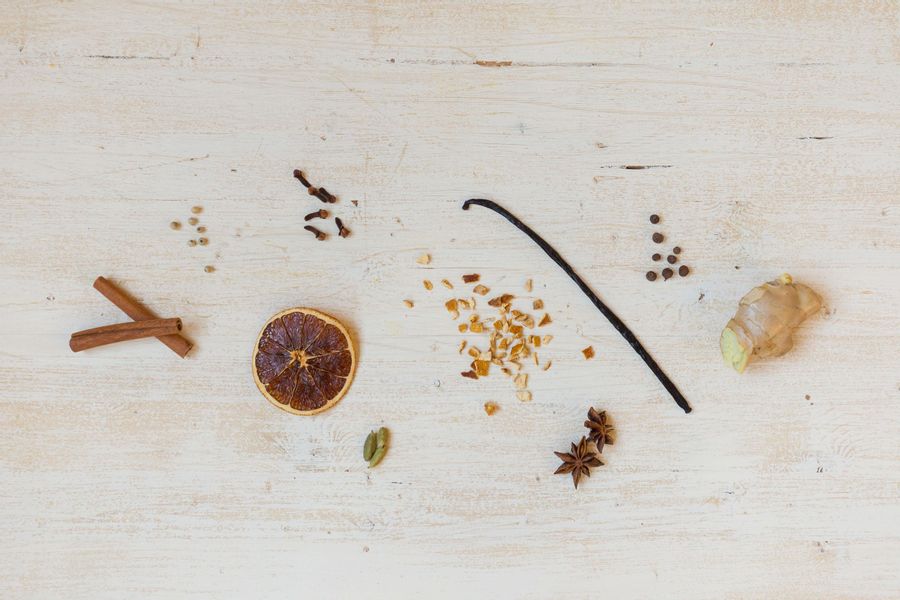 Winter Spice Syrup
Shopping List
1¼ cups sugar
2 cardamom pods
1 vanilla bean
One ½-inch piece fresh ginger
2 cinnamon sticks
10 whole cloves
2 whole star anise
1 teaspoon allspice berries
1 teaspoon whole black peppercorns
2 tablespoons chopped dried orange peel
1 teaspoon orange blossom water
Tools
Funnel, optional, fine-toothed grater, optional, fine-mesh strainer, small sauce pot with lid, clean glass bottle with a cork stopper or jar with a tight-fitting lid
1 Make the simple syrup
In a small sauce pot, combine the sugar and 1¼ cups water. Bring to a boil, reduce to a simmer, stirring to dissolve the sugar, about 5 minutes.
While the simple syrup simmers, prepare the cardamom and vanilla.
2 Prep and steep the spices
On a cutting board, using the bottom of a cup or mug, crack the cardamom pods to release the seeds.
Cut the vanilla bean in half lengthwise and scrape out the seeds; set aside the bean and seeds.
Grate or peel and thinly slice the ginger. 
Add the cardamom pods and seeds, cinnamon sticks, cloves, star anise, allspice, peppercorns, orange peel, and ginger to the pot with the simple syrup. Cover and simmer, stirring occasionally, until richly fragrant, 10 minutes. Remove from the heat, stir in the vanilla bean and seeds, and let cool to room temperature, 15 to 20 minutes.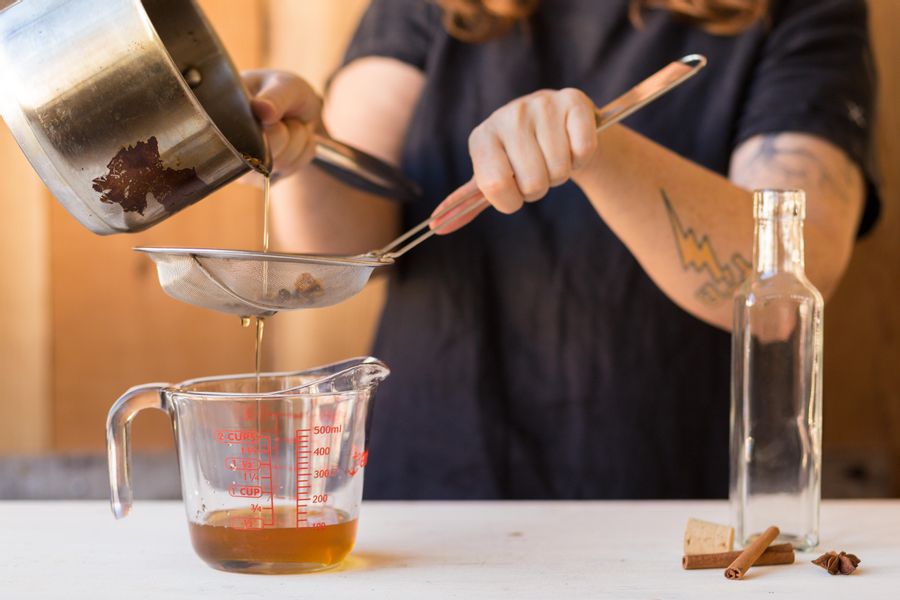 3 Strain the syrup
Using a fine-mesh strainer set over a pitcher or transparent measuring cup, strain the syrup, discarding the spices, and stir in the orange blossom water.
4 Store
Pour the spiced syrup into a clean bottle with cork stopper or tight-fitting lid. Refrigerate for up to 2 weeks.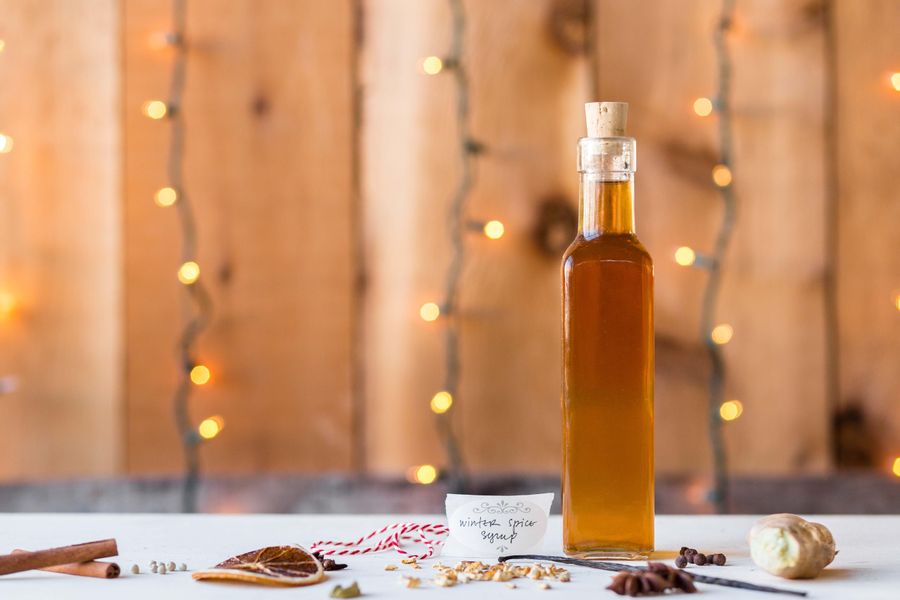 One of the best parts of this recipe is its adaptability. The syrup can be added to anything to make it festive, and it doubles as a gift—add a sweet label and you've got an instant hostess gift (or parting gift for any of your own guests).

Here are some of Christina's favorite ways to use her Winter Spice Syrup: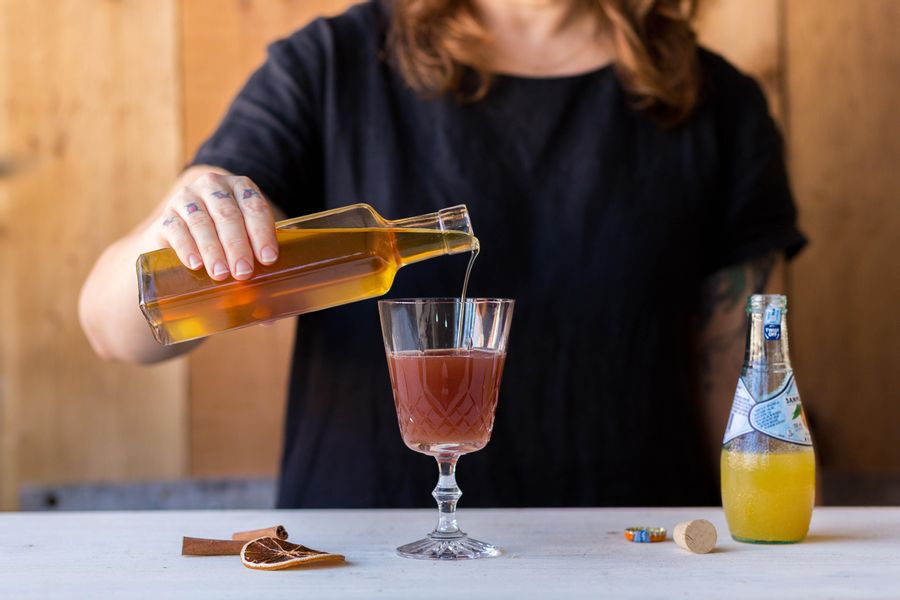 For a non-alcoholic cocktail, add 1 ounce to 6-to-8 ounces of juice, sparkling water, bottled orange soda, pomegranate juice, or ginger ale for a non-alcoholic cocktail.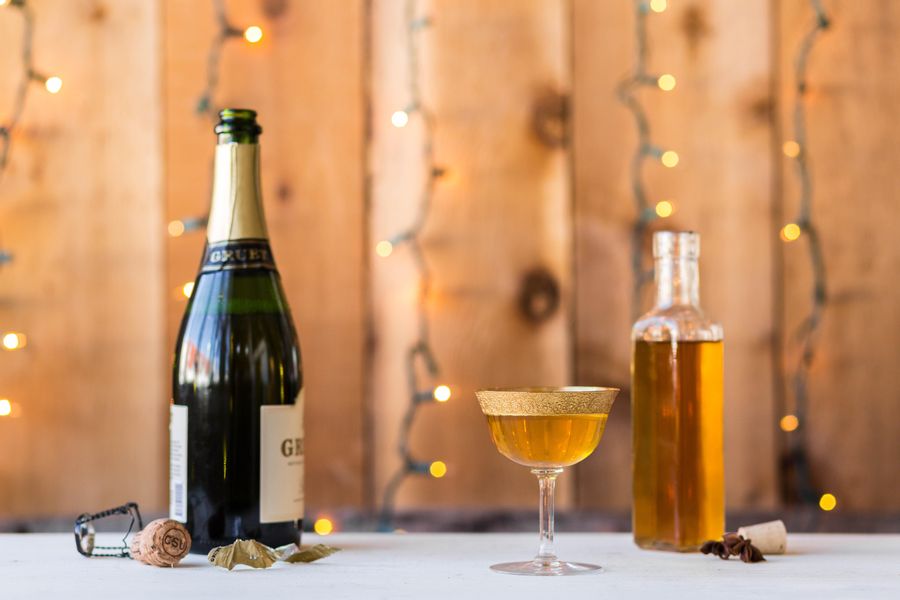 Over 21? Add 1 ounce syrup to a 6-ounce glass of champagne, as we've done here, or make instant mulled wine by warming 375ml of red wine on the stove and stirring in a few tablespoons of the syrup.

Make like a mixologist with 1.5 ounces each syrup and bourbon plus 6 ounces juice: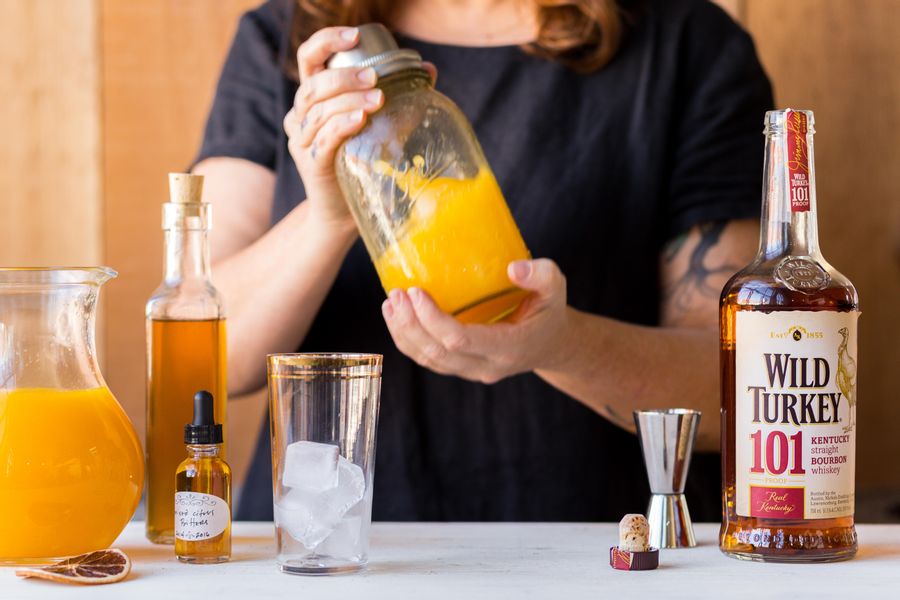 . . . shaken . . .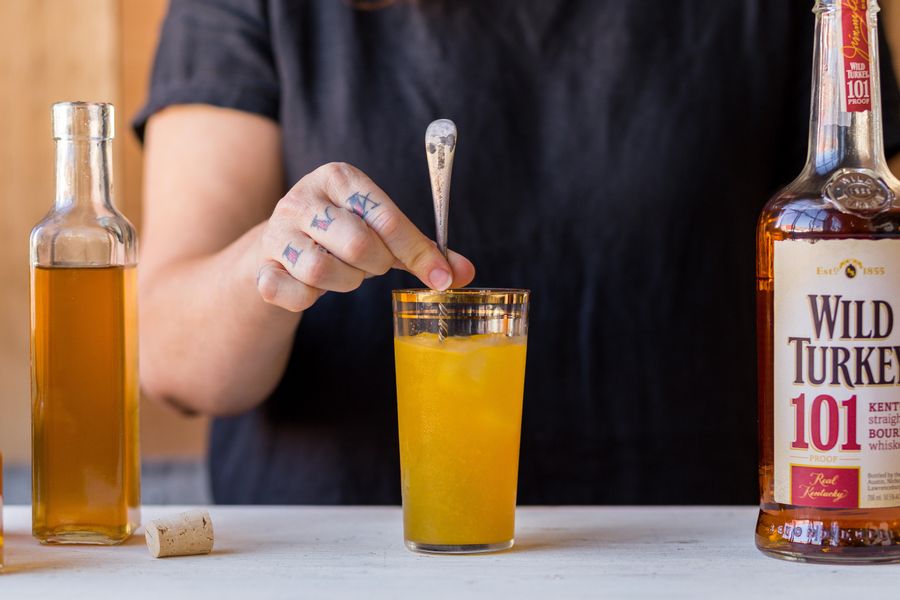 . . . or stirred.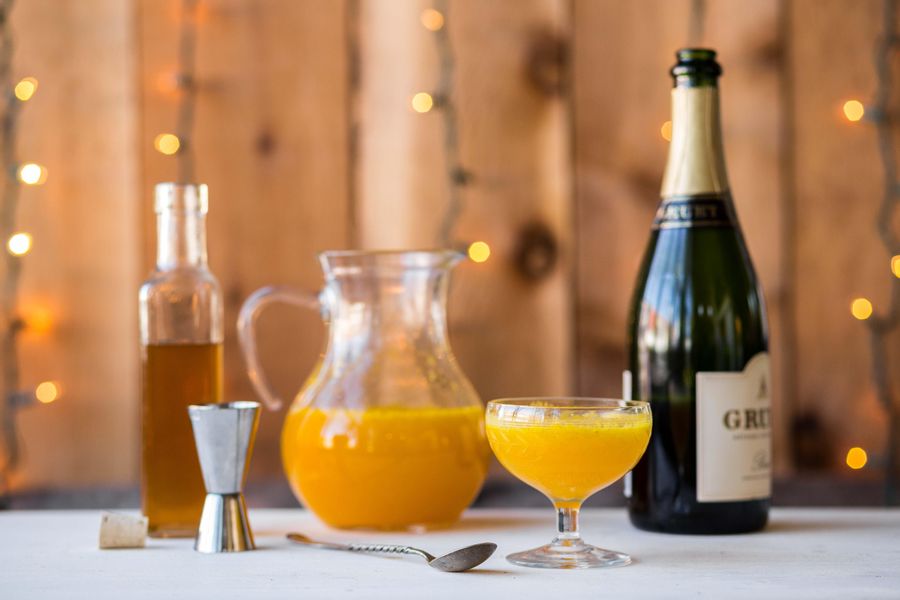 Super easy punch or mimosas—just add 2 teaspoons to either.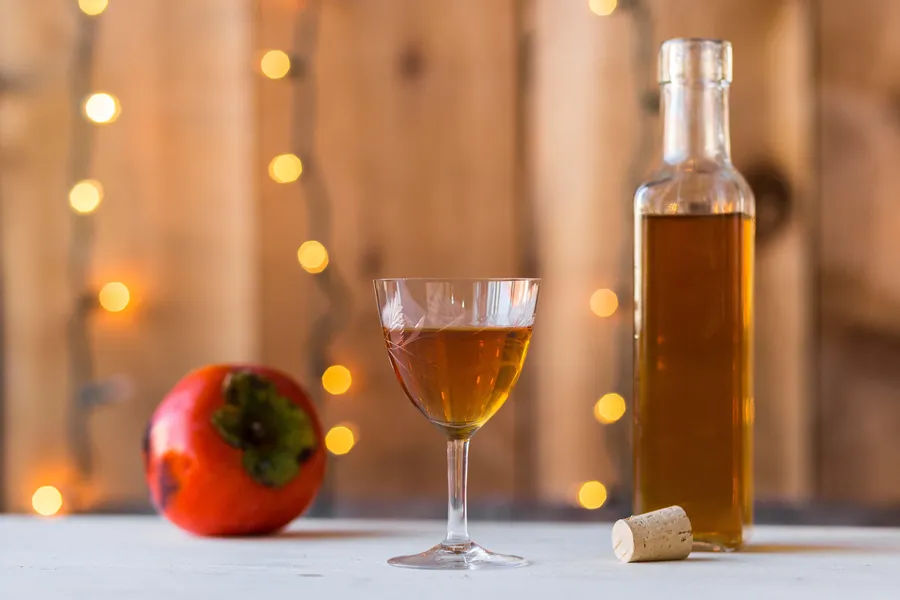 Winter cordial, so easy! 1 cup Winter Spice Syrup + 1 cup bourbon or rye whiskey
Some of our favorite garnishes:
Orange peel twist – Frozen cranberries – Orange wheel – Cinnamon stick (mulled or punch) – Persimmon wedge – Brandied cherry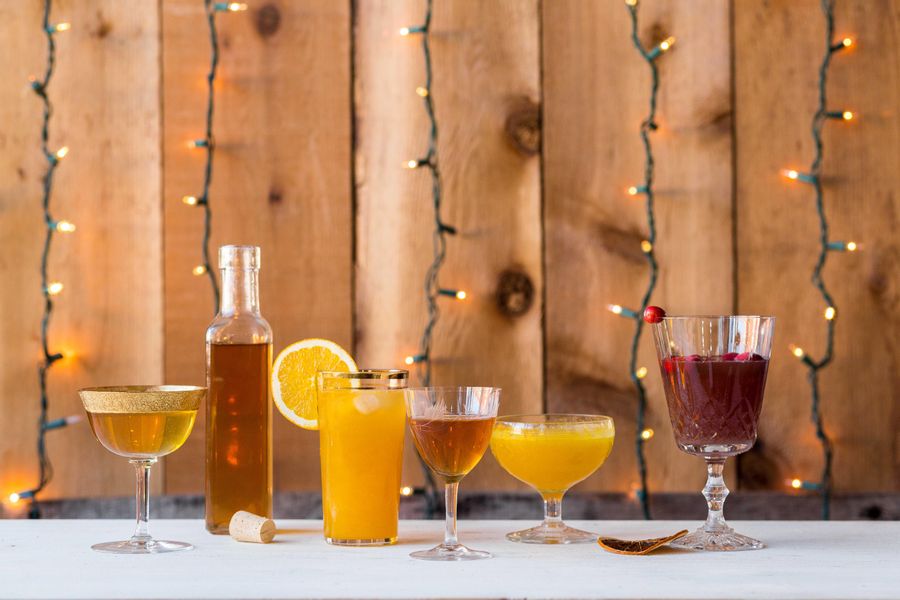 And there you have it—one syrup to rule them all.
Nutrition per serving: Calories: 50 Protein: 0g (0% DV), Fiber: 0g (0% DV), Total Fat: 0g (0% DV), Monounsaturated Fat: 0g, Polyunsaturated Fat: 0g, Saturated Fat: 0g (0% DV), Cholesterol: 0mg (0% DV), Sodium: 0mg (0% DV), Carbohydrates: 13g (4% DV), Total Sugars: 13g, Added Sugars: 13g (26% DV). Not a significant source of trans fat.
Bonus recipe—ingredients not included in box.