Red Chile-Coconut Chutney Recipe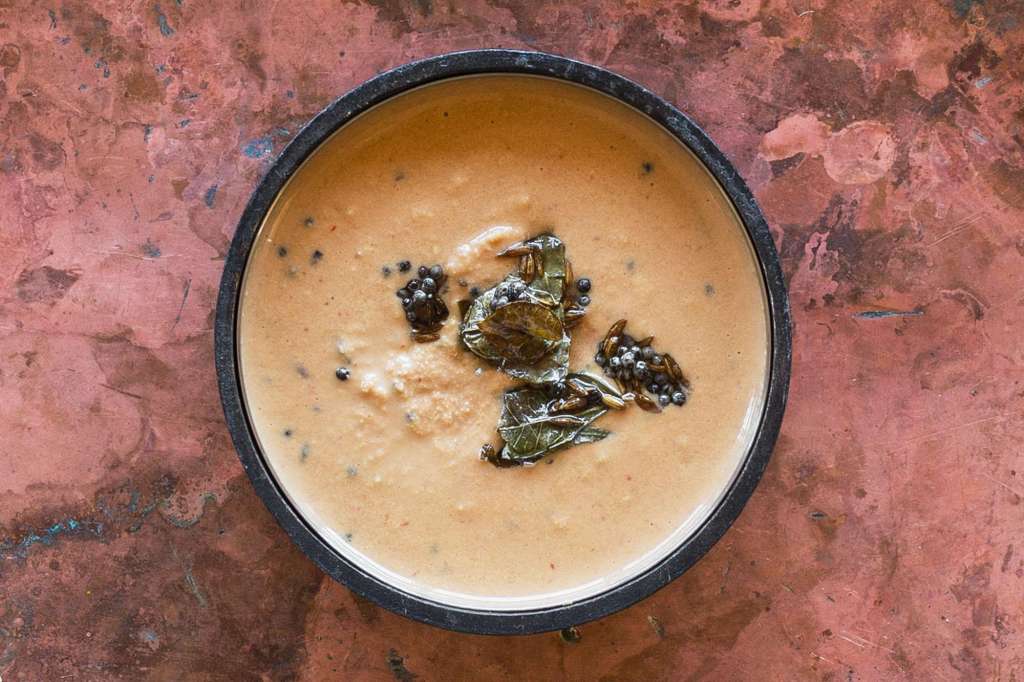 In this vibrant, Kerala-style chutney, uncooked chana dal (dried, baby garbanzo beans) are puréed with aromatics, then infused with whole spices toasted in oil. It's meant to be served with idli, the savory lentil and rice cakes often eaten for breakfast, but like any good condiment, it's equally delicious with grilled vegetables and meats, or on rice. The dal, dried curry leaves, and tamarind paste can be found at many grocery stores, Indian markets, or online. 
Red Chile-Coconut Chutney
Makes 1.5 cups
Shopping List
½ cup shaved unsweetened coconut
¼ cup chana dal 
1 to 2 fresh red jalapeño chiles
1-inch piece fresh ginger, peeled and coarsely chopped
2 to 3 cloves garlic
1 teaspoon tamarind paste
1 teaspoon brown mustard seeds
1 teaspoon cumin seeds
2 to 3 dried curry leaves, crumbled
Neutral oil, kosher salt
Tools:
Blender, medium bowl, small frying pan
1. Make the chutney
In a blender, combine the coconut, chana dal, jalapeño, ginger, garlic, tamarind paste, and ¾ cup water. Blend until smooth. Season to taste with salt. Transfer to a bowl. 
2. Toast the spices
In a pan over medium heat, warm 1 tablespoon oil until hot but not smoking. Add the mustard seeds and cumin seeds and cook, stirring, until the seeds start to pop, about 1 minute. Stir in the curry leaves and cook for a few seconds longer. Remove from the heat and transfer the toasted spices into the chutney. Stir to blend.
3. Serve
Serve the chutney right away, or transfer it to an airtight container and refrigerate for up to 1 week; rewarm before serving. 
Chef's Tip
Fresh hot peppers such as jalapeños contain oils that can get onto your hands and cause irritation, especially to sensitive areas like your nose and eyes if you accidentally rub them while working. While handling them, wear rubber gloves if you have them, or wash your hands thoroughly with dish soap once you are done. 

Nutrition per serving (2 tbsp): Calories: 50, Protein: 1 g, Total Fat: 3.5 g, Monounsaturated Fat: 1 g, Polyunsaturated Fat: 0.5 g, Saturated Fat: 2 g, Cholesterol: 0 mg, Carbohydrates: 4 g, Fiber: 1 g, Added Sugar: 0 g, Sodium: 45 mg