Fresh Pineapple Kale Pops with Turmeric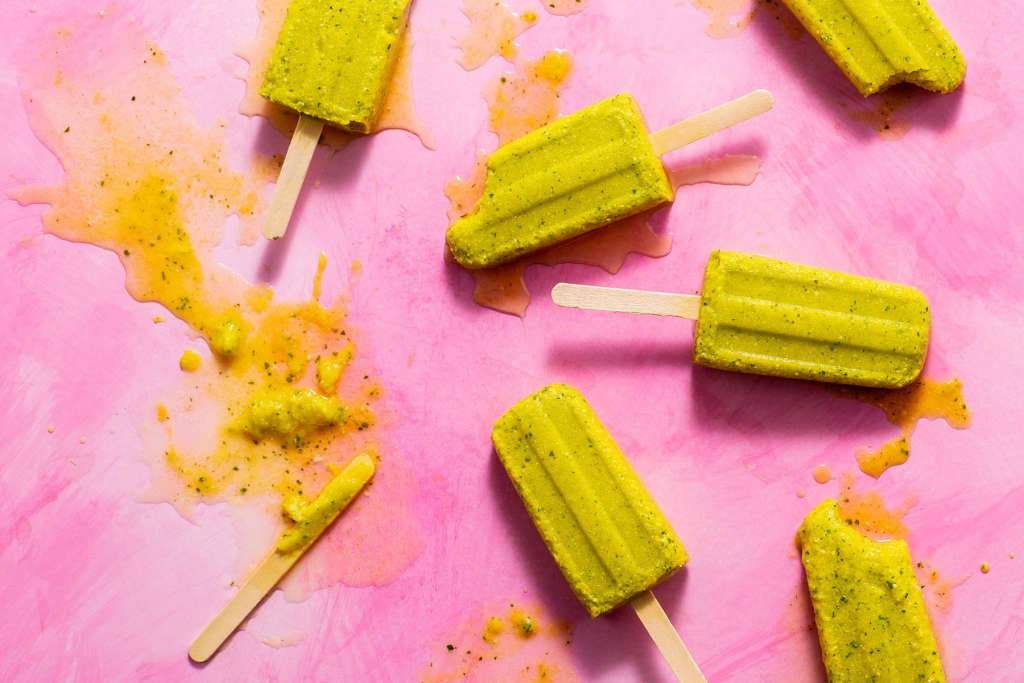 You put kale in your smoothies, right? So why not in a frozen pop? This healthy alternative to store-bought ice pops is made with blended fruit and baby kale and sweetened with honey. Quick and easy, it comes together in about 15 minutes. 
Fresh Pineapple Kale Pops with Turmeric Recipe
Makes 8 pops
Shopping List
1 organic pineapple
1 cup frozen mango chunks            
2 tablespoons honey
2 tablespoons coconut oil
1 tablespoon fresh lime juice
½ teaspoon ground turmeric         
Kosher salt and freshly ground black pepper  
½ cup organic baby kale 
Tools
Blender, pop molds or small paper cups, wooden sticks 
1. Prep the ingredients 
Trim the top and end from the pineapple; cut away the peel, then cut the flesh away from the core into quarters. Cut the flesh into enough ½-inch pieces to measure about 3½ cups.
Cut any large mango chunks in half.
2. Make the pop mixture
In a blender, combine the pineapple, mango, honey, coconut oil, lime juice, turmeric, ⅛ teaspoon salt, and ¼ teaspoon pepper and blend until smooth, about 2 minutes. Add the kale and blend until just coarsely chopped, 10 to 15 seconds. 
3. Fill the pop molds
Divide the mixture evenly among pop molds or small paper cups; if using, place wooden sticks in the center. Place in the freezer until the pops are solid, at least 4 hours or up to overnight. 
Serve
Remove the pops from the molds and serve immediately. Store any remaining pops in the freezer for up to 2 weeks.
Nutrition per serving: Calories: 90, Protein: 1g (2% DV), Fiber: 1g (4% DV), Total Fat: 3.5g (5% DV), Monounsaturated Fat: 0g, Polyunsaturated Fat: 0g, Saturated Fat: 3g (15% DV), Cholesterol: 0mg (0% DV), Sodium: 30mg (1% DV), Carbohydrates: 17g (6% DV), Total Sugars: 14g, Added Sugars: 4g (8% DV). Not a significant source of trans fat.
Bonus recipe—ingredients not included in box.