Spring Green Limeade Cooler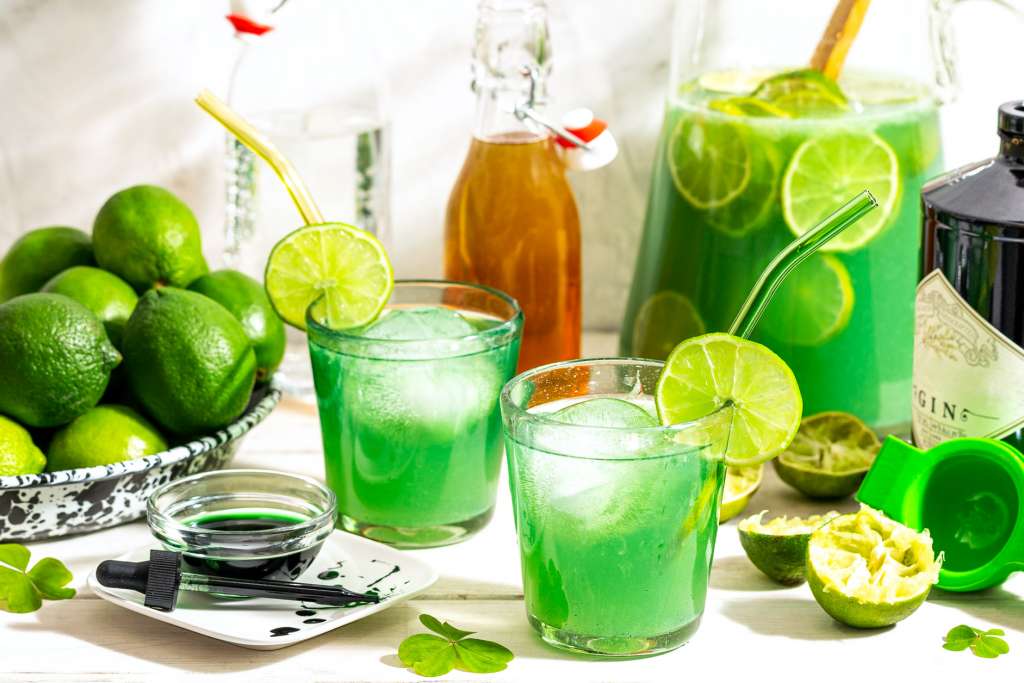 What better way to celebrate the changing seasons than with a vibrant green cocktail? This refreshing beverage featuring freshly-squeezed lime juice sweetened with agave, herbal gin (if you like), and a bit of plant power will have you raising a glass to Spring.
Spring Green Limeade Cooler Cocktail Recipe
Shopping List
For the limeade, serves 2 to 3:
4 to 6 limes
½ cup agave syrup
½ cup water
10 to 20 drops liquid chlorophyll
For the cooler, per serving:
½ cup prepared limeade (above)
1 to 2 ounces gin, optional
2 ounces club soda or sparkling water (double if omitting gin)
Ice cubes
Tools
Peeler, small sauce pot, heat-safe jar
1 Prep the limes
Using a peeler, remove the zest of 2 limes in wide strips, being careful to remove only the outermost green layer and leave behind the bitter white pith. Slice half of 1 lime for garnish, if desired; then juice the limes, enough to measure ½ cup juice, and set aside.
2 Make the limeade
In a small sauce pot over medium-high heat, combine the agave syrup, lime peels, and water and bring to a boil. Remove from the heat and let steep for 10 minutes. Remove the lime peels and pour the syrup into a heat safe jar; let the syrup cool to room temperature. Add as much liquid chlorophyll as you like and stir to combine. Stir in the lime juice and sweeten to taste with more agave syrup if needed. Chill the limeade.
3 Make the limeade cooler and serve
Fill individual glasses with ice. Into each glass, stir in ½ cup limeade, gin (if using), and top off with club soda or sparkling water. Garnish with the sliced limes and serve. Cheers!
Nutrition per serving: Calories: 260, Protein: 0g (0% DV), Fiber: 0g (0% DV), Total Fat: 0g (0% DV), Monounsaturated Fat: 0g, Polyunsaturated Fat: 0g, Saturated Fat: 0g (0% DV), Cholesterol: 0mg (0% DV), Sodium: 55mg (2% DV), Carbohydrates: 52g (19% DV), Total Sugars: 29g, Added Sugars: 29g (58% DV). Not a significant source of trans fat.
Bonus recipe—ingredients not included in box.