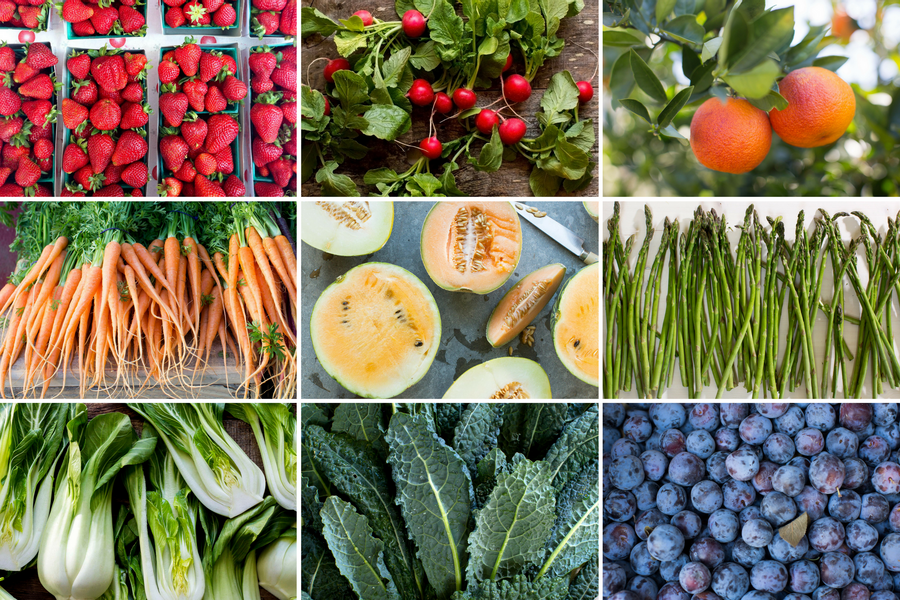 The Color of a Healthy Plate
One of the easiest ways to make sure you're getting all the nutrients you need is to eat a wide variety of foods, and one of the simplest ways to do that is to make sure there's lots of color on your plate.
Red
The predominant pigment in red fruits and vegetables is lycopene, a powerful antioxidant that's associated with a reduced risk of some cancers and protection against heart attacks. Red foods also tend to be good sources of vitamin C, folate, and flavonoids, which reduce inflammation.
beets
cherries
pomegranates
radicchio
radishes
red apples
red grapes
red peppers
red potatoes
rhubarb
strawberries
tomatoes
watermelons
Blue and Purple
Anthocyanins, antioxidants that may help prevent heart disease, support healthy blood pressure, and have anti-cancer properties are often found in blue foods.

blackberries
blueberries
eggplants
grapes
plums/ prunes
Orange and Yellow
These foods are often a good source of lutein, an antioxidant that helps protect the eyes from degeneration and vitamin C.
apricots
cantaloupes
carrots
corn
citrus, such as oranges, grapefruit, lemon, tangerines
mangoes
nectarines
orange and yellow peppers
papayas
peaches
pineapples
sweet potatoes
winter squash
yellow summer squash
Green
Cancer-fighting antioxidants and vitamins A, C, and E are often found in green foods. They also tend to be rich in iron, folic acid, and potassium.

artichokes
asparagus
avocados
bok choy
broccoli
Brussels sprouts
celery
collard greens
cucumbers
green beans
green cabbage
green peppers
kiwis
leafy greens, such as kale, chard, spinach, and collards
lettuce
leeks
limes
okra
parsley
peas
watercress
zucchini