A Holiday Salad to Rule Them All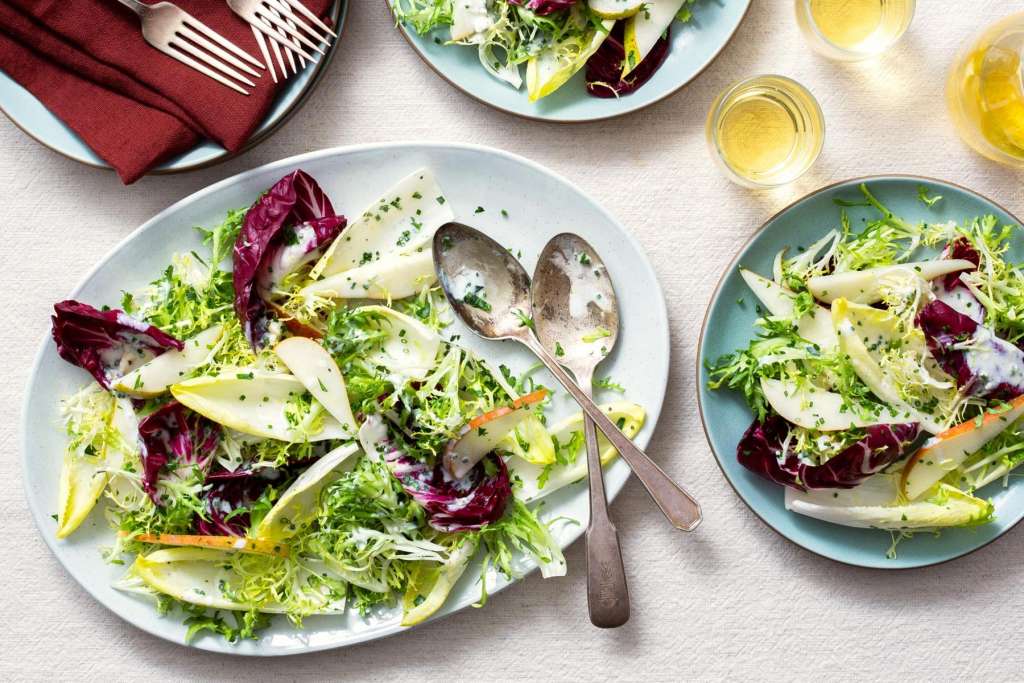 This salad has a little bit of everything: it's sweet, salty, and just the right amount of bitter to keep things interesting. Serve this by itself as a lovely lunch, at your holiday table, or alongside roast chicken or pork for dinner. For extra crunch and protein, add a handful of toasted walnuts. Refrigerate any remaining salad dressing for up to three days. It makes a great (and slightly indulgent) dip for raw vegetables. 
Pear Salad with Bitter Greens and Blue Cheese Recipe
Serves 6
Shopping list
Dressing:
1 organic lemon
1 small garlic clove
1 ½ ounces (⅓ cup) blue cheese, preferably Point Reyes
1 small bunch organic chives
¾ cup organic buttermilk
¼ teaspoon Worcestershire sauce
½ teaspoon extra virgin olive oil
Kosher salt and freshly ground black pepper
Salad:
2 heads organic Belgian endive
1 head organic radicchio
1 head organic frisée
4 to 5 sprigs organic flat-leaf parsley 
1 or 2 organic pears, preferably Bartlett
¼ teaspoon kosher salt
¼ teaspoon freshly ground black pepper
Tools
Fine-toothed grater, garlic press, optional, large measuring cup or small bowl, 2 large bowls 
1 Make the dressing
Zest and juice the lemon.
Finely chop, grate, or press enough garlic to measure ¼ teaspoon. 
Crumble the blue cheese. 
Finely chop the chives; measure out 1 tablespoon for the dressing and reserve the rest for garnish.
In a large measuring cup or small bowl, combine the buttermilk, Worcestershire sauce, oil, lemon zest and 1½ teaspoons lemon juice, the garlic, blue cheese, and 1 tablespoon chives. Season to taste with salt and pepper and stir to incorporate. 
2 Prep the salad ingredients
Trim the root end from the endive and separate the leaves. 
Trim the root end from the frisée and coarsely chop the leaves.
Cut the radicchio half in half, cut away the core, and separate the leaves. 
Strip the parsley leaves from the stems. 
Core the pear and thinly slice the fruit lengthwise. 
3 Assemble the salad 
In a large bowl, toss together the endive, frisée, radicchio, parsley, and pear.
Add as much dressing as you like and toss to coat. Season to taste with salt and pepper. 
Serve
Transfer the salad to individual plates, garnish with as many chives as you like, and serve immediately.  
Nutrition per serving: Calories: 100, Protein: 5g (10% DV), Fiber: 7g (28% DV), Total Fat: 3g (5% DV), Monounsaturated Fat: 1g, Polyunsaturated Fat: 0g, Saturated Fat: 1.5g (8% DV), Cholesterol: 5mg (2% DV), Sodium: 150mg (6% DV), Carbohydrates: 13g (4% DV), Total Sugars: 5g, Added Sugars: 0g (0% DV). Not a significant source of trans fat.
Bonus recipe—ingredients not included in box.