Chocolate Cookies get a Good-For-You Boost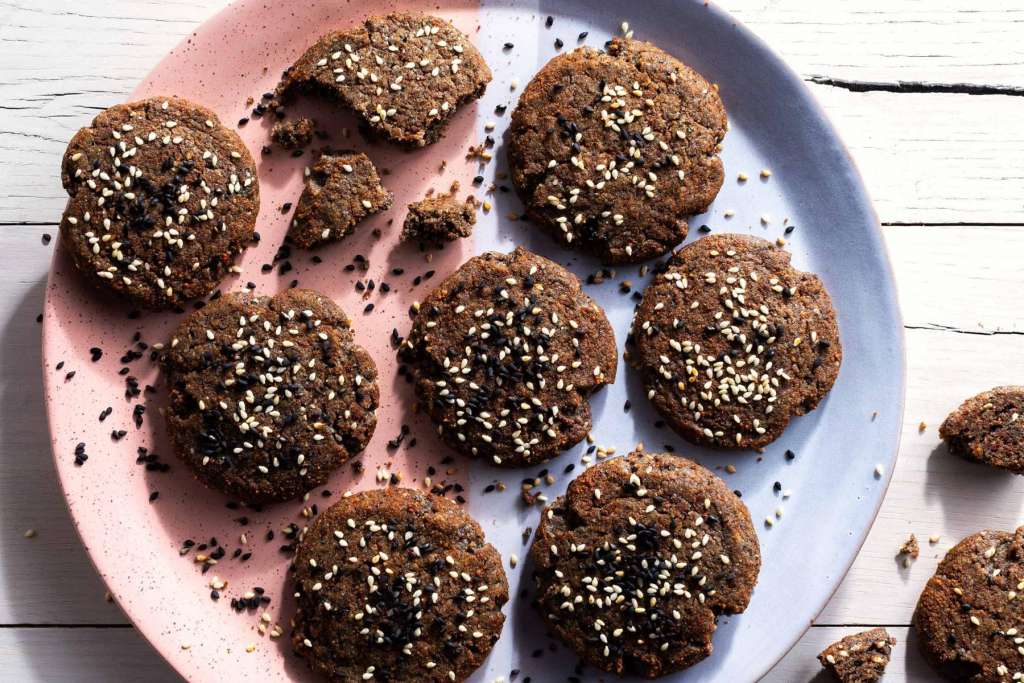 Now we aren't going to claim that these cookies are healthy—they're made with sugar, after all. But the black sesame seeds push them into the healthier category. Those tiny seeds are packed with protein, an excellent source of good fats, and loaded with minerals such as iron, zinc, and calcium. As good as they are, the real reason we love black sesame is that we're fools for its rich, nutty flavor, which happens to be an ideal match for bittersweet chocolate. Note that this recipe can easily be doubled.   
Chocolate Chunk Black Sesame Cookies Recipe
Makes 1 dozen 
Shopping List
½ cup cold unsalted butter
3.5-ounce bar bittersweet chocolate 
¼ cup plus 3 tablespoons black sesame seeds
¾ cup plus 2 tablespoons all-purpose flour 
¼ cup brown sugar 
¼ cup powdered sugar
¼ teaspoon kosher salt 
¼ teaspoon baking powder
¼ teaspoon baking soda 
1 teaspoon pure vanilla extract 
¼ cup coconut sugar
1 tablespoon white sesame seeds
Tools
Food processor, large bowl, sheet pan
1. Prep the ingredients; make the cookie dough
Heat the oven to 350°F. Line a sheet pan with parchment paper. 
Cut the butter into ½-inch pieces. 
Coarsely chop the chocolate.
Set aside 1 tablespoon black sesame seeds for garnish.
In a food processor, process the remaining ¼ cup plus 2 tablespoons black sesame seeds until coarsely ground. Add the flour, brown sugar, powdered sugar, salt, baking powder, and baking soda and process until combined, about 30 seconds.  Add the butter, chocolate, and vanilla and process until a cohesive dough forms, about 30 seconds. 
2. Form and bake the cookies
In a small bowl, spread the coconut sugar in an even layer. 
Shape the dough into 1-inch balls. Roll each dough ball in the coconut sugar. Using the bottom of a glass or bowl, flatten each ball into a 2-inch-wide  round. Arrange the cookies, spaced about 1 inch apart, on the prepared sheet pan. Sprinkle each cookie with a few black and white sesame seeds. 
Bake until light brown, 10 to 12 minutes. Let cool on the sheet pan for about 10 minutes. 
Serve
Transfer the cookies to a plate and serve. 
Nutrition per serving: Calories 230, Protein: 3g (6% DV), Fiber: 1g (4% DV), Total Fat: 14g (22% DV), Monounsaturated Fat: 2g, Polyunsaturated Fat: 0g, Saturated Fat: 7g (35% DV), Cholesterol: 20mg (7% DV), Sodium: 90mg (4% DV), Carbohydrates: 21g (7% DV), Total Sugars: 13g, Added Sugars: 7g (14% DV). Not a significant source of trans fat.
Bonus recipe—ingredients not included in box.