Second Stop: Santa Fe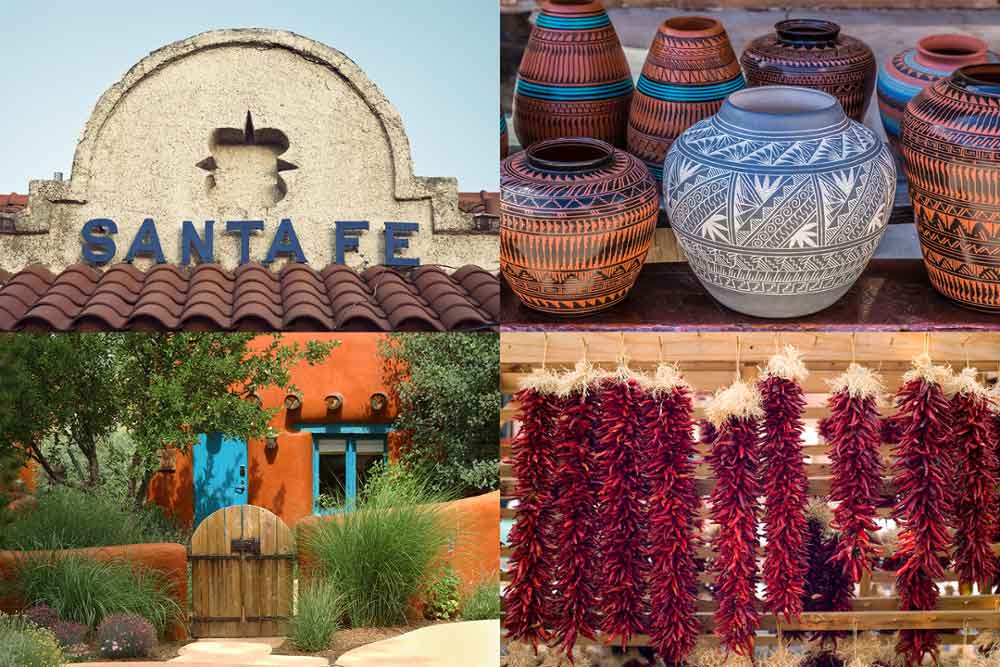 The food of Santa Fe may be the original fusion cuisine. Born of distinct cultures, including the native Pueblo, Spanish colonizers, Mexicans who later took over the region before ceding it to the United States, as well as the more recent arrival of Anglos, the regional cuisine is a delicious hybrid of influences.  
Chiles
Chiles are the cornerstone of Santa Fe cooking and are found in enchiladas, chiles rellenos, and red and green chile sauces on the menu at nearly every restaurant here, all made with the region's native green chiles. In late summer, the air in the city is thick with smoke from the state's beloved Hatch chiles roasting in wire drums in parking lots all across the city, filling the air with their irresistible aroma. These chiles grow several hours south of Santa Fe in Hatch, a hot and dry village, and must be grown in that region to be labeled as such. Hatch chiles have a short season which means that both locals and tourists alike stock up on roasted chiles when they're available. New Mexicans will even freeze their freshly roasted chiles for year-round use. During Labor Day weekend every year, the Hatch Valley Chile Festival attracts crowds to the small town for a taste of the season's bounty with chile eating contests and famous chile recipes.
Wine  
It was more than 400 years ago that Spanish priests planted grapes here to make communion wine and started what is the oldest wine-growing region in the United States. Hot days, cool nights, and dry weather offer excellent growing conditions for grapes, including cabernet sauvignon, pinot noir, and chardonnay, to name a few. The state is home to over 40 wineries and produces over half a million gallons of wine every year. Head 30 minutes south of Santa Fe to Casa Abril Vineyards & Winery (1 Cam Abril, Algodones, NM 87001), the largest vineyard in Northern New Mexico, for a taste of their Spanish-style tempranillos and malbecs. 
Farmers' Market  
In 1968 the Santa Fe Farmers' Market (1607 Paseo De Peralta, Santa Fe, NM) was born when a small group of local farmers began selling produce out of the back of their trucks. Nearly 50 years later, the market has grown to become one of the oldest and largest in the country, showcasing the high mountain desert harvest year-round. More than 150 farmers sell everything from fruits and vegetables to nursery plants and freshly baked breads. Stop in on a Saturday morning for fresh or roasted green chiles and locally-made jams and goat milk cheeses.