Grilled Clams with Lemon Parsley Butter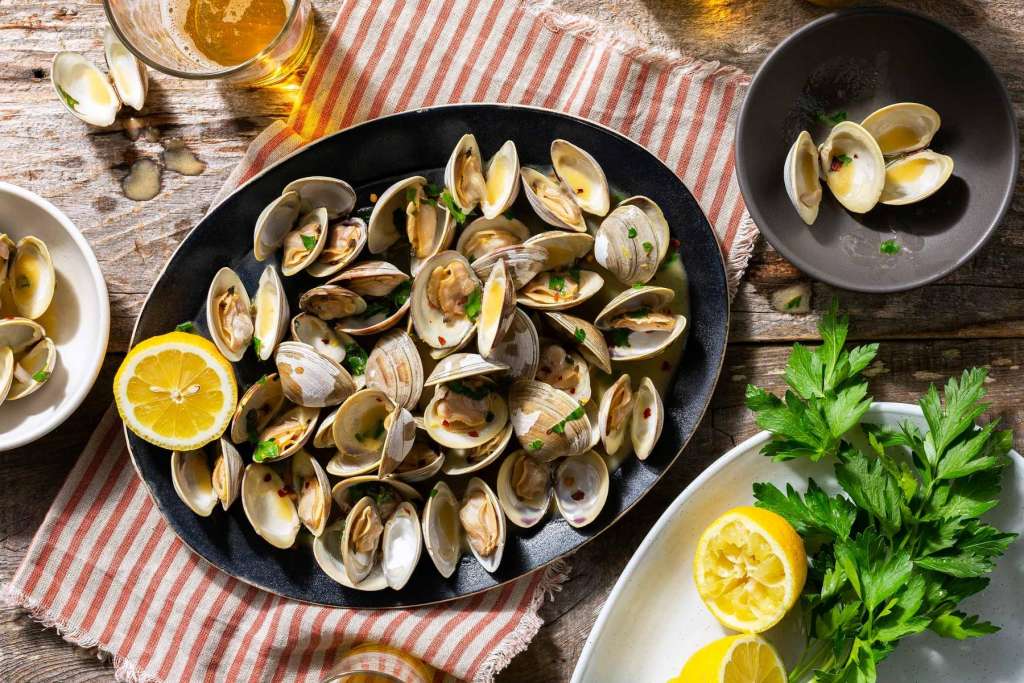 In the summer along the Atlantic coast, from Maine to the Carolinas, grilled clams are a cookout staple. Whether you choose littlenecks, as we've done here, or manila clams, they make the perfect end-of-season meal when you've had your fill of burgers and hot dogs. The clams cook quickly over the heat of the fire so be sure to remove them very carefully to avoid spilling any of the delicious juices.
Grilled Clams with Lemon Parsley Butter Recipe
Serves 6
Shopping List
1 organic lemon 
8 or 10 sprigs organic fresh flat-leaf parsley
2 cups bottled clam juice
6 tablespoons unsalted butter, cut into 6 pieces
1 teaspoon red chile flakes
Freshly ground black pepper
3 pounds fresh littleneck clams
1 loaf crusty bread such as baguette, cut into slices, optional
Tools
Grill, large frying pan, colander
1. Make the lemon-butter sauce 
Prepare a medium-hot fire in a grill. While the grill heats, prepare the lemon parsley butter.
Zest and juice the lemon, keeping the zest and juice separate.
Strip the parsley leaves from the stems; coarsely chop the leaves. Set aside half for garnish
In a large frying pan on the stovetop, bring the clam juice to a boil, then lower to a simmer and cook until the liquid is reduced by about one-third, 8 to 10 minutes. Add the butter and cook, whisking until incorporated, 1 to 2 minutes. Remove from the heat and stir in 1 teaspoon lemon zest, 1 tablespoon lemon juice, and as many chile flakes as you like. Stir in half the parsley and season with pepper. Keep warm over very low heat.
Turn off the heat and let the sauce rest while you grill the clams.
2. Prep and cook the clams
In a colander under cold running water, rinse the clams, rubbing them against each other. Let drain. 
Set the clams on the grill directly over the heat, cover the grill, and cook until the shells open, 6 to 8 minutes. Discard any clams that do not open. Transfer the clams to a serving bowl. 
Serve
Spoon over the lemon parsley butter. Garnish with the remaining parsley and as much remaining lemon zest and juice as you like. Serve with crusty bread. 
Chef's Tip: If you don't have a grill, bring 1 cup water to a boil in a large frying pan on the stovetop. Add the clams, gently shaking the pan until the clams are in a single layer, and cook covered until the clamshells open, about 4 minutes.
Nutrition per serving: Calories: 160, Protein: 9g (18% DV), Fiber: 0g (0% DV), Total Fat: 12g (18% DV), Monounsaturated Fat: 3.5g, Polyunsaturated Fat: 0.5g, Saturated Fat: 7g (35% DV), Cholesterol: 55mg (18% DV), Sodium: 580mg (24% DV), Carbohydrates: 3g (1% DV), Total Sugars: 0g, Added Sugars: 0g (0% DV). Not a significant source of trans fat.