How to Read a Sun Basket Recipe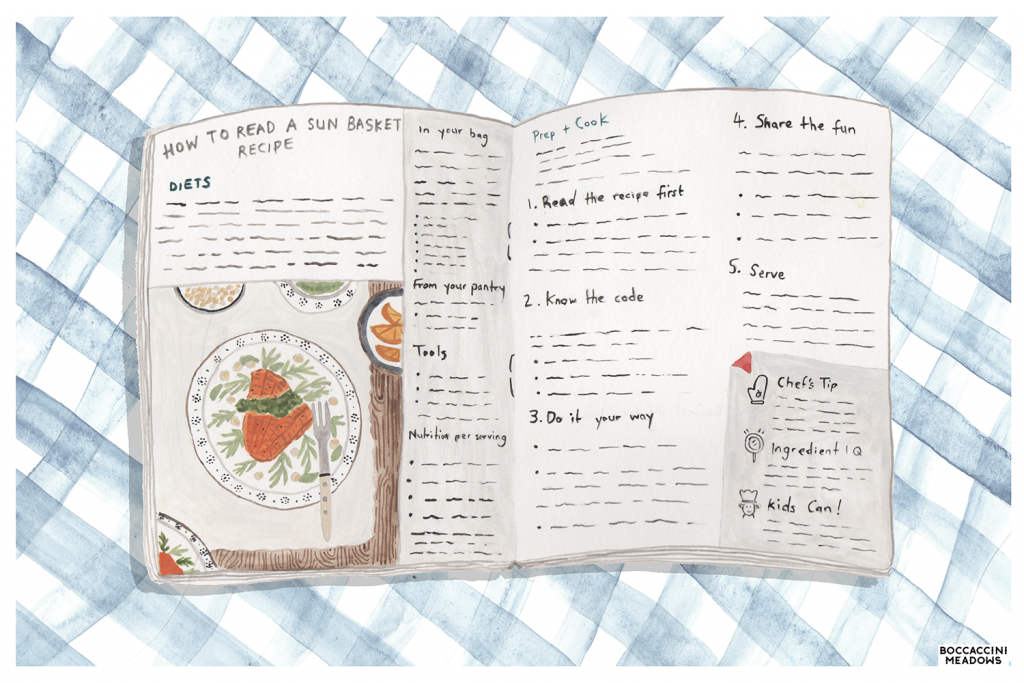 A recipe is a road map that can lead you to new and delicious destinations, but first you need to know how to read the signs. Here, we lay out the landmarks that can make the drive to dinner a smooth ride and help avoid kitchen gridlock along the way.  
Diets
Paleo, Gluten-Free, Vegetarian, Vegan, Lean & Clean, Mediterranean, Pescatarian, and Diabetes-Friendly are a few of the specialty diets we serve in our meal plans and recipes. 
Headnote 
Sun Basket recipes are written to be as easy to read as our meals are to cook. Because we need to include instructions for 2 and 4 servings, alternate protein selections, and organic produce swaps, they also have a few quirks.
Total time range: XX to XX minutes (15-minute range to cover both 2 and 4 servings) These are calculated by our outside testers, all home cooks.
Serves 2 (or 4)
In Your Bag

The ingredient lists 
In our printed recipes 
Do not include amounts,
Largely because
Supplies of organic produce 
Can be unpredictable.
To replicate the recipe on your own,
We share the approximate amounts
For all ingredients except our signature sauces
On the web
From your pantry
These are the basic pantry ingredients you'll need to have on hand (typically kosher salt, freshly ground pepper, and olive or neutral oil such as vegetable oil).
Tools 
Here's where you'll find a list of the tools you'll need to prepare the recipe. We try to keep the number to a minimum. The lists may include bowls, pans, pots, and sometimes a sheet pan, colander, or food processor. They do not typically include basic hand tools such as measuring utensils, wooden spoons, and knives. 
Nutrition
Every Sun Basket meal is developed to meet our own nutritional standards, as well as the requirements of our individual meal plans. These numbers are calculated by our registered dietitians using a third-party nutritional database. Sodium does not include pantry salt; for reference, ⅛ teaspoon kosher salt per serving averages 240mg (10% DV). Where the recipe instructions suggest a range of oil amounts such as 1 to 2 tablespoons, the nutrition accounts for the smaller amount. 
Allergens
If a recipe includes any of the eight major food allergens identified by the FDA (crustacean shellfish, eggs, fish, milk, peanuts, tree nuts, wheat, soybeans) we'll list them here. Please note: Sun Basket meals are prepared in facilities that handle all major food allergens and gluten. Due to the risk of cross-contamination, our meals are not suitable for people with severe intolerance to major allergens or gluten.
Prep + Cook 
Wash produce before use (don't skip this part!)
2-serving instructions (4-serving modifications in red)
1 Read the recipe first
Really. Do it. You'll be surprised how taking a minute to read the recipe all the way through first, before you start cooking, can save you as much as 10 minutes in total cooking time. 
2 Know the code
Prep steps to get ingredients ready for cooking, such as chopping, measuring, and seasoning, are printed in blue text with bullet points.
Cook steps that involve a stovetop or oven are printed in black. 
For both prep and cook steps, any ingredient in your bag is bolded; any ingredient we ask you to provide, such as salt, is not. 
3 Do it your way 
If you prefer to have all your ingredients ready before you start cooking, you can do any or all of the blue prep steps first, "mise en place" style.
Any statement that begins with "while," such as "While the pasta cooks, prepare the onions," is a suggestion to help you cook more efficiently if you want. Feel free to disregard.

4 Share the fun 
We write our recipes so that it's easy to divide the steps among multiple cooks. Assign tasks by step. 
5 Serve
The final step is generally written to help you match your food to our photo, but our recipes are also developed to be flexible: Serve the meal however you like!
Chef's Tip or Ingredient IQ
These offer a little extra information about the recipe.
Market Watch
We sometimes encounter shortages of organic ingredients and need to make substitutions; Market Watch notes alert you to any changes required in prep.
Kids Can! 
Simple tasks even little kids can do, these follow a few guidelines:
No sharp knives 
No cooking or use of heat
No raw meat or eggs
No spicy ingredients such as fresh chiles
Illustration by @boccaccinimeadows