2018 Ends on a High Note as Adventurous Jupiter Comes Home for the Holidays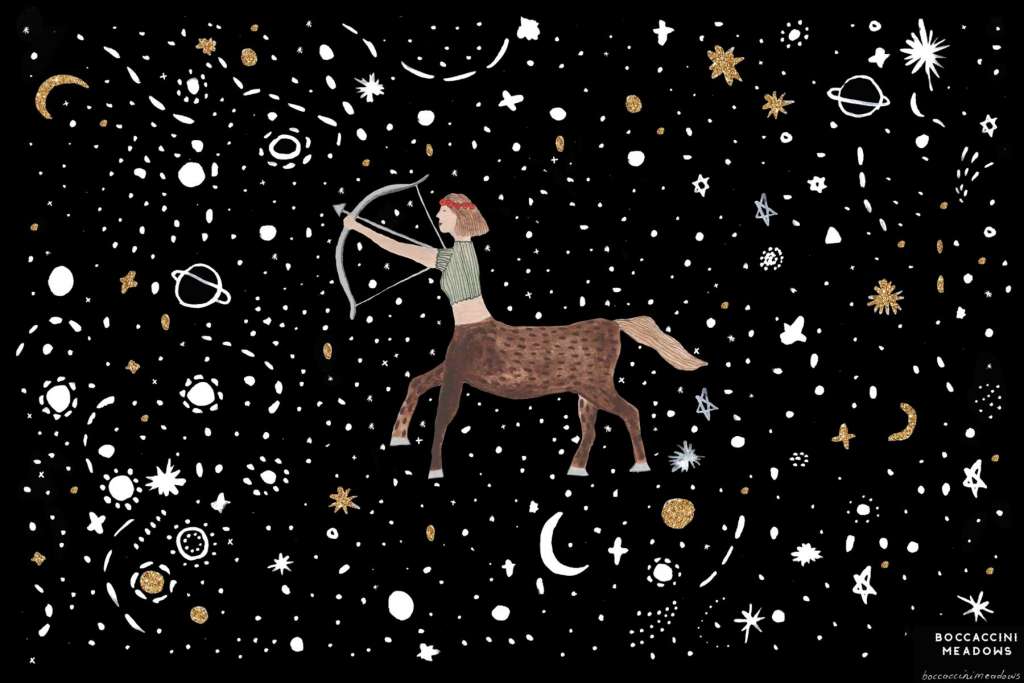 The planet of luck and largess returns to its own sign, Sagittarius, where it will stay for the next 12 months. That means the quest is on as Jolly ol' Jupiter lights up the house where you're most inclined to welcome the call of adventure. Move forward with confidence and consider just what adventure you want to embark on. In any event, it's cause for celebration.
By Lisa Lisa and the Star Jam*
SAGITTARIUS (Nov 22-Dec 21) Venus, the Goddess of love, and Mercury, the fleet-footed messenger, have crossed paths, exchanging information about what's worthy of your arrow's aim. Good tidings are in the wind along with this intel. The question for Archers remains: what quest or experience will you set your sights on? Pro tip: The bigger the better. Your ruler, Jupiter—the good luck planet—provides a warm thermal beneath your wings, ready to lift you up and over the hurdles that have been holding you back. The phrase "the sky's the limit" comes to mind. A burst of energy the last week of the month fuels whatever endeavor you choose.  
CAPRICORN (Dec 22-Jan 19) All the fresh connections you made while Venus was revisiting the underworld this fall come back, perhaps in spectral form. Don't be surprised if this holiday season ushers in a few visitations from ghosts of Christmas's past. Don't be afraid – instead use their rattling as an opportunity for insight. Delving deeper into a meditation practice sharpens your manifesting abilities. All these machinations under the hood are preparing you for a big reveal coming next year that could set you up financially for years to come. By month's end, you're stoked to broadcast a powerful message you've been working on, one that could change everything.  
AQUARIUS (Jan 20-Feb 18) It's been said of Aquarians that while you're all about humanity, it's people you can't stand. Maybe it's time to focus on the positive. With the planet of opportunity in your house of friends and groups, you're going to do more than just get by with a little help from your friends. People are where it's at. You're poised to be carried on a jet stream powered by community. Meanwhile, the astrological omens towards the end of the month move you to flex your financial muscles and transform your career in a way that's bound to bump up your income and status, too. Expect an exciting shake-up in your daily routine, anything from a new exercise regimen or diet to suddenly moving to a whole new place. 
PISCES (Feb 19-Mar 20) You've reviewed your philosophy and learned just about all there is to learn from your studies and travels. With your co-ruler, lucky Jupiter, and a new moon (on the 7th) bringing fresh opportunities to your career house, you're lit up like a Christmas tree. It's time to take that act on the road. By the end of the month, you've got energy to burn, so gear up for the latest fitness craze; and don't worry, you'll have plenty of energy left after your workout to channel towards transmuting your goals to align with your passion. Finally, take a trip during the holidays. The journey just might turn up a surprise romance. 
ARIES (Mar 21-April 19) You've made a new investment and you're ready to roll up your sleeves and work the long haul. It's all good news as the heavens are in full support and bring you energy to tackle big projects (especially toward the end of the month) that may have seemed daunting just a few weeks ago. Stamina is your new middle name. Use your deepest skills of negotiation when working with others and don't worry if you feel you need to prove yourself, you warriors are built for that. There really is something about this new investment that's going to expand your consciousness. Either that or get you published. 
TAURUS (April 20-May 20) Following a thorough examination of your closest relationships, a new perspective on intimacy positions you for an expansion in the realm of shared resources. By putting a value on the intangibles that feed your soul, rather than material things, you can effortlessly shift the debate about what's theirs versus what's yours and instead, attract abundance. One caution to heed: don't get too wrapped up in other people's problems. This shouldn't be an issue, Bull's are deft at avoiding unpleasantries and people they don't like. You're reimagining yourself and, come spring, even your biggest fans will be surprised. 
GEMINI (May 21-June 20) The goddess of romance just passed a note to your chief correspondent, Mercury, sending a clear message that all you've gleaned about love in the last few weeks (years really) has forged your heart into a golden vessel that's ready to hold the real thing. Perhaps you've spent the last few weeks running into old paramours, revisiting some comforting yet outgrown ground and now the universe is rolling in a wave of fresh prospects or, for attached Twins, the strengthening of a committed partnership. In any case, it looks like love is headed your way. In addition to retiring from the Lonely Hearts Club, you're likely to see a boost in your income. Hello, holiday bonus!
CANCER (June 21-July 22) With the planet of luck and opportunity visiting your house of health and habits, the terrain of your day-to-day life is shifting to support a healthier, happier lifestyle. If you've been thinking about recommitting to an exercise program, December is your month to get a jump on that New Years resolution. With a powerful surge of energy propelling you, you're feeling and looking good all around, making the holiday season a great time to socialize and enjoy your family and friends. Go ahead, Crabs, deck the halls with extra glitter. 
LEO (July 23-Aug 22) Now that you've spruced up your place and made your castle worthy of well, you know, a king or queen, you're ready for company. A flawless host, you should consider hosting a holiday party. Who knows what creative electricity it may stimulate! With Jupiter, the planet of plenty galavanting through your house of self-expression and romance for the next year or so, expect an uptick in suitors as well as creative output. It's time you took your paints off the shelf. Meanwhile, as you drift off to sleep, don't discount any sugar-plum fairies flashing insights from behind the curtain of consciousness. While it won't hurt to start now, particularly toward the end of the month, keep pen and paper by your bedside to ensure you don't miss any unexpected dreamtime dispatches. 
VIRGO (Aug 23-Sept 22) Now that you've proofed and reproofed the manuscript, it's time to turn your skills of improvement to your environment. Jolly Jupiter has moved into your house of home and family and he's encouraging you to fix it up and add your personal flair to the details. Whether that means moving to bigger, better digs or adding on to the ones you have, the stars are aligned for you to expand your living arrangements or perhaps your family. Later in the month, you may suddenly close a door on a friendship or group that no longer jives with your changing beliefs. This makes room for a new relationship you're forging with your local dream team.
LIBRA (Sept 23-Oct 22) Your social charms and charisma sizzle this month. Call a meeting, apply for a job! With that silver tongue, you're able to convince anybody to do whatever you want. You're brimming with creative ideas, connecting with new people, and testing out attitudes that could lead to pleasant surprises in your career, finances, or love life. At the end of the month, when the pressure is on, it may feel like people block your path. Employ your natural tact and diplomacy; you could write the chapter on picking your battles so listen to your own wisdom now.  
SCORPIO (Oct 23-Nov 21) It's subtle, but you're sporting a new look and feel. Now, you're ready to wrap your mind around increasing your value, literally. With the planet of more-is-better in your money house (where it'll be for the next year) you're primed for a considerable pay bump. If you're not working, it's an optimum time to find a job that pays what you're worth. Recently, you've done some work on this and here comes the opportunity to ask for it. Meanwhile, the year closes out on a creative surge of energy that gives you the confidence you need to take on a major project. Channel any power surplus into something physical, like hatha yoga. Take it one step further and join a class in your community. This simple practice could change not just your body, but your whole being.
If you know your rising sign, read that, too; it's often relevant. 
*Lisa Awrey and Lisa Carroll
illustration by @boccaccinimeadows